BOYNE MOUNTAIN SNOWMAKING PIPE FAILS, FLOODS SLOPE
Publish Date
01/23/2013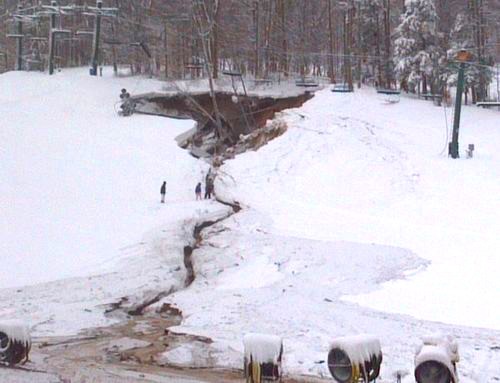 SAM Magazine—Boyne Falls, Mich., Jan. 23, 2013—At around 8 a.m. Tuesday morning, a snowmaking pipe failed at Boyne Mountain. Water flooded the lower portion of the Superbowl trail, causing significant erosion and toppling a lift tower for the Superbowl lift.
The chair lift was not operating at the time of the collapse, and there were no persons on the slope.
"We had a snowmaking water pipe fail on the Superbowl trail yesterday morning prior to the slopes opening," the resort confirmed on its Facebook page. "The area will remain closed until repairs can be completed." Boyne Mountain is working to repair the chairlift and reopen the lift and terrain, but no timeline for reopening is available.
The incident affects a total of five trails and 40 skiable acres of the resort's 415 acres.