SAM is providing frequent updates, guidance, and ways to connect about the effects of the coronavirus pandemic. Visit our Coronavirus Update page for more resources and special reports. For email updates, sign up to receive Headline News, and, if possible, help support the voice of the mountain industry, SAM Magazine, with a subscription or gift subscription for someone in need. Together, #WeGotThis.
SAM Magazine—Natick, Mass., March 20, 2020—The abrupt end to the North American ski and snowboard season in response to the COVID-19 pandemic has prompted a few mountain resorts and at least one multi-property pass to offer season passholders added value in recognition of missing the last part of the season.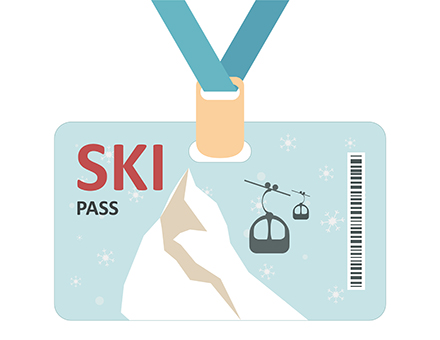 Of course, a majority of season pass products are non-refundable and non-transferrable, and the amount of time on the mountain lost due to a mid-March closure depends on location, snowpack, etc. Some areas may have closed only a few days before their normal closing, while other resorts may have lost a couple months or more.
Indy Pass concessions. The new Indy Pass responded quickly. The pass launched in September and amassed 47 partner ski areas that each offer two days of access to passholders for an initial price of $199. It offered a late-season product that could be purchased after Feb. 17 for $139.
Any passholder who was not able to redeem a lift ticket this season will be offered a 30 percent discount on a 2020-21 Indy Pass. Those who purchased after February 17 at the late-season price of $139 and were not able to redeem, can apply 100 percent of their purchase price to a pass for next season if purchased prior to December 1.
"As skiers reckon with the premature end to a season that serves as their primary escape from the stresses of life, we wanted to make a small concession to those who had been planning to use their passes for spring skiing and had those plans cut short," said Indy Pass founder Doug Fish.
Jay Peak, Vt., was one of the first resorts to suspend operations in an effort to stem the spread of the new coronavirus. And it was one of the first to offer some relief to passholders.
In a post on its website about the resort's current status, the resort said: "We understand that you're disappointed that the season came to an unexpected early close. Given the circumstances, we can all agree it was unavoidable. In an attempt to recognize that you missed roughly 4 weeks of late season access, we want to provide some value in the form of opportunities to visit us."
The value add includes products that will be loaded onto current season passes, such as a round of golf with cart, a day pass to the indoor water park, tickets to the Clips & Reels movie theater, and a free lift ticket to share with a friend next season.
In addition, the first deadline for early-season rates on 2020-21 season passes has been pushed back by a month, to June 8. And any certificates and vouchers for free lift tickets, water park passes, or lodging stays that were set to expire at the end of this winter season will now expire Dec. 24, 2020.
Has your resort offered this year's season passholders some value-add in response to the shortened season? Please share it with us in the comments below, or email Dave Meeker (dave@saminfo.com) with details.