SAM Magazine—Enumclaw, Wash., Jan. 5, 2022—In response to high demand, especially amid ongoing snowfall, Crystal Mountain, Wash., will implement a reservations system for its limited on-resort parking on Fridays, Saturdays, and Sundays for the rest of the season, beginning Jan. 15.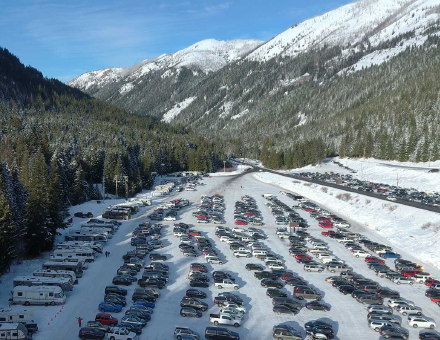 It is also "significantly increasing" the use of its overflow lot in Enumclaw—about 39 miles from the resort—and free shuttle service, beginning Saturday, Jan. 8. 
Crystal introduced paid parking on-resort this winter to help manage car volume on Fridays, Saturdays, Sundays, and holidays. Carpools of four or more people park for free in a dedicated parking area, and parking is included with the purchase of a season pass. 
High volume persisted, though. The initial solution was to re-implement the lift ticket reservations system the resort had in place last winter, but it quickly pivoted to the parking reservations system instead. 
"Lift reservations were announced just last Friday when we started to see a convergence of factors that led us to anticipate significant traffic/parking issues if we didn't act fast," said president and COO Frank DeBerry. "In order to be ready as quickly as possible, we decided to re-implement our lift reservations system. With that said, we knew that the lift system wasn't the most efficient or user-friendly method to control volume, and it turned out that implementing that system AFTER the season had already started was becoming much more complicated than we'd anticipated."
DeBerry said that since the real issue is the resort's lack of adequate parking, his team turned to Interstate, Crystal's paid-parking partner, and asked if it could provide a reliable parking control system "that would be more flexible and user-friendly than the lift reservations system." Interstate said it could.
"We've never used a parking reservation system before, but [Interstate] has other ski installations, and after some research and discussion our confidence grew and we decided to greenlight the implementation," he said.
DeBerry conceded that the quick switch created some messiness in the message, "but in the end we did it because we knew it was the better option for the long-term."
Guests can start booking parking reservations on Jan. 11. Starting Jan. 15, parking reservations will be required on Fridays, Saturdays, Sundays, MLK Monday and Presidents' Day. Guests have the option of booking a seat on the shuttle from the overflow lot, but it's not required and the general approach is load-and-go.
Crystal's pivot is one of the first examples of a resort making mid-season changes to manage the volume that many areas are seeing.