SIA Snow Show Surprises to the Upside
Publish Date
02/04/2013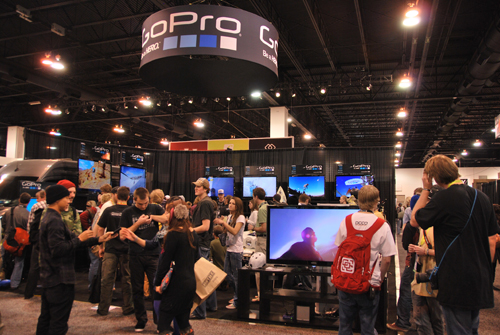 SAM Magazine—Denver, Feb. 4, 2013—The mood and attendance at the annual SIA Snow Show were better than many suppliers, and perhaps retailers as well, had anticipated. Final figures aren't available, but traffic appeared at least as strong as last year, and showgoers expressed optimism about the current season and future prospects.
As always, the show provided a peek at the trends and new gear that will excite customers in 2013-14.
Backcountry is a growing category for both Alpine and snowboard gear. Whether it's accessed through a resort, a trailhead, or hiking, backcountry was definitely the talk of the show. There were plenty of new snowboard products designed for heading into the backcountry. Alpine gear also incorporated more backcountry-focused features.
"We're seeing a fusion of many ski disciplines. Freeriding blending into frontside skiing blending into alpine touring and ski mountaineering," said Kurt Hoefler, VP of sales at Rossignol.
In boards, collections have become streamlined. There's been a resurgence in camber and the introduction of more hybrid profiles. There's heightened attention on women, especially Millennials, widely seen as a growth category.
Apparel has become the most consistent and important sales category at retail. For a variety of practical reasons, the focus is on versatility. The street/athletic "urban woodsman" look appears in outerwear lines across the industry for men. For women, subtle prints with neutral colors are part of the ski-to-street story. Many technical brands are applying the product fit, specifications and style refined in the men's products to women's clothing.
The top hue is a muted, earthy ochre, a sort of softened mustard/mellow yellow. It shows up on its own and as an accent.
Accessories displayed a great deal of innovation. Both backcountry- and park-oriented features are expanding, as are accommodations for social media. Action cams are proliferating, some integrated into goggles. Gloves are becoming touchscreen-friendly.
In helmets, the news is multi-impact protection materials, impact-absorption materials taken from body armor, fully integrated goggle-helmet systems and more adjustable fit options. Some brands are offering junior helmets designed for multiple sports in different seasons.
Many sunglass and goggle brands are embracing simple classic styling with cylindrical or flat lenses. For sunglasses, mid-size silhouettes and translucent frames are dominating the category. "Designs are moving toward sleeker, lower-profile dimensions overall," said Andy McSorely of Oakley.
In base layers, there were more insulated mid-layers than ever, along with a big emphasis on natural fibers—especially wool in base layers, which are selling very well at retail. Temperature versatility, odor control, and, yes, comfort are driving this growth.
The On-Snow Demo/Ski-Ride Fest is underway today and tomorrow at Winter Park and Devil's Thumb Ranch, with a cast of thousands in attendance.