X Games to Call Aspen Home For Five More Years
Publish Date
01/23/2014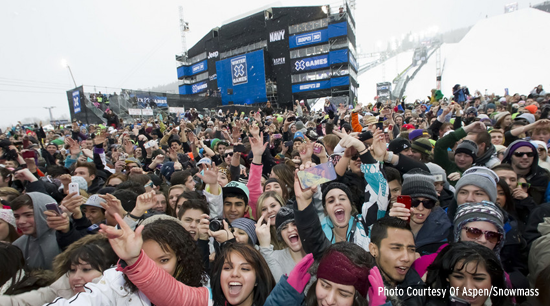 SAM Magazine—Aspen, Colo., Jan. 23, 2014—Aspen Skiing Company (ASC) and ESPN have reached an agreement that will have the X Games calling Aspen/Snowmass its home until 2019. Now in its 13th year, ESPN chose to continue its long-term partnership with ASC, already the longest-tenured X Games host. And by 2019, Aspen/Snowmass will have hosted the premier winter action sports event for 18 years.
"It's amazing how X Games has seemingly become part of Aspen/Snowmass's identity over the years," says John Rigney, vice president, sales & events, Aspen Skiing Company. "There's a rich cultural history here and we're fortunate to host many world-class events, but I can't think of a single event that resonates so well with kids and young adults as X Games does – and that's a win for our resort, and more importantly the sports we love."
ASC was ultimately chosen over seven other bids that were submitted over the last 18 months, including Park City, Utah and Squaw Valley and Heavenly in California. Squaw Valley and Heavenly even submitted a joint bid that would have separated X Games events into two venues.
"While the level of interest from other locations was excellent, the opportunity to continue our collaboration with Aspen Skiing Company proved the most promising for long-term growth and development of the event," said Scot Guglielmino, senior vice president, programming and X Games.
ESPN's X Games will showcase over 200 athletes from around the world in Aspen from January 24-26, 2014. Competitors will battle for medals and prizes in the sports of Snowboard, Ski and Snowmobile. Snowboarder X and Snowmobile Long Jump will return to the X Games Aspen list of disciplines in 2014 after a brief hiatus.