The four cornerstones of the ski and snowboard rental enterprise are performance, efficiency, durability, and price. Changes for the 2014-15 season might be shaking the foundations just a little, but there is nothing in the immediate future that will completely restructure the business.
Improvements and developments in process and performance over the past several years have made both alpine and snowboard rental a smoother operation.
In alpine, a variety of reduced-sole-length boot/binding systems and easy-to-adjust rental binding systems make it easy to streamline operations. Similarly, snowboard bindings feature tool-free mounting discs and straps, which allow rental technicians and riders to readily customize their fit.
Color coding on boots, bindings, and boards help employees find and match gear quickly. Barcodes integrated throughout equipment aid technicians in quickly checking out and tracking gear. Skis and snowboards are now likely to incorporate modern shapes and some element of rocker technology. All this has made it easier for beginners and novices to enjoy their day on snow.
The most significant movements for 2014-15, for both alpine and snowboarding gear, are in performance. That applies to fleet rentals as well as step-up and specialty rental product, which is often aimed at the growing ranks of more experienced skiers and riders who opt to rent rather than buy.
The end result is that resorts have the tools to inspire, teach, and retain new and returning customers.
The easiest place to see it all, of course, is the annual SIA Snow Show in Denver, Jan. 30-Feb. 2. Here are the highlights of what's in store:
ALPINE RENTAL
PERFORMANCE: SKIS The boost in performance is taking place primarily in two areas for 2014-15: the mid-performance range between fleet rentals and high-performance demos, and kids rentals. But as companies tweak their rental lineups, a few are also seeking to build a higher performance level into even their basic fleet packages, where in the past, price wars often led suppliers to prioritize price over performance.
One reason for the performance boost: manufacturers agree that more people, across a wide range of skiing abilities, are opting to rent rather than purchase. So rental offerings now include more intermediate-level models.
"Certainly the trend is for more people to ask: Should I buy or should I rent?" says Geoff Curtis, vice president of marketing for Marker-Völkl USA. "Rental seems to be growing in importance, maybe because of what is happening in flying and travel," says Andy Hytjan, K2 category manager. The implication is that rental shops need to be ready with a lineup covering a broader performance spectrum.
Atomic is addressing mid-performance with its Smoke Plus (and Affinity Plus for women), with all-mountain rocker and 76mm and 74mm waists, respectively, says Jake Strassburger, Atomic's alpine commercial manager.
Bill Irwin, sales manager special markets for Elan-Alpina, also foresees significant action in mid-performance models. "There is no question that the mid-performance rental (business) is absolutely skyrocketing," he says. Elan is emphasizing its three-ski Morpheo series, aimed at intermediate skiers. The Morpheo models were available for 2013-14, but Elan did not push the series aggressively. That will change for 2014-15, says Irwin. "We're going full-bore with it."
Performance also continues to infiltrate entry-level gear, where price has typically been the overriding factor in rental design. According to Nick Castagnoli, communications manager for Rossignol and Dynastar-Lange, Rossignol is seeking to integrate "the most current technology we can in fleet rental." For example, the Experience Rental line offers tip and tail rocker, and the Pursuit Rental, tip rocker.
Castagnoli adds that what "started with skis is now happening with boots." The Flash RS boot, based on Rossignol's four-sole-length boot system, will come with a completely new upper and lower. And the 104-lasted Alias Sensor boot, featuring a "better fit" and micro-adjustable metal buckles, is what Castagnoli calls "a direct descendant of retail boots." Rossignol's philosophy, says Castagnoli, is that performance features in entry-level gear will produce "a fast-track learning curve."
Völkl, a company long known for its high-performance demo offerings, is also stressing performance in its new RTM 8.0 rental model. Curtis calls the RTM 8.0 a "go-to basic rental model," even though it is loaded with techy features. With its wider profile (80 mm waist, compared to the predecessor RTM 7.4's 74 mm) and tip rocker that makes it "very easy to release from the turn," Curtis expects the ski to be well-received in Western areas.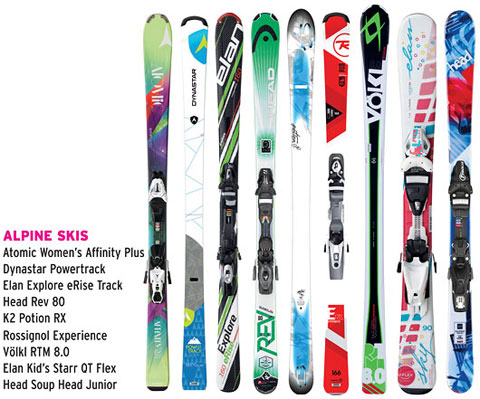 PERFORMANCE: KIDS GEAR
Kids' rental gear is also getting new attention. In the past, it often seemed that as long as the young'uns had something to slide on and finish the day with a minimum of tears, kids' rental gear had fulfilled its task. But for 2014-15, kids' gear has the attention of at least two companies. And both of them are focusing on ski flex, which has long been an issue in very short skis.
Elan's U-Flex skis target very young kids, between ages three and seven, with lengths from 70 cm to 100 cm. The ski features what Elan-Alpina's Irwin calls "an accordion effect" for full and super-easy flex under foot. The ski will be accompanied by a super-light binding and a soft boot that, in terms of forward flex, is almost like a walking boot.
Meanwhile, Atomic last year introduced its Bend-X skis for kids. The skis feature a recessed area underfoot to reduce ski mass and thus allow the skis to flex more easily. The concept also features an increase in camber and shape as ski length increases. Bend-X worked so well for kids that Atomic is letting grownups in on the action, too, adding Bend-X adult models in lengths from 125 cm to 165 cm.
PERFORMANCE: BOOTS
One interesting bit of new boot technology comes from Head in its Adapt Edge boot, in which the last of the boot can be adjusted from a roomy 104 mm to a more performance-oriented 100. Mike Poole, Head's rental manager, calls it an "upsell boot" from its BYS system boot, and a boot that covers a wider range of abilities.
Dalbello, in concert with the proliferation of early-rise and rockered skis, is changing the stance for its Aspect and Luna models as well as for its mid-price-point Blaze and Indigo models. Less ramp angle and cuff angle produce what Dalbello's Scott Russo calls a "center-balanced rocker stance." The changes par­allel what is happening in in-line models.
Another new rental boot of note is the Lange XC 80 and its companion women's version, the XC W. The boots easily switch between ski and hike mode. That might sound like a design aimed at backcountry applications, but Lange is marketing it for comfort and convenience—no more stiff boot cuff to trip up renters when, say, they are walking in for lunch.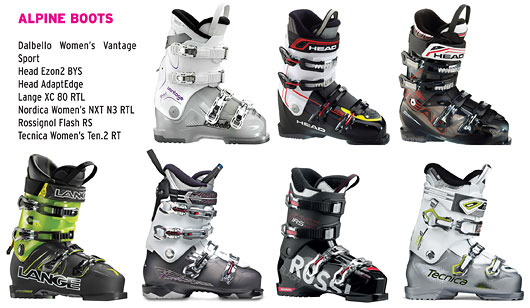 EFFICIENCY
The big players in the systems world—among them Head, Dalbello, Elan, and Rossignol—have no big changes for 2014-15. Head does have a new lineup of four-buckle BYS boots with "the efficiency of a system in a performance shell," says Poole.
Dalbello, recognizing the stigma that some skiers associate with rental—i.e., that renting might be considered an indication of inferior skill—is offering two versions of its 4Factor system Vantage boot, the Vantage System and the Vantage Sport. They are essentially the same, but the Sport boot is designed to be "more retail-looking," according to Dalbello's Russo, meaning the 4Factor color-coding is less pronounced. This might require a little more attention during set-up, but better soothe customers' egos. Dalbello will, as in the past, package system rental gear with Elan as the two companies continue to share many of the same reps. But Dalbello will also help rental operators work with other ski/binding brands, too.
DURABILITY AND PRICE
Rental skis across the board, from fleet rentals to high-performance demos, are being built to last. Says Elan-Alpina's Irwin: "Manufacturers have competed so hard to make the most durable top sheets. There has been a huge increase (in durability) from just five years ago." Atomic's Strassburger agrees, seeing a movement toward "thicker bases, thicker edges, and tougher top sheets."
If skis are indeed being made to stand up longer to the rigors of rental use and abuse, it will be interesting to see if there is any impact on the turnover cycle.
Despite the increased attention to performance, durability, and efficiency, the rental market is "insanely price-competitive, rather than focusing on performance or (technological) features," says K2's Hytjan. It's also possible that the market is focused on both price and performance: it's no longer an either/or choice thanks to the overall increase in quality and performance from so many different brands.
And Irwin sees another recent trend: increasing interest among resorts for on-snow testing of rental gear before buying. Clearly, resorts want more than just a low price. If that trend is in fact taking hold, it suggests that there is increasing interest in equipment that works well, not just equipment that's cheap. Resorts have learned that renters who have a good experience are more likely to return in the future.
SNOWBOARDS
Snowboard rental products are better than ever. In addition to offering performance, efficiency and durability improvements, rental suppliers are backing programs to boost participation and provide premier instruction.
PERFORMANCE/PROGRESSION
Many customers feel self-conscious with being labeled as "renters." Consequently, fleet buyers are seeking out snowboards, boots, and bindings that look and perform like inline offerings. "Buyers want to offer rental customers great snowboards—not products that are afterthoughts," says Matt Patti, Arbor's product line manager. Echoing this sentiment, Elan sales manager special markets Bill Irwin says, "Performance testing is playing an increasingly important role in the buying decision."
Mirroring what's happening on the sales floor, brands continue to place a strong emphasis on the camber profiles of their rental equipment. To create playful boards that minimize the likelihood of catching an edge, they're using rockered designs, zero camber, or hybrid shapes that blend rocker and camber. And although these boards appeal to riders making their first turns, they are versatile enough to satisfy discerning riders who have more experience. Similarly, nondirectional, twin-tip designs offer versatility for both beginners working to make turns and seasoned customers looking to ride switch or refine their freestyle skills.
Brands are finding other ways to meet the needs of beginning riders, too. Salomon, for example, is debuting its Rocket Science concept. Boards built around this design are one centimeter wider for additional stability, and five centimeters shorter in order to offer a fun and forgiving ride.
Brands are also working to enhance edge-hold. Rossignol uses Magne-Traction (a technology pioneered by Lib Tech), which infuses a board's sidecut with a slightly serrated or wavy edge. Similarly, Arbor's Grip Tech sidecut has pronounced contact points beneath the feet. Both these designs afford crisp turns, readily translate energy to a board's edges, and provide traction on hard snow.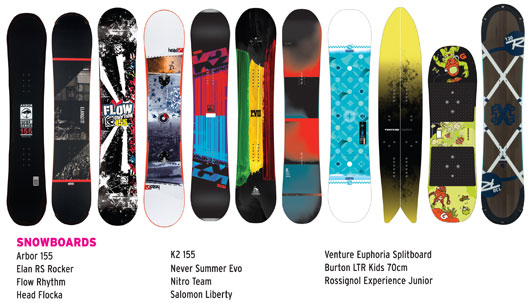 TAPPING NEW NICHES
To better meet the needs of diverse riders, brands are expanding their product offerings and tapping new niches.
To accommodate women and children, for example, brands are offering a wider range of sizes while still providing streamlined product collections.
Burton is unveiling some of its smallest children's sizes to date. "We're introducing the LTR 70, which is the smallest production board ever," says Jeff Boliba, Burton's vice president of global resorts. And to match such a small board, the brand will also be offering size 7c and 8c snowboard boots. Thanks, in part, to this pint-sized equipment, riders as young as three years old can hit the slopes.
A handful of brands also aim to address the growing demand for premium demo products. For some brands, this involves infusing their inline boards with additional durability. Burton's The Process Experience, for example, offers a rental-specific topsheet on what is otherwise a model developed for retail. Other brands have staked their claim by forgoing rental-specific boards in favor of simply using their inline offerings for their premium rental and demo products. "We believe that a rental customer should be able to ride the latest technology and graphics, not just a rental board," says Knut Eliassen, Nitro's international marketing manager.
For brands that focus exclusively on premium demos, their efforts are rooted not just in products, but also in meaningful partnerships. "We have had a lot of success in partnering with select resorts and specialty retailers across the Rockies to provide a superior demo experience for their customers," explains Venture sales manager Jerome Boulay. "It's a great partnership, as we enhance the on-snow experience of their customer with specific and innovative freeride shapes, and our partners in return provide us with very valuable feedback that helps us refine our designs every season." To better meet the needs of its partners, Venture also focuses heavily on serving specific niches such as splitboards and powder surfers, which can even be ridden without bindings.
Never Summer snow sales manager Mike "Gags" Gagliardi is quick to emphasize that many premium products can also meet the needs of both beginners and advanced riders. "The wide range of performance of our high-end rocker/camber boards makes it very easy for a beginner to learn on [them], but an expert can demo one and have an amazing day on the steeps and in more challenging areas on the mountain," he says.
EYE ON EFFICIENCY
Efficiency often takes the form of making binding adjustment systems simple to use, as well as quick. According to Franck Juvin-Acker, Salomon's product line manager for boards and bindings, "Most rental shops deal a lot with skiers, so if we want those shops to keep carrying snowboards, we must provide simplicity and reliability."
Brands are also ensuring that gear is easy for end-users. To minimize the time riders spend strapping in, several brands are offering speed-entry rental bindings. For manufacturers like Flow, these bindings aim to offer comfort as well.
For a more comfortable fit, more boots come with zonal lacing systems. These allow riders to isolate and customize the fit of individual sections of the boot. Thanks to an increased reliance on speed lacing devices like Boa, these systems can provide an efficient and lasting means for adjusting a boot's fit.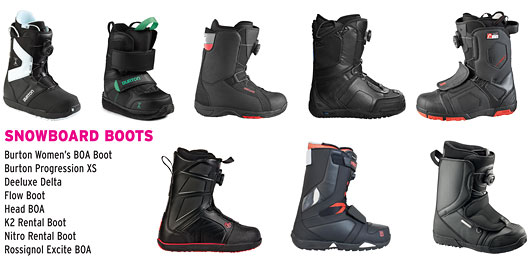 DESIGNED FOR DURABILITY
Rental boards, boots, and bindings are built to withstand heavy use. Bindings benefit from beefier buckles, straps, and mounting systems. Boot lace covers and reinforced heels and toes provide boots with additional durability. Deeluxe offers linerless designs that accelerate drying, as well as boots that feature removable liners that can readily be washed.
In boards, full wood cores, impact-resistant topsheets, metal tip and tail protectors, and sintered bases aid in offering a degree of resiliency.
Some brands are providing addi­tional durability. Head's Framewall design, for example, features an ABS sidewall that completely surrounds a board's perimeter and overlaps its topsheet to provide impact resistance and minimize the likelihood of delaminations.
K2 is unveiling a P-Tex topsheet that aims to offer enhanced durability and an easy-to-maintain appearance. "It can be sanded and buffed just like the board's base," says Hunter Waldron, K2's global brand manager.
Lastly, brands are increasingly offering two-year warranties on rental boards.
LOOKING PAST PRODUCTS
To boost participation in snowboarding, brands are offering educational opportunities and spearheading initiatives that aim to boost participation. "The biggest challenge for the rental shop is the lack of new riders coming into the sport," says Head's Poole. "Then the bigger challenge—once we attract a new rider—is converting that first-time rider into a long-time rider." To combat these challenges, Head invests heavily in Learn to Ski and Snowboard Month and the Bring a Friend program.
Burton's Learn to Ride (LTR) programs aim to provide the best learning experience possible by integrating products, educated rental technicians, and professional instruction.
Increasingly, the brand is also incorporating terrain into this equation. "Properly designed teaching terrain, especially terrain-based teaching set-ups such as our Burton Riglet Parks, also add to guests' ability to have fun, be safe, and want to come back," says Boliba. For 2014-15, the brand will also be offering The Free Global Riglet Tour, which provides young riders with a free introduction to snowboarding.
NO TIME LIKE THE PRESENT
Thanks to new products and refined educational efforts, rental operators are well positioned to recruit and retain new riders. "It is critical to put snowboarding back on the radar for the mainstream consumer," explains Juvin-Acker. "As a whole, the industry needs to create a compelling offer that entices consumers to try snowboarding."
It's a challenge worth tackling. As Boliba notes, "Investing in the best products for your guests is investing in snowboarding's long-term success."