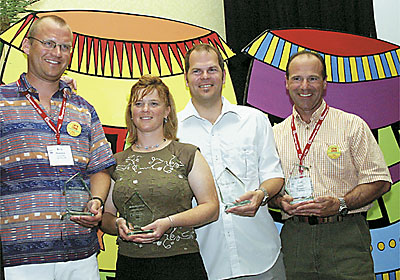 Alexa Bernotavicz :: Director of Mountain Operations :: Wildcat Mountain, N.H.
Alexa Bernotavicz started her career at Wildcat just eight short years ago as director of the children's ski school. The following year, she went out on the slopes as a full-time patroller. During the summer months, Alexa worked as a Backcountry Wilderness Ranger in the White Mountain National Forest and wild land firefighter in Grand Teton National Park. In 2003, Alexa became the director of lift services and ski patrol at Wildcat, which kept her on the hill year-round.
After a restructuring last Fall, Wildcat made her director of mountain operations and now Alexa oversees lift operations, snowmaking, grooming, vehicle maintenance and ski patrol. At just 34 years old, she took on her new duties enthusiastically.
But, Mother Nature dealt Alexa a tough season in her new position,. Still, she persevered and through aggressive snowmaking and grooming, Wildcat not only offered guests a great experience, but overall staff morale improved under her can-do spirit.

Yves Juneau :: Regional Sales and Marketing Director :: Mont-Sainte-Anne/Stoneham, Quebec
Yves Juneau began his wintersports career 10 years ago at Tremblant where he honed his marketing and communication skills. In 1999, Yves joined Mont-Sainte-Anne's marketing and sales department. It didn't take long for management to appreciate his talents and energy and quickly put him in charge of the sales and marketing at Stoneham, as well as Ski-Quebec-Charlevoix, a ski consortium.
Thanks in part to Yves' efforts with journalists, international ski clubs, creative events and innovative loyalty programs, the combined areas attract almost 900,000 skier visits in the winter and 250,000 visits off season.
Yves is also a board member of the Quebec Ski Areas Association and is active on committees for the Canadian Commission of Tourism and for the Canadian Ski Council.

Steve Kruse :: General Manager of Operations :: Timberline Lodge, Ore.
Steve Kruse took his first turns at Vernon Valley/Great Gorge, now Mountain Creek, and was hooked from the start. His first industry jobs include managing a ski shop in Aspen, working with the Aspen Ski Club and traveling on the World Cup circuit as a service technician for several major ski manufacturers.
In 1989, Steve took a position at Timberline Lodge, where he has helped create one of the most talked about and photographed areas in snowsports. Steve helped integrate snowboarding into summer operations, and what was once a haven for ski racers, also became home to freestyle skiers and snowboarders of all ages.
Always with a keen eye toward risk management and education, Steve helped launch Cutters Camp, an annual program that brings together areas from around the world to discuss and build the best freestyle terrain.

Mark Petrozzi :: VP Risk Management :: Booth Creek Ski Holdings, N.H.
As VP of risk management, Mark Petrozzi oversees all aspects of risk management, insurance, loss control, safety, regulatory compliance and training for six geographically diverse resorts located in New Hampshire, California and Washington.
With 25 years of experience in ski resort operations, insurance and risk management, Mark has been involved in creating many of the incident investigation, loss control, risk management, safety and terrain park guidelines used throughout the industry today. His tireless efforts to stay a step ahead and to manage risk has benefitted the industry as a whole thanks to Mark's on-hill education sessions at NSAA shows,, his work as chairman of the NSAA Education Committee and his continued involvement in Cutters Camp. Mark's enthusiasm for our sport and its growth is reflected in everything he does.
In his spare time, Mark also serves on the New Hampshire Tramway Safety Board.