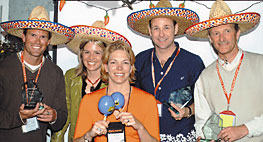 Bill Benneyan :: Marketing Director - Mountain Creek, N.J.
Benneyan started his industry career as the executive director of Cross Country Ski Areas Association. In the last 10 years, Benneyan has made Mountain Creek his home and has concentrated on attracting the urban youth market, to great success.
Genevieve Gunnarson :: Director of Marketing - Bear Mountain
Gunnarson started her ski area career as a part-time ski and snowboard instructor and worked her way up to her current position as marketing director of southern California's Bear Mountain Resort. She, too, has targeted the action sports market with great success.
John McColly :: Marketing Director - Mountain High Resort, Calif.
McColly, also located in southern California, started at Bear Mountain as the special events manager. For the past six years, he has worked with Mountain High's marketing department and, under his leadership, the area has seen double digit growth.
Ron Nova :: VP Operations - Harbor Resorts
Nova made his way up the ladder on the operations side of things, starting in the lift department at Stevens Pass, Wash. From there, he assumed many positions at Stevens, including GM, until last year when he was made a VP in the Harbor Resorts group, which oversees Mission Ridge and Schweitzer Mountain in addition to Stevens.