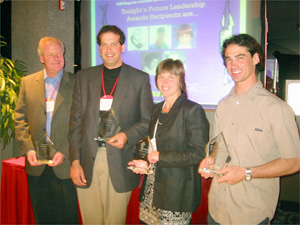 William A. Jensen :: Senior VP/COO - Vail Ski Resort
Bill is the recipient of a Special SAMMY Recognition award. While he has long been the quintessential SAMMY nominee, Bill's rich fulfillment in top leadership roles make it difficult to focus attention on his potential, no matter how great that might be. We honor him just as much for what one nominator singled out: "Bill grows people both personally and professionally and still acts as mentor to those whose careers have crossed his." And, Bill has certainly crossed many paths in his 29 years in the industry, starting out as vice president of Kässbohrer All Terrain Vehicles, then on to VP of marketing at Sunday River.
From there, Bill went West and became president of Fibreboard Resort Group (Sierra-at-Tahoe, Northstar and Bear Mountain) and then on to Breckenridge where he was senior VP and COO.
We're quite sure that running one of America's largest and most popular ski resorts won't be Bill's last stop in this industry and we look forward to his continued rise and his development of future SAMMY award winners.
Rob Perlman :: Sr. Dir. of Marketing - Mammoth Mountain, Calif. Since returning to Mammoth Mountain in 1998 in his present role (he actually started his career there as marketing assistant), Rob Perlman has made the ski area home to some of the world's best snowboarders and riders, making the resort a top choice among teenagers. Rob has also spearheaded many successful marketing campaigns including the Value Pass program, which sold over 26,000 season passes last year.
Prior to Mammoth, Rob worked at both Vail Resorts and Winter Park in marketing positions. Perlman grew up skiing in Colorado and now snowboards as well as telemarks when he gets the chance.
Alice Pearce :: Executive Director - Ski New Hampshire Nine years ago, Alice Pearce became the first director of Ski NH, which was a result of a merger between New Hampshire Ski Areas Association and several regional New Hampshire ski associations. Ski NH now represents 31 alpine and cross country resorts and more than 200 lodging properties across the state. Through aggressive marketing campaigns, Pearce has put New Hampshire at the forefront of winter destinations for both national and international visitors.
In addition, Pearce chairs the Governor's Travel & Tourism Advisory Committee and serves on the New England Ski Area Council's Board and the New Hampshire Travel Council's board.
Jason Levinthal :: President/Founder - Line Skis In 1996, 22-year-old Jason attended his first SnowSports Industries America trade show armed with a $5,000 budget and three pairs of skiboards. He returned home with a 1,000-pair order and hasn't looked back since.
Jason's company, Line Skis, now offers both skis and boots. Jason has revitalized the sport of skiing by not only popularizing skiboards, but also twin tip skis, allowing skiers to follow the snowboard revolution into terrain parks. And, Jason's marketing savvy is only bettered by his technical mind. This year, Jason introduced a new binding concept, which will also undoubtedly make its mark on the industry.
DENZEL ROWLAND :: MOUNTAIN DIR./CONST. MANAGER
SNOWBASIN SKI AREA, UTAH This hands-on manager transformed Snowbasin Ski Area into a world class Olympic venue in record time. From building 25 miles of new trails last summer to supervising the construction of three restaurants and several skier services buildings, also in one summer. Rowland orchestrated one of the largest expansion projects in the industry while continuing his day-to-day duties of running the mountain. As if that weren't enough, Denzel successfully hosted the world for 15 days during the Olympics.
Prior to his position at Snowbasin, Rowland was mountain director at Sun Valley and a patroller at Mammoth.