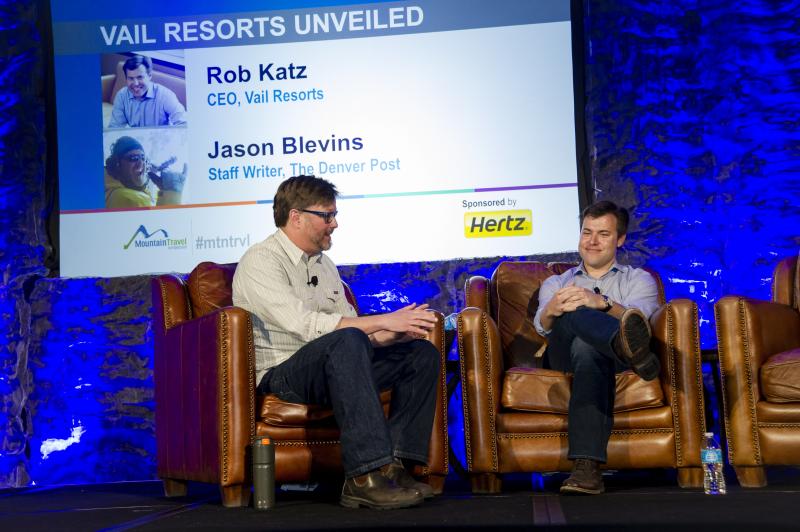 The General Forum of the Mountain Travel Symposium has become the resort industry's most forward-looking and frank conference.
Photo credit: katie girtman
This year's gathering, at Breckenridge April 9-16, built on last year's innovative program. Over the five days, subjects such as technology in travel, rent-by-owner trends, summer opportunities, and social media were tackled. Here are some of the highlights:
The MTS Talks, a TED Talk-style presentation of 10-minute perspectives, showcased this future orientation perfectly. Rob Torres, managing director travel for Google, declared that "the future of travel is not digital." A bold statement from a digital company. Instead, he said, it's all about the experience. Useful innovation in technology focuses on how to improve or enhance that experience. What's cool, he said, is that tech can make the experience better without being intrusive.
Speaking of experiences: John Kim of Expedia described his with Google Glass (it is both exhilarating and annoying). One of his key points, though, was unqualified: technology will push information to us when we want or need it. The tech challenge is to accomplish this in a way that enhances our lives, and doesn't interfere with them.
Social media was a major focus, with sessions on how to drive business via Facebook and Twitter. Twitter's Dan Green pointed out that each of the platforms has its uses. Facebook is about sharing our lives; Twitter is about what's happening at the moment. With Twitter, he suggested resorts engage with tweets that relate to their brand, to be part of the conversation, and that resorts encourage users to tweet out content about the resort—which resorts can then post or retweet. There's nothing better than a third-party testimonial.
Facebook is trying to pivot from being an organic community to more of a media platform. It aims, in part (the business part), to help businesses create custom audiences. That involves enhanced customer targeting, which Facebook has been refining, and getting into Facebookers' news feeds. As with Twitter, that requires posting cool news, events and other fun stuff, not sending thinly veiled ad messages.
One of the more immediate challenges to the travel industry is the expanding success of "for rent by owner" properties. As more and more customers opt for this route vs. traditional lodgings booked through resort associations, both lodging properties and the finances of local communities suffer.
And it's a big issue. HomeAway, the company that consolidated several leading rent-by-owner sites in 2005, now provides online advertising and booking services to 890,000 properties worldwide. That includes 101,000 winter resort properties, and 58,000 properties in Colorado.
HomeAway CEO Carl Shepard waded into the lion's den and took part in two hour-long panel discussions. He pointed out that the lodging reservation model is changing, and that resorts and resort associations have to adapt. Guests have shown a preference for booking a specific property. Larry Mashow of The Resort Company, which lists some of the 2,000 units it represents on HomeAway sites, agreed. He said the challenge is to accept the rent by owner preferences, and learn from it. Consumers want a specific unit. They want to know what they are getting. We have to accept that to evolve, he said.
For local towns, the issue is tax revenues. Whether homeowners are unaware of local tax laws or trying to avoid them, perhaps half of them are not paying local lodging taxes. Breckenridge town manager Tim Gegen said that after diligently pursuing the non-payers, the town believes it has achieved an 80 to 90 percent compliance rate. And that's significant; he estimated that perhaps 20 percent of the properties in Breckenridge are by-owner rentals.
A session on family travel, led by "mommy bloggers" Kristen Lummis and Mara Jordon, stressed the importance of cost savings for families. The duo reminded the audience that it's expensive for an individual to spend a day on the slopes, and that expense is multiplied for families. Families that live in an urban area, Jordan said, cannot afford the time or money to travel every weekend. They are looking for ways to save money at every step along the way. The payoff, she said: "The family that skis together enjoys life together."
Resorts have responded on both cost and benefit fronts, of course; among the steps cited are bundled pricing for several activities and improved customer service. Silver Star has created My1Pass for Nordic, snowshoe, skating, tubing, all for the price of a typical one-sport pass. The area also created inexpensive night skiing and rentals, and improved the arrival experience. Okemo, which has been recognized for being family-friendly, aims to remove the hassle factor as much as possible, and provides as much pre-arrival orientation and information as it can.
Summer business was another hot topic. Vail Resorts CEO Rob Katz pointed out that the summer audience is broader, economically and ethnically, and resorts should tap it. It's good business in itself, and can be a good way to introduce visitors to the mountains. Many summer activities are not skill-based, which makes them easily accessible. These activities give resorts a chance to introduce newcomers to the mountains and the environment. People become environmentalists because of experiences like this. And if we can encourage that, and bring in ethnic and economic diversity, that's very positive, Katz said.
Joe Hession's presentation on terrain-based learning and reimagining the learning process was a fitting conclusion to the keynotes on the second day, and provided another example of the disruptive innovation that can change a market. His offhand remark that TBL would have been an ideal solution 20 years ago, and that Burton's themed Riglet parks (and other themed parks) point the way to the future with Generation Z, captured the forward-looking tone of the Forum. For a glimpse into several possible futures, the MTS Forum is the place to be.