Progression and accessibility at bike parks key to attracting new riders
by Don Stefanovich, MTBparks.com
As bike parks crop up at an exponential rate across North America, more ski resorts look to either expand summer bike programs and attract new riders or add a bike park as a viable source of summer revenue to support year-round growth.
"We've seen an impressive number of resorts jumping in to add a bike park element within the last couple of years," says Michelle Good, founder of MTBparks.com. "Looking at the number of mountain biking enthusiasts out there, it's really just the beginning when it comes to the potential rider base resorts have to tap into. It's much larger than anyone suspects. It makes skiing look small."
Let's take a look at what makes three very different lift-served bike parks successful, and hear what they feel is key to tapping the potential of the 40-million-strong mountain-bike market.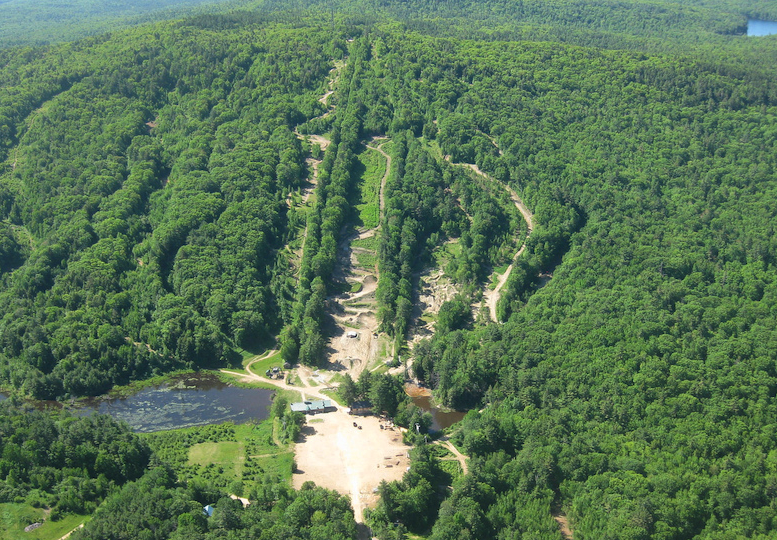 HIGHLAND BIKE PARK, NH
When Mark Hayes purchased a small, dilapidated ski hill in Northfield, N.H., 12 years ago, he knew nothing about resort operations or the ski industry. He just wanted a place where he and his friends could ride bikes.
Today Highland is the only lift-accessed park dedicated entirely to mountain biking. Although the skeleton of a former ski resort was in place, the property had suffered years of neglect and vandalism, so transitioning to a bike park wasn't as simple as switching the lifts on, waiting for the snow to melt, and scratching in some singletrack. And notably, Highland lacked a winter program to offset costs.
Hayes and his crew spent the first two years getting the existing infrastructure ready for the public. Before they could begin serious trail development, they had to make sure the buildings and lift were ready for public use.
That's not to say that they postponed all trail work. "We managed to scrounge up a few weekend days here and there to scratch in our first Highland trail," Hayes says. "Every hour spent on that trail made the experience of riding it better. That trail is what kept our spirits high and the dream alive. We named the trail Maiden Voyage."
It was a truly pioneering effort. In 2005, Highland was far removed from the hotbeds of the exploding downhill and freeride movements on the West Coast and in Canada. There wasn't a blueprint for building a bike park, and Hayes only had 627 feet of vertical drop work with.
"The whole trail building process was custom," Hayes says. "We just built what we thought we would like to ride, then we would test it, and make changes if necessary."
At the time, machine-built flow trails were virtually unknown, and downhill mountain-biking—especially on the East Coast—was of the most bone-jarring variety. Those early Highland trails and features, etched into and over the technical rocks and roots, attracted advanced freeriders and downhill racers.
Hayes quickly realized that in order to sustain growth, one thing was missing: progression. Highland Bike Park's first beginner trail was built by the end of the first season.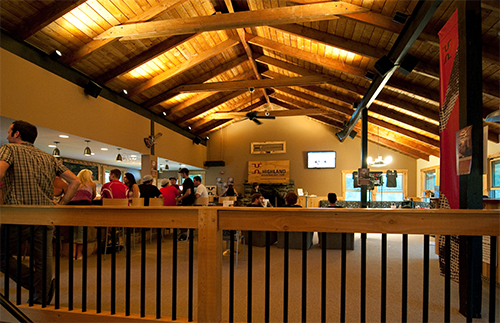 Today, Hayes estimates only 30 percent of Highland's 25,000 annual visitors are advanced riders, while 50 percent are intermediate and 20 percent are beginners.
Hayes says that making mountain biking accessible is what makes a dedicated bike park a profitable reality. The park's learning programs, like the Find Your Ride program, Central Park beginner area, Park Ready program, and Ayr Academy are examples of the park's focus on accessibility. They also have helped build Highland's brand.
"To recur riders, a park needs a diversified trail system and training programs that target riders of all abilities. With the right model in place, your park will create new customers and give them a reason to come back again and again," he says.
"We tracked participants from 2012 to 2014 and realized a 60 percent growth in the Park Ready program. Thirty-seven percent of the original participants were recurring customers in 2014."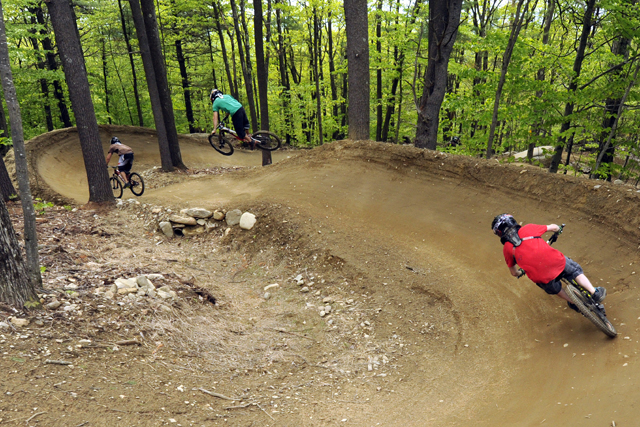 Beyond lift passes, rentals and programs contribute to the revenue stream. About 10 percent of Highland visitors rent bikes, accounting for approximately 12 percent of Highland's revenue. Lessons and programs make up another 15 percent.
Although the bike park helps draw tourism dollars into the surrounding communities, one thing noticeably absent from the bike-only resort is the vertical integration of the "theme park" mountain experience offered by many ski destinations. But Highland has proven that operating without it, or a ski component, can be successful.
---
WHISTLER MOUNTAIN BIKE PARK, BC

The complete mountain experience is something Whistler—a Goliath in both summer and winter sports—does very well. The resort "owns" a majority of the mountain, from village to peak, drawing revenue from not only ticket sales, but food, lodging, entertainment and real estate as well.
"Beyond the riding experience, it is essential to have compelling 'gathering' places—stories told and food and beverage consumed," says Rob McSkimming, Whistler's vice president of business development, when asked what makes for a successful bike park. "Providing a welcoming and hospitable environment is important—bike-friendly community and accommodation, lessons and other programs."
According to McSkimming, the bike park was largely successful from the beginning, bolstered by the surrounding British Columbia freeride movement, and in many ways developed independently of the winter operations. But having the existing infrastructure certainly didn't hurt. In addition, much of the winter terrain park staff works through the summer, sculpting dirt.
Everything about Whistler Mountain Bike Park is big. It boasts 4,946 vertical, and sees more than 100,000 bike park visits each year. Overall, it has drawn more than one million bikes since it opened in the early '90s.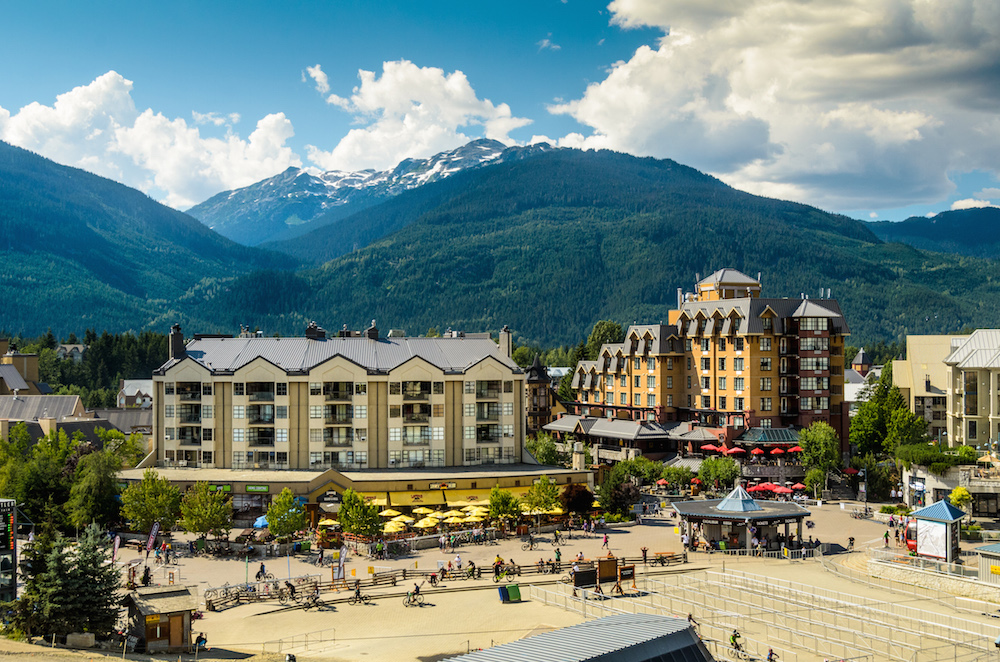 Although that dwarfs many other bike parks in terms of sheer numbers, it is still only about 4 percent of Whistler's annual visits. There's still a lot of untapped potential, though; the Outdoor Industry Foundation counts 40-million annual mountain biking participants in the U.S., more than double the 16 million skiers and snowboarders in 2014, according to SnowSports Industries America.
The figures suggest a huge untapped portion of mountain bikers who have yet to ride a chairlift, and why even the best-known bike park in the world is looking for ways to attract new riders.
To that end, Whistler recently unveiled a "Next Evolution" campaign focused on promoting a progressive riding experience friendly to newcomers, while keeping returning advanced riders happy. In addition to brand-new trails, existing runs are being updated, often with alternate routes and easier ways to approach jumps and features, allowing riders to start small and work their way up.
Whistler Bike Park is also offering free orientation sessions for the first time this summer, providing guided introductions to welcome novice riders and those new to the park.
New bike parks are opening at an exponential rate (unlike the largely insulated ski resort landscape, which has changed little in the last 30 years), but Whistler isn't concerned with competition.
"We believe that the lift-accessed mountain biking industry is still in the 'Rising tide floats all boats,' phase," McSkimming says. "The more access people of all ages and abilities have in more places around the world, the more it will benefit everyone in the game. So we encourage the development of more and better bike parks."
And in spite of the disparity in ticket sales compared to winter, he says the bike park's impact on the area is undeniable.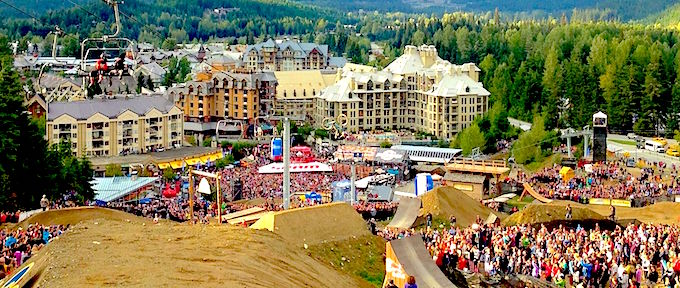 "Mountain biking now generates more economic impact to our community than any other single summer activity," he says. "Biking is a huge part of Whistler's culture—not just because of the bike park, but also due to all of the great riding nearby. Events like Crankworx and others also add a huge amount of excitement and energy to the summer calendar." Not all resorts have the capacity to host events on the scale of Crankworx, but programs and races still help to funnel money into many mountain towns and villages.
The economic impact of the bike community in Whistler stands in contrast with the perception of mountain bikers as a demographic with less disposable income. A recent survey by Whistler found the average annual income of bike park visitors was $87,387. Sixty-three percent are destination visitors traveling 100 miles or more, and 20 percent rent bikes.
---
ANGEL FIRE BIKE PARK, NM

"In the first year of the bike park, the local GRT increased $100,000," says Hogan Koesis, bike park director at Angel Fire in Northern New Mexico. "In Angel Fire, with every 4,000 visits, the town receives an additional $100,000 in revenue. This is remarkable for a crowd that is often associated with not spending money, and bringing in their own supplies and camping."
When Koesis joined Angel Fire in 2011, the resort already offered mountain biking on scratched in cross-country singletrack and some raw and technical downhill tracks. But it lacked a true bike park infrastructure. The resort was hesitant to divert winter funds to the initial startup cost of bringing in a third-party turnkey bike park company, so Koesis was tasked with trail building and showing positive return on a small investment.
With an $85,000 budget his first year, he built a park and turned 1,000 rider visits into 4,000—impressive considering the resort's remote location and lack of proximity to any major populations.
"It was amazing to see the growth with such a little investment," he says.
Today, Angel Fire sees 14,000 rider visits annually, accounting for nearly 12 percent of the resort's annual ticket sales and more than half of summer revenue—greater than golf, zip lines, RV camping and scenic chairlift rides combined. Of the revenue generated by mountain biking, lift tickets account for 25 percent—the same as bike rentals. Lessons and programs account for another 14 percent.
When asked about progression, Koesis says he worked backward, putting initial resources into blue and black trails. "Capturing the dedicated user group that existed is what I went after," he says. "If I was building from scratch, I would start with a green. But there was an existing client base I wanted to cater to."

Advanced, expert and pro level riders still comprise 60 percent of Angel Fire's ticket sales, with the other 40 going to beginner and recreational riders.
Koesis says the next step will be attracting those new to downhill as well as cross-country and trail riders. A seven-mile flow trail was completed last year, and this year's initiative is to offer the product people are more accustomed to—trail riding. He points to the extensive trail networks in British Columbia outside the Whistler Mountain Bike Park as an example of attracting more two-wheeled visits, whether or not they ride the chairlift.
"Focus on cross-country trails so people can have that experience they're used to," Koesis advises, "but with the option to sample the amenity of the bike park."
OPPORTUNITY
A variety of approaches and business models are proving successful, in part because there's still so much room for growth. MTBparks.com estimates fewer than 1.5 million rider visits at bike parks across North America annually, less than 3 percent of the skier/rider traffic resorts see in the winter months. Within the context of 40 million Americans who consider themselves mountain bikers, that leaves a huge opportunity to fill chairlifts in the summer.
"It's an exciting time for the bike park industry, especially for the ski resorts that already have the operations infrastructure in place," says Hayes. "Payback on building trails and programs can be relatively quick. All they need to do is follow their own lead, and build recurring revenue like they have done with the snowsport model. The skier and snowboarder families that don't ride bike parks most definitely want to—they just don't know it yet. They represent a huge customer base that will come out to give it a try, if given the right opportunity."
About MTBparks.com
MTBparks.com is North America's most comprehensive guide to lift-served mountain bike parks and resort destinations. Developed to be the one-stop guide to all of North America's best bike parks, MTBparks.com provides news and event info, trail descriptions, maps, reviews, ticket prices and more. The site helps riders discover new bike parks and plan their next adventure, whether it's a weekend in the local mountains or an epic road trip across the continent.