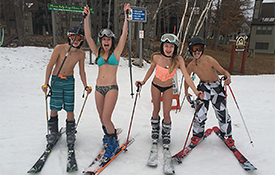 SAM Magazine—Dover, Vt., Dec. 16, 2015—It's no secret that snow has been a scarce commodity everywhere but out West so far this winter—a far cry from the abundant snowfall the East was enjoying at this same time a year ago.
Eastern resorts are well equipped with snowmaking to handle lean natural snowfall, but that horsepower has been waiting in the stable, save for a few days here and there, due to an extended stretch of mild weather.
One area of the U.S. that can sympathize with that plight is the West Coast, particularly California. After several consecutive seasons of lackluster snowfall, operators like John Rice of Sierra-at-Tahoe have some sage advice for folks on the right coast. "We tried to keep the energy positive with lots of animation! Pony hop races, concerts, paint and sip wine classes, cornhole games…things like that," said Rice. "People like to come to the mountains for reasons other than deep snow, we forget that. The mountain air, the scenery, it's still very special."
Karl Kapuscinski, president and CEO of Mountain High in SoCal and Stevens Pass in Washington, has been through this before, too. He offers some additional advice for those struggling with snow cover:
"First, don't panic. It's early yet. We have moved our season starts so early that it's adding to condition woes. There is still a lot of the season left," said Kapuscinski.
"Also, be transparent. I can't stress enough how important honest communication with everyone is during these lean snow times, because it could have long-term effects. That said, communicate what you are doing for them in the short-term. If you moved snow from the parking lot to gain access to a lift, post a video of it. If you made snow briefly when temps dipped, tell/show them. Your customers will appreciate your efforts," he added.
And finally, "Be flexible. Try not to have hard lines and deadlines for your products while you have limited snow to offer your guests," he concluded.
Both Rice and Kapuscinski are clearly enjoying the start to this season after several trying years. "Our conditions are great right now!" Rice said. Kapuscinski described conditions at Stevens Pass as a 9 (out of 10,) but projects a 10 by Christmas. He gave Mountain High a 6 or 7 out of 10, but prospects there also look promising for Christmas week.
That's a widespread sentiment in the western half of the country, which has received a healthy dose of deep snow since the beginning of November. Mt. Hood Meadows, Ore., got 41" of snow Dec. 10-13. As of Tuesday morning, Brian Head, Utah, reported 31" of snow in the previous 24 hours. Colorado Ski Country USA was touting as much as 23" of snow at the state's resorts from the most recent storm.
Snow-challenged resorts have been slow to add to the annual events and activities on the calendar designed to entertain guests during the busy Christmas vacation week—fireworks, special dinners, New Years' Eve parties, etc.— to pique the interest of would-be mountain vacationers who might be thinking twice due to this mild weather. But resorts are beginning to respond to the challenge.
Among them: In Vermont, Stratton Mountain just added "The Running of the Bears" 5k, which will take place at the resort's golf course on Dec. 28. Sugarbush has the kids in mind by adding programs through its Schoolhouse Adventure Camp, which can include outdoor activities like guided nature hikes and field games.
Jay Peak, one of the more weatherproof resorts in the East thanks to its 50,000-square-foot indoor water park, will now play ski movies in the resort's ballroom every day during the holiday timeframe. The resort also added a mixology class for adults.
In the Southeast, North Carolina's Sugar Mountain is hoping to take advantage of snowmaking temps in order to reopen in time for the holiday. According spokesperson Kim Jochi, "Mother Nature is throwing us a few frosty crumbs and we are going to gobble them up to create the best winter fun we can." The resort's Sugarfest features off-snow activities, including a performance on the ice skating rink by Olympic silver medalist Paul Wylie.
According to New England Cable News meteorologist Tim Kelley, this weekend will provide some respite from the recent warmth. "This weekend, the snow guns will be going and it will snow. Vermont and other places will look like winter," he said. But not for long, he added. "Monday will start as snow before it changes to freezing rain for a little while," he lamented. "Then it should rain Tuesday night through Thursday. It should stop raining on Christmas day, with temperatures reaching the upper 50s."
Springtime in December, especially leading up to what is traditionally one of the busiest stretches of the winter season, is far from ideal. Resorts can't control the weather, but neither can they hide from the story their live cams are telling. There's nothing left to do but embrace it, and get creative with activities that may not involve snow, to entertain or attract vacationers. Otherwise, this weather lemon will make for a sour Christmas week.