Innovation and disruption were the main themes of The Forum, April 6-7 during the Mountain Travel Symposium at Keystone, Colo., April 2-9. Group marketing exchanges sandwiched the educational Forum, and the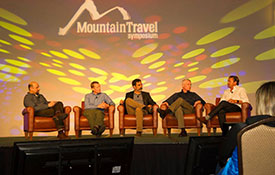 combination drew 1,200 attendees to an event that is both practical and inspiring.
The Forum itself drew several hundred participants, who were encouraged to embrace change—to "crave what's next," as keynote speaker Josh Linkner said. The attendees then identified their two biggest issues of concern: the opportunity to grow summer business, and the challenge of competing with third-party travel distributors (Expedia and Airbnb, among others). Both issues demand innovation, sometimes compelled by disruption.
Millennials figured prominently in both these issues and received a boatload of attention, both in terms of what they want and can afford, and how to communicate with them.
Summer discussions revolved around what it takes to create a summer lifestyle at resorts. Rob Perlman, president of Steamboat, described how the resort is adding a mountain coaster and mini golf to its existing mountain biking, events, baseball tournaments, and other activities. Matt Mosteller of Resorts of the Canadian Rockies noted that building out the mountain lifestyle takes a different form at each of the company's resorts. Kicking Horse, for example, offers a challenging via ferrata, which allows the resort to employ mountaineering types year round, and suits the regional lifestyle.
Both Mike Solimano of Killington and Jeff Suffolk of Human Movement (Powdr Corp's event arm) described the value of unique events that can anchor a weekend or even a week of clustered happenings and activities. And both urged resorts to build momentum from year to year, adding and subtracting events to keep visits growing and to appeal to broad audiences. The ideal is a fully animated summer season, June through October.
For rent by owner was the other issue plaguing many of the resorts and resort property managers in attendance. Not only are Homeaway (which owns VRBO, and which is now part of Expedia) and Airbnb cutting into business, they are creating shortages of affordable housing for employees. A campaign-style debate brought out the strengths of the various accommodations models, but did little to change the perception that direct reservations are preferable. But the overall conclusion was that resorts and property managers must accept the challenge of the new rent-by-owner competition—it's a movement that will only get stronger.
That's largely because Millennials are driving the sharing economy that is increasingly impacting the travel business. Ignite MTS, a series of fast-paced five-minute presentations, illustrated the challenge: Millennials often don't own cars, make last-minute travel plans, and are looking for different types of experiences. They are looking to do that inexpensively and in a more personal way. And they are driving the move to online and mobile purchasing.
Speaking of which: the hot means of sealing the deal is messaging apps, which make transactions "conversational" and simplify the complex. The overall app market is saturated, but messaging apps—which communicate by text and seem very human—are growing fast.
GetOutfitted.com founder and CEO Julian Flores touted the value of renting gear vs. owning. "Get me from home to snow with nothing but a carryon and a cell phone," he said. "People don't have to invest a ton to take part." What they need, he said, is access and convenience. And they want it on-demand, bundled, and memorable.
One last theme: storytelling. Speaker after speaker emphasized the importance of telling a compelling story. If it sounds good, Millennials will bite. As Flores said, Millennials suffer from FOMO: the fear of missing out. "That drives their desire for experience, rather than owning things."
Daunting as it might seem, you can win in the new world of Millennials and the sharing economy. But only by embracing innovation and disruption. That was the message of this year's MTS, and a reminder that this conference remains one of the most important in the resort industry.