There aren't many snow reporters still employed in North America—or the Northern Hemisphere, for that matter. Summer is in full swing north of the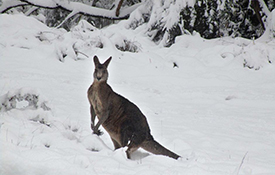 equator, and winter hasn't quite settled in at many resorts to the south. Early season snow in many locations throughout the Southern Hemisphere has since dried up, but there's a lot of winter to go.
Northern Hemisphere
There are currently two resorts in North America still open: Timberline, Ore., and Whistler Blackcomb, B.C., Canada. The open terrain on Whistler's glacier is primarily for training, but it does have a small open-to-the-public park. Timberline is currently spinning three lifts to access a park and a pipe. Mammoth Mountain in California wrapped up its season on July 4.
Across the pond in Europe, there are several glacier-skiing resorts still operating with respectable snowpack. Austria has three resorts open, including year-round Hintertux, which has the deepest snow in the alps with a base of just over 92 inches and is reporting "old snow" as the surface. U.S. national team members have been training there recently. Dachstein and Kitzteinhorn glaciers are also open with similar conditions.
France's three glacier ski areas are reporting the best July snow conditions in years, with base depths measuring about six feet—roughly four times what they were last year at this time. Les 2 Alpes and Tignes plan to be open through most of August. Val d'Isere was the first area to open, but will likely be the first to close with reports calling for July 10 to be the final day.
Passo Stelvio in Italy is reporting "gripping" snow accessed by all six of its lifts. Cervinia in Italy re-opened at the end of June after a steady dose of fresh snow. It's reporting a base depth of more than six feet on 12 miles of trails. It's possible to enjoy cross-boarder skiing from Cerninia to Zermatt in Switzerland. Zermatt is the only ski area open in Switzerland and is reporting excellent July conditions.
Norway's three glacier ski areas have no shortage of snow, with base depths measuring as much as 23 feet. Despite having plenty of white stuff to enjoy, Stryn plans to close July 19, but Folgefonn and Galdhoppigen should stay open into August.
Southern Hemisphere
Fresh snow can be found in Australia where a slow start to the season appears to be in the rearview mirror thanks to nearly 20 inches of snow that fell on the mountains at the end of June, allowing every resort to open for the season. Since then, a spattering of storms have come through to keep things prime, including an 8 inch dump at Thredbo on July 7. The forecast is calling for cool temps and at least a chance of snow at higher elevations every day through the weekend, so look for more terrain to open as snowmaking continues.
It's the opposite story in New Zealand, however. After a great start a month ago, several warm fronts have melted snow cover and hindered snowmaking efforts, allowing only a few resorts to open and forcing some areas that were open to close until cold weather returns for good. The Remarkables, Cardrona, and Mt. Hutt are the only three resorts open for skiing and riding on a fraction of their terrain. Coronet Peak is spinning a lift for scenic rides.
The story is similar in Argentina where early snowfall allowed some resorts to open earlier than expected, but nary a flake has fallen since, according to reports, and only Las Lenas and Catedral are open. Las Lenas has a max base depth of 47 inches on 10 trails, and Catedral is reporting a max depth of 3 inches on six trails served by just six of the resort's 36 lifts.
Resorts in Chile enjoyed prolific snowfall in June with about 10 feet falling in the early part of the month. The snow has slowed down since then, but more than half of the nation's ski resorts are open including Valle Nevado and La Parva, each sporting base depths of nearly 60 inches.
And finally in South Africa, both of Tiffendell's slopes are open and all but one of Afriski's slopes are open for skiing and riding.
It's still early winter south of the equator, and forecasts are calling for things to cool down over an extended period of time across many of the mountainous areas throughout the Southern Hemisphere. Keep an eye on the international snow reports, and if the heat gets too much for you here in North America, head south for some turns.