The mountain town of Gatlinburg is a major summer destination in the Great Smoky Mountains National Park, the most visited park in the United States (nearly twice the second most visited park, the Grand Canyon). Gatlinburg welcomes 11.4 million visitors each year with annual average sales of $3.4 billion.

"Operators will get a rare behind-the-scenes look at what makes the businesses in this high-traffic, high-sales area so successful," said SAM publisher Olivia Rowan. "We will visit and talk with operators about retail, attraction mix, marketing, pricing, safety, staffing, latest products and technologies, demographics, and much more. Gatlinburg is an eye-opening experience and a must-see for any mountain resort operator who is in, or getting into, the summer business."
Summer Ops Camp is the most relevant content for resorts looking to create, expand, or refresh their summer business. Attendees will experience famous Southern hospitality and the very latest summer activities and attractions in a setting referred to as "a magical mountain experience." Resort operators will see how this fast-growing, highly successful mountain town caters to a multi-generational crowd with a mix of world-class theme parks, seven mountain coasters, the latest zip coaster rides, canopy walks, canopy zip-line tours, the longest suspension bridge in the U.S., live entertainment, hiking, biking, camping, and yes, skiing.
MOONSHINE TASTINGS TO THRILLING ZIP COASTERS
Gatlinburg sells itself as a "magical mountain experience served up with Southern hospitality. This draws visitor numbers that are jaw-dropping. Below are just some of what's on tap during the 3 chock-full days at Summer Ops Camp:
Boyne Resorts' SkyLift and newly opened, mountaintop SkyPark, including the new SkyBridge—the longest suspension bridge in the U.S.

Anakeesta, an award-winning design, multi-feature destination described as "a unique outdoor family experience that immerses guests of all ages in the beauty and adventure of the great outdoors."

Mountain coasters. There are seven coasters in a five-mile radius, and each offers a unique experience, day and night.

Zip Coasters. This brand-new technology takes the zip line ride to the next level with dips and curves. We will check out two different installations.

Retail & F&B. Retail and F&B are major draws for Gatlinburg's summer visitors. From moonshine distilleries and wineries to specialty Southern food, we will experience what Gatlinburg has to offer in unique settings.

Theming and storytelling. Gatlinburg and next-door Pigeon Forge are loaded with tourist attractions, all with their own theme and story. Operators will learn how to draw in the drive-by and destination customer through the art of story-telling.

Ebikes. This trend in two-wheel transport is exploding. Attendees will demo and learn more about them.

Mountain Biking. ClimbWorks, a highly regarded canopy tour and mountain biking facility has custom flow trails on tap.

Hiking. The region's 800 miles of hiking trails and hundreds of miles of streams attract outdoorsmen and nature enthusiasts from all over the country.
MORE INFORMATION
Come to Summer Ops Camp to gain insights into key strategies and opportunities that will boost your own summer ops business. Click here to regsiter. Space is limited and filled on a first come first served basis.

Questions: E-mail sarahw@saminfo.com.

---
WHAT TO EXPECT
Summer Ops Camp is three days chock-full of hands-on experiences, educational sessions, networking events, and product demonstrations. The event gathers mountain resort personnel from across North America and around the world to explore opportunities in four-season attractions and revenue growth. The format ensures a constant stream of insights from experts, manufacturers, colleagues, and personal experience.
Focus on growing summer business.
We gather experts and fellow operators to share ideas and knowledge about how to increase your bottom line.


Latest and greatest.
Learn about the next big summer attractions and activities, and meet vendors who supply them.


Operational best practices.
Whether it's your aerial adventure park, summer tubing or mountain bike park, learn how to keep your customers and employees safe during summer months.


By the numbers.
Deep dive into where to find, how to attract and retain the summer customer. Whether working with online travel agencies or distribution channels like Expedia or Viator or the importance of review sites like Trip Advisor.
AGENDA HIGHLIGHTS
Events, Large and Small

Summer Ops Best Practices

Capital Planning

Mountain Biking

Branding Summer

Pricing Strategies

Food & Beverage / Retail

Landscaping / Theming

Staffing and Seasonal Transitions

Catering to Young and Old

Marketing Channels

Lessons Learned

Summer Risks

Getting the Right Attraction Mix

...and much more!
PACKAGES* ARE ALL-INCLUSIVE OF LODGING, MEALS, INDOOR SESSIONS, OUTDOOR WORKSHOPS & ACTIVITIES, NETWORKING EVENTS, DRINK TICKETS, AND WELCOME BAG.
---
We had excellent program and turn-out at Aspen Snowmass in 2018. See details below and stay tuned for more program details on Summer Ops 2019 in Gatlinburg, coming soon.
Considerations for Using Rope Access at Resort Sites
Learn about Rope Access and the industries around the world that use this work practice and why. Explore consensus standards and how this industry is regulated. This presentation will also focus on training requirements to become Rope Access technicians, safe work practices as well as the specialized equipment used in this form of fall protection and specialized work-at-height and rescue techniques.
Michel Goulet, Petzl Professional Division Sales Manager
Summer Market Intelligence
The summer season is maturing in Western Mountain resort communities, driven largely by special events and activities. As many destinations reach peak occupancy in summer – and often surpass the best days of winter - we'll take a look at how events have impacted the meteoric growth of summer over the past eight years. We'll also discuss whether there's such a thing as 'too much' success. Tom Foley of Inntopia will present a Town Hall forum on the subject, using mountain destination and greater market intelligence to drive an interactive discussion on the opportunities and hurdles to growing the summer market and extending the summer season.
Tom Foley Sr VP, Business Intelligence at Inntopia
Summer Ops on the National Forest
Join key stakeholders from the Forest Service as they lead a discussion with operators on how to implement your vision. The will offer advice on the process, from planning and permitting to implementation. They will talk about the mountain resort planning team in Colorado that has been successful at making ski area projects a reality. Gather intel that will save you time and money.
Moderated by Travis Beck, Director of Environmental Services at SE Group. Panelists: Roger Poirier, Seth Wallace and Don Dressler, United States Forest Service
Summer Ops 2.0
The low-hanging fruit of summer operations has been picked, and the market is maturing. Resorts in robust summer markets have found their own unique set of activities: mountain bike flow trails, adventure parks, zip lines, mountain coasters. Campgrounds, gem mining, bungee trampolines, glamping. Enter "Summer Op's 2.0" – a deeper dive into the creation of a more comprehensive and curated mountain experience, with the goal of expanding demographic reach, increasing spend, lengthening visit times, encouraging repeat visitation, and establishing a unique destination within the ever-growing competitive marketplace. Think brand-specific theming. Comfortable places to play, eat, relax in the shade, enjoy water. Edutainment, where interpretive signage and knowledgeable guides tell the local story. Friendly and entertaining staff. And lots of Instagram moments! Using examples from across the country, including the host venue Lost Forest, this session will explore how resorts may continue to evolve their summer operations to meet the growing demands of the market.
Panelists: Claire Humber and Jason Hoover, SE Group; Maura Trumble from CCY Architects
Creating Unique Adventures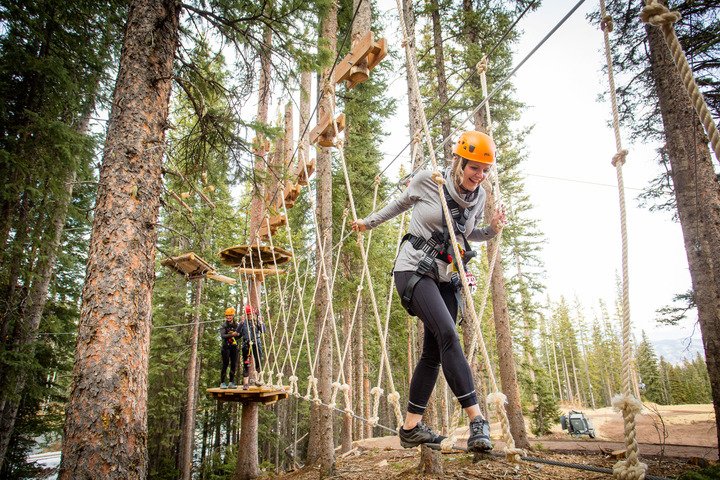 A key aspect of summer ops 2.0 is developing a unique and on-brand suite of activities that stand apart from the competition. Three case studies represent examples of unique and on-brand suites of activities that stand apart from the competition: jaw-dropping via ferratas at Jackson Hole and Mammoth; creative kids activities, such as Treetop Quest's Spiderquest, Hobbit Village, KiddieQuest and Chick Pea Course; and a closer look at Killington's extensive mix of attractions including the Wrecktangle, a clever adaptation of the ninja theme.
Panelists: Mike Friedman of Adventure Partners, Julien Hatton, Development Manager at Treetop Quest and Rich McCoy, Director of Summer Operations at Killington Resort
Creating Unique Adventures
A key aspect of summer ops 2.0 is developing a unique and on-brand suite of activities that stand apart from the competition. Three case studies represent examples of unique and on-brand suites of activities that stand apart from the competition: jaw-dropping via ferratas at Jackson Hole and Mammoth; creative kids activities, such as Treetop Quest's Spiderquest, Hobbit Village, KiddieQuest and Chick Pea Course; and a closer look at Killington's extensive mix of attractions including the Wrecktangle, a clever adaptation of the ninja theme.
Panelists: Mike Friedman of Adventure Partners, Julien Hatton, Development Manager at Treetop Quest and Rich McCoy, Director of Summer Operations at Killington Resort
Risky Business: Protect your Resort from Common Claims
Insurance experts and defense attorneys will highlight the biggest summer risks operators should be focusing on to avoid claims. An interactive session, groups will be get a chance to assess scenarios and come up with tactics to mitigate exposure, with coaching and feedback from experts. Panelists will then share cases where tactics were employed or missed and the impacts these actions had on the case.
Panelists: Tim Yates and Mistica Walker, Specialty Claims Adjusters at Safehold Special Risk; Jordan Lipp, Attorney, Managing Member at Childs McCune Attorneys
Marketing: It Takes a Village (When You're Not the Only Game in Town)
In winter, mountain resorts are the primary draw to an area. Resorts have a keen understanding of their winter guest so it's easier to reach them and entice them to visit with marketing and sales efforts. In summer, though, mountain resorts compete with a broad variety of established attractions and activities. Plus, reaching and enticing guests is far more challenging since the customer profile is more complicated. So how do we convince visitors to choose a trip to the mountain versus going elsewhere? In many cases, it takes a village. This is the approach Aspen Snowmass is taking. In this session, learn how partnerships with local tourism organizations are helping the resort attract and learn more about the area's droves of summer guests, while expanding reach to attract more of these guests to the resort attractions, ultimately driving economic stimulus for the destination.
Panelists: Panel: Christian Knapp, CMO, Aspen Snowmass; Rose Abello, Executive Director, Snowmass Tourism; Kirsti Kavanaugh, VP Global Sales, Aspen Snowmass
Oh, What I Wish I Had Known Then
There are myriad details involved in adding almost any summer activity to your operationas—many of them unimagined at the outset. Our panel of veteran summer operators outline the often overlooked aspects of summer operations—building staff culture, designing operating procedures, conducting inspections, guide training, keeping up with standards and technology, risk management, customer education—and how to manage it all.
Panelists: Jamie Barrow, Dir. of Operations, Training & Risk Mgmt, Vail Resorts; Nancy Heard, General Manager, Glenwood Caverns Adventure Park and Peter Santini, Director of Business Development, Aspen Snowmass
ON-HILL WORKSHOPS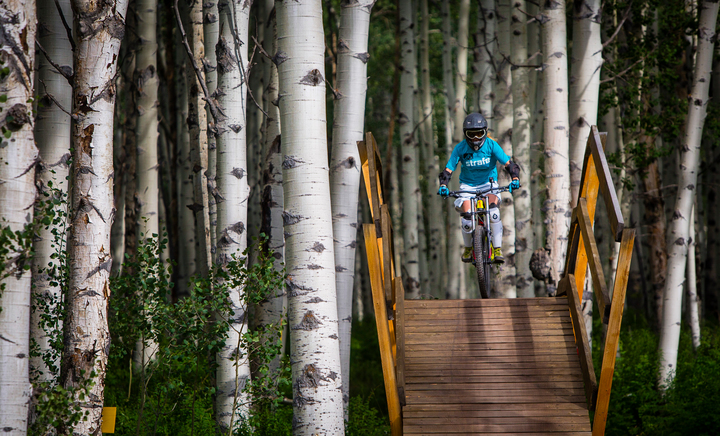 Mountain Bike Park: Successful Female Mountain Bike Programs
Three female coaches will take campers out to learn about the ABCs (Action Stance, Braking, and Cornering) of DH Mountain Biking and how to cater and market mountain bike programs toward women.
Mountain Bike Park: Design and Construction of Flow Trails
Dave Kelly and the Gravity Logic team will lead campers through the design and construction process of the flow trails at Aspen Snowmass, starting at the rental shop.
Mountain Bike Park: Skills Park and Terrain Based Learning
Explore Aspen Snowmass's brand new skills park and learning zone for beginners and discover how to integrate TBL (terrain-based learning) into summer mountain bike operations.
Aerial Adventure Park: Ground School, Staff Training, Design & Construction
From design to staffing and everything in between, experience Aspen Snowmass's Lost Forest while exploring the importance of planning and training for aerial adventure parks. Bonsai Designs.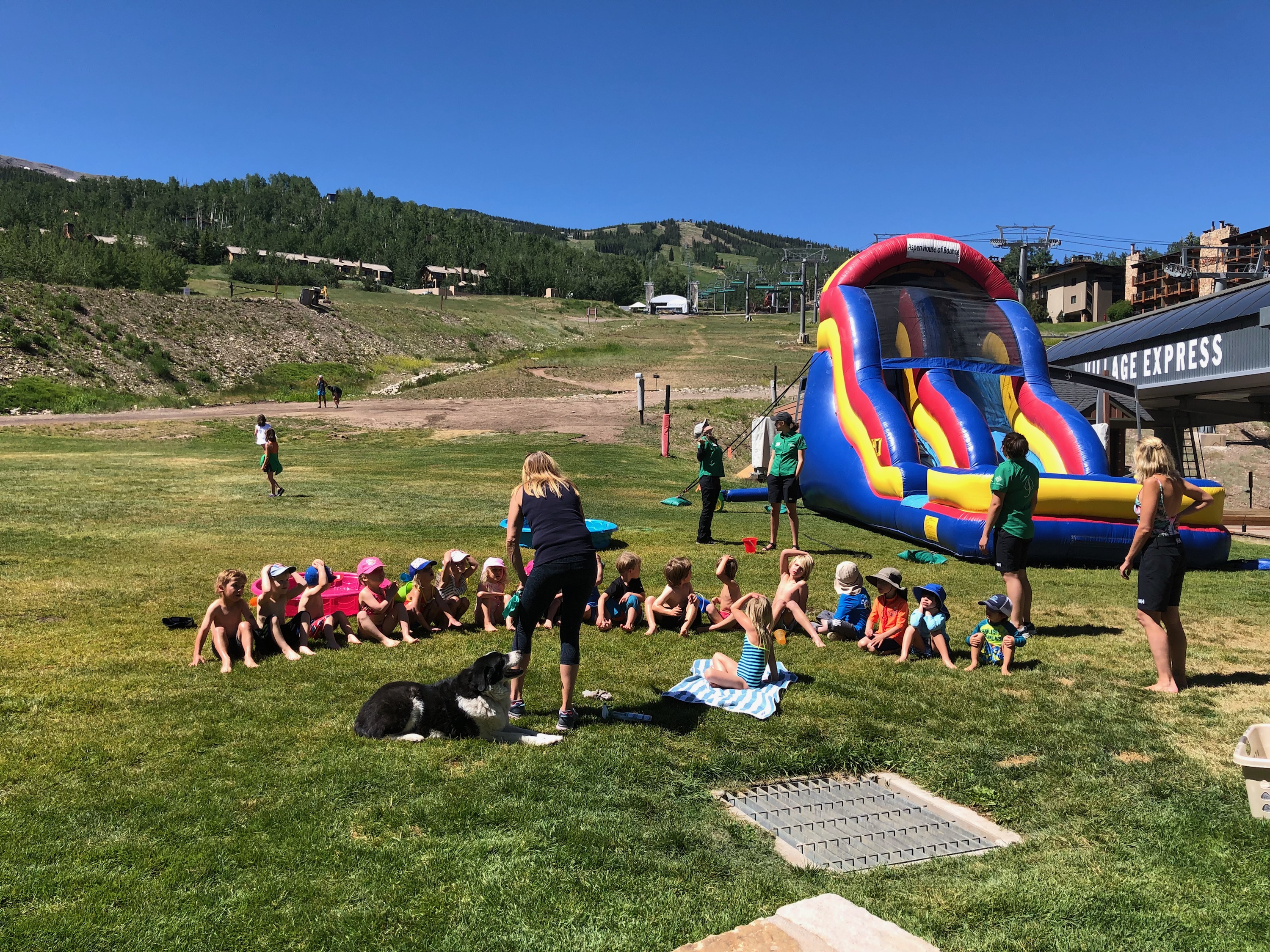 Camp and Kids Programming
With families, it's all about the kids, and little kids in particular. How do you entertain and captivate this crowd in summer? We will explore the ROI of kids camps and how to integrate them into your summer activities, such as mountain biking and adventure parks. This session will take place in the state-of-the-art, award-winning Treehouse facility at Snowmass.
Rope Access Equipment, Techniques, Safe Practices
Discover Rope Access equipment, techniques and safe work-at-height & rescue practices used by certified technicians. Technicians will discuss compliance, legalities and training to help you avoid costly mistakes. They will also demonstrate how to access difficult to reach areas at ski resorts such as mechanical lifts, building and aerial structures like Adventure Park and Zip Line installations for both work and rescue purposes.
Brian Brechwald: Petzl Professional Technical Sales Representative, Eric Cylvek, CEO of Ziprider

It's Pump Day!
Pumptracks are a perfect structure for practicing balance, learning skills and improving confidence on mountain bikes and other wheeled sports. It can remain in a fixed position year round or it can be disassembled to be stored for the winter months or transferred to various locations for different events. Come try your hand on a full scale modular pump track and see if it's a fit for your summer activities.
Building Your Mountain Playground: The ROI of Adding Water
From water parks to adventure parks, the right mix of attractions will both draw guests to your mountain AND keep them there. Join us for this open Q&A session on the operational impact and ROI of adding water to your mountain park. If you are considering adding an indoor or outdoor waterpark, or even just looking to add in single water features to your existing attraction offerings, this is your chance to get your questions answered from the mountainside aquatic experts at ADG. From the impact on your bed base, to parking and operational infrastructure considerations, to the potential for market area expansion, we'll address all issues that affect the design, build and implementation of a successful aquatic attraction on your mountain.

Mountain Bike Parks
A mountain bike park can add to your bottom line and compliment your exisiting summer business. Join the Kevin Jordan from Aspen Snowmass and the team from Gravity Logic as they share their expertise and answer your questions on how to design, build and operate a successful mountain bike park.

Dollars and Sense of Summer Activities
Bring your burning questions to the experts on the financial opportunities and costs of summer activities. In this small group discussion experts and your fellow operators will share their approach on identifying, costing and evaluating the broad array of summer amenities and activities.

Forest Service
Key stakeholders in the Forest Service will take your questions on how to best implement your summer plan. From advice on process to planning, gather the intel that will save you time and money.

Guest Education
Your summer activities, like your winter activities, require guest education. Hear from experts and fellow operators on successful ways they taking steps to positively impact the experience of the summer guest

Inspections / Staff Training / Compliance
It's a fast changing world of standards, regulations, compliance and best practices. Experts will share what you need to know now and what is coming down the pipeline. Don't miss an opportunity to quickly get up to speed on these important issues.
This year's Summer Ops Camp will have a slew of product demos by manufacturers from across the country. Attendees will get the chance to try out new products ideal for summer offerings at your resort. From world-class mountain bike trails to cosmic tubing and everything in between, get ready to experience the mountain resort like your customer does!
Tuesday Afternoon: Sign up for a Canopy Run Zipline Tour (space almost filled), or Mountain biking tour. Please email sarahw@saminfo.com to reserve a spot.
Tuesday Evening: Demo Aspen Snowmass's new Breathtaker Alpine Coaster, Rugged Ascent climbing, Innova disc golfing, and wrap up the evening with Cosmic Tubing by mSnow.
Wednesday Afternoon: Demo QuietKat Eletric Bikes, Progressive Bike Ramp's pump track, Water Wars activities, Innova disc golf, and more.
Thursday Afternoon: Aspen Snowmass mountain biking and Canopy Run Zipline Tour will be available. Please email sarahw@saminfo.com to reserve a spot.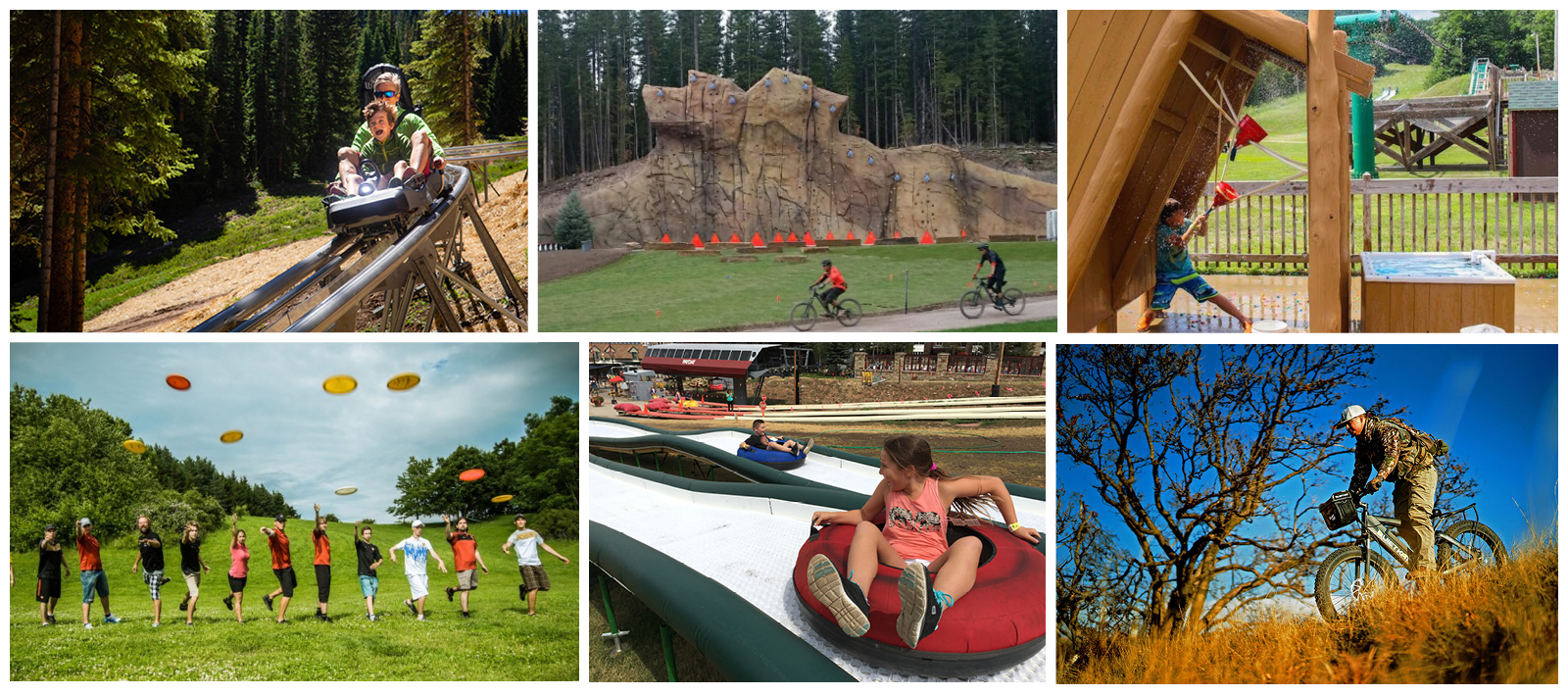 CAMP PARTNERS