Summit Series Bootcamp: Resilient Leadership Training

The ongoing COVID-19 health crisis has presented a decidedly different work environment this winter. A successful outcome hinges on how effectively resort managers, supervisors, and directors lead themselves and staff through the inevitable challenges that will arise. This situation calls for a specific set of leadership skills. In this course, we'll help you identify and strengthen them.
This past fall the Summit Series is launched a "Resilient Leadership Training" bootcamp—an interactive course designed specifically for the ski industry by organizational development and leadership experts. Now, midwinter, it's more important than ever to strengthen our resiliency.
What is the Resilient Leadership Bootcamp?

SAM has partnered with leadership experts to create a program that helps managers at all levels develop confidence, inspire action and act decisively so they can lead their teams successfully. The program prepares leaders to face novel and daunting situations and instills the confidence needed to see new possibilities. This digital, self-paced course is a combination of live sessions and video modules accessible by mobile, laptop, or tablet.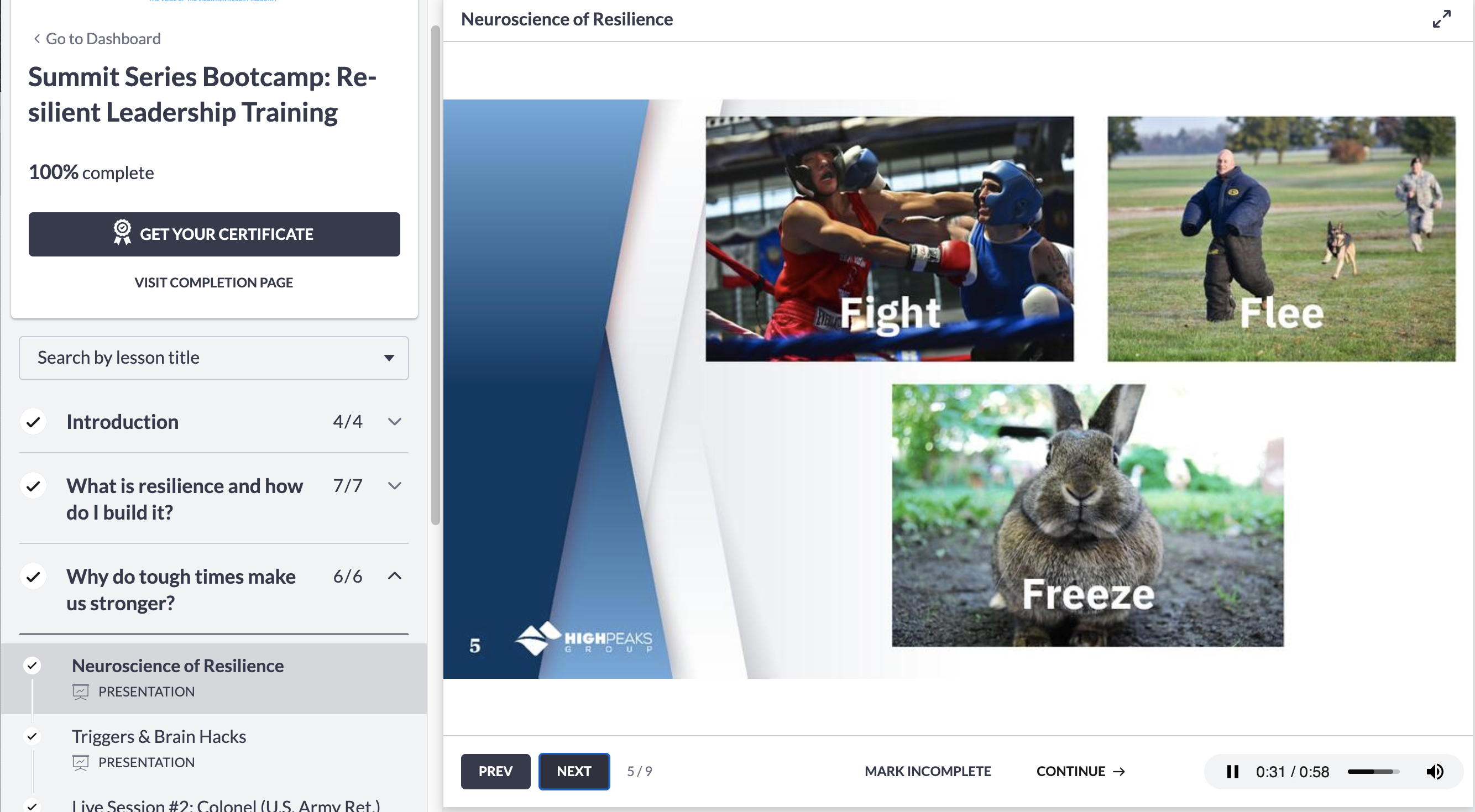 There's a lot to learn about leadership in our current environment. Discover what makes leaders resilient; understand how the brain responds to stressful situations; acquire tips and techniques to maintain your cool under the most extreme conditions, and how to train your staff to stay cool, too.
There are 30 lessons organized in bite-sized videos (average 2 minutes) so you can proceed at your own pace, day or night, as your schedule permits. A progress checker keeps you on pace and holds your spot when you leave and come back.
This program is enhanced by video lessons,

three sessions with leadership experts, discussions, quizzes, thought-provoking exercises, supplemental reading, and the opportunity to connect with like-minded leaders in an exclusive closed forum.

Total time to complete is approximately 5-6 hours.
What Will Leaders Learn from the Resilient Leadership Bootcamp?



Perspective and understanding of the challenges and opportunities leaders face this winter.
How to stay grounded and realistic during uncertainty while fostering trust and confidence.
How to defuse high stress situations and communicate transparency and compassion with guests and staff.
How to create a culture of compassion and trust and inspire solution-based thinking from your team.
How resilience works and how

to

build it.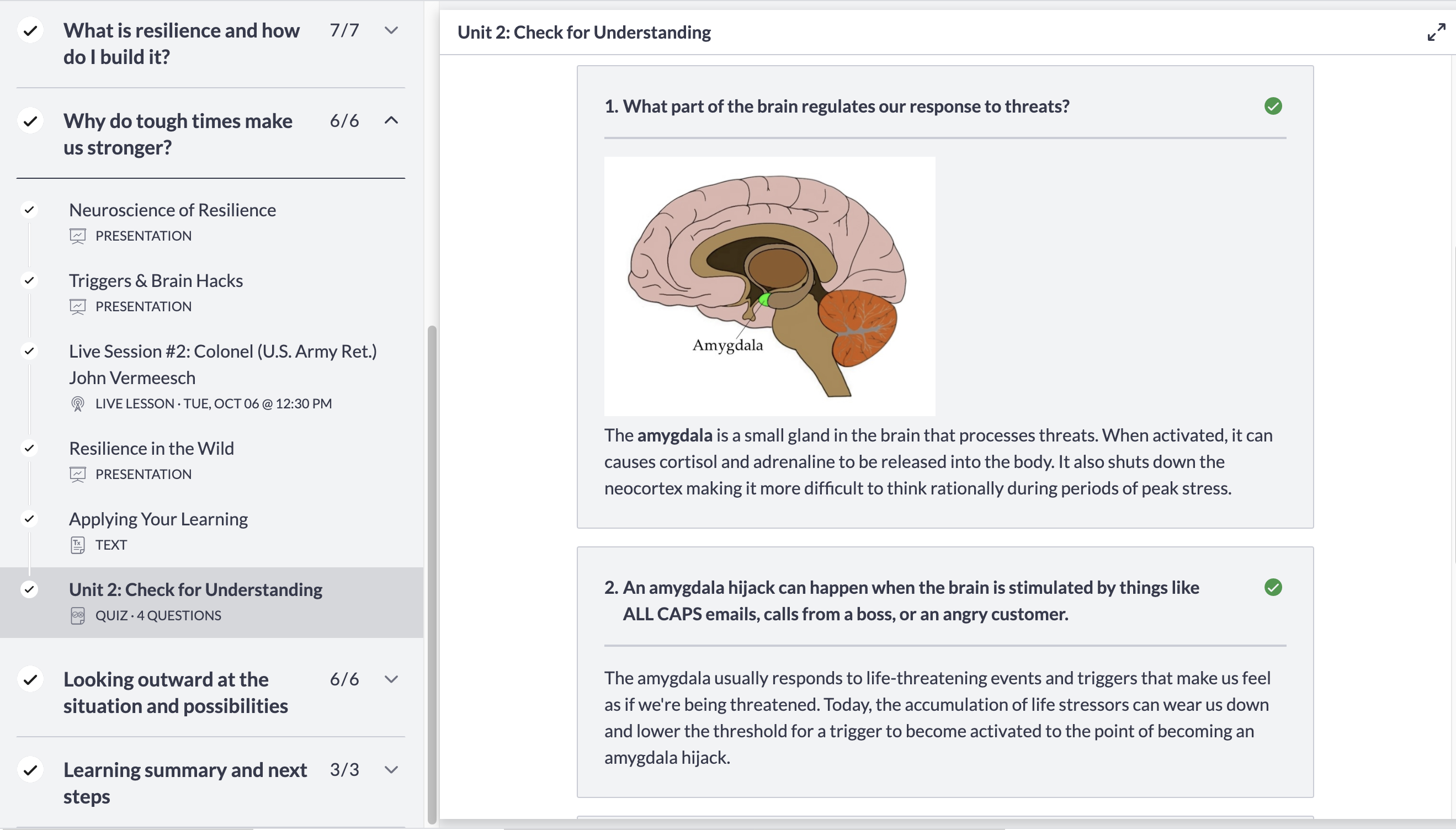 Why participate?
Your team will be under a lot of pressure personally and professionally. They will be looking to you. Leading with confidence and courage is more essential than ever.
Your team will find themselves in high-stress, rapidly changing environments. Learn how to become a solid, stable, consistent leader that brings calm to the storm.
You and your team need to stay grounded this winter. Learn how to be more responsive and less reactive to move your team forward.
These are extraordinary times and your team can do extraordinary things this winter with the right foundation of tools.
Who should sign up?



Anyone who manages teams large and small.
Aspiring leaders who want to make an impact at their resort.
Current leaders who want to learn specific skills needed to lead during a crisis.

Bootcamp Participants

Say...
"I did not know what to expect when I started this course - to be honest I was busy and not sure I had the time - but I made the time, and was hooked. Whether you are new to the ski industry, or have been working at an area or for the ski industry for 50 years, this was a great course and reminder of what we each can accomplish."
- Mary Bozack, MountainGuard
"The course was extremely helpful and provided insight on how I process my thoughts, emotions and decision making. It gave me hope for myself, knowing others are experiencing these same processes inside themselves. Thank you very much for putting this all together. I feel stronger and more resilient than I realized prior to taking the course. Keep up the great work."
- Andrew Lanoue, Interactive Marketing Coordinator, Jay Peak Resort, Vt.
"The flexibility of this course was the best part about it, it was so easy to fit modules into the little bits of downtime throughout the day"
- Rylee Meyer, lift Ops Manager, Red River Ski Area, N.M.
"For me, listening to the stories and experiences of the speakers were the most helpful. The practical examples they shared resonated with me well. Overall, a great course!"
- Marshall Clark, Manager, Smugglers Notch, Vt.
"I

really

enjoyed the course!

The topics covered are so relatable to the COVID times we are all dealing with but will also benefit participants outside of these times given all the uncertainties we face in the ski industry on a daily basis."
-

Stephen Remiliard, Mammoth Mountain, Calif.
"The tone of this [course] connects so strongly to what we've experienced through our tough times at Jay…

That relationship building, empathy, respect, supporting each other, problem solving, etc.. aren't borne inside a crisis, but they can be forged there and make you better prepared for the next crisis."
-

Steve Wright, General Manager, Jay Peak Resort, Vt.
"Fantastic course and fantastic material! This is exactly what I needed heading into this unprecedented winter."
-

Tom Royther, Marketing Manager, Ober Gatlinburg, Tenn.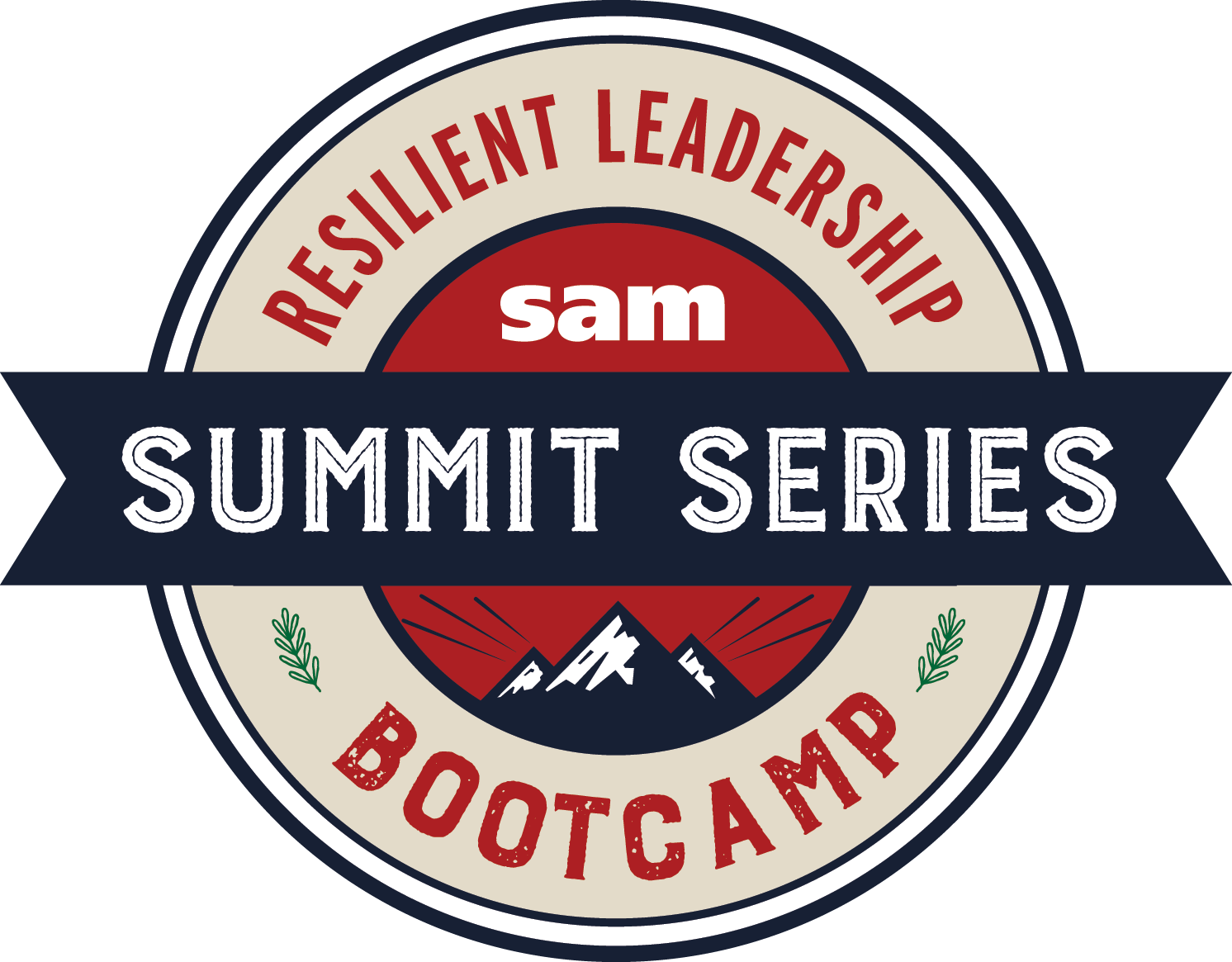 Learn about the experts that will guide you through the program.