Table of Contents


1. Buttercup Wall Rides
Mt. Hood Meadows, Ore.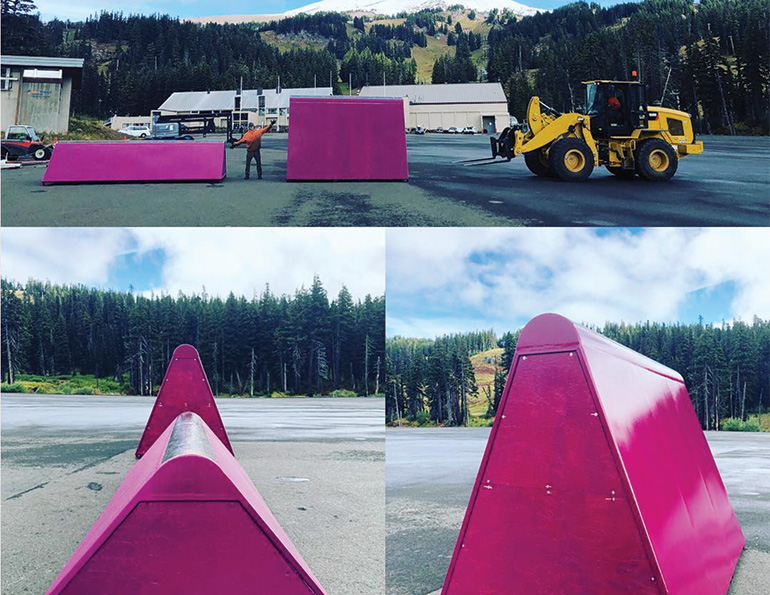 Sustainability is one of Mt. Hood Meadows' core values, and these two wall rides were built with that in mind. Park crew members John Ogletree and Jared Scholz built them, using leftover lift towers from the original Buttercup chairlift, which was replaced in 2017. They cut the towers in half lengthwise and used them as coping at the top of the walls. Plus, they made the frames largely out of reused stock from retired park features. New sheet metal was used for the siding. The shorter wall measures 5.5 feet high and 16 feet long, the taller wall, 9.5 feet high and 8 feet long. Ogletree and Scholz took 10 days/120 labor hours to build each wall. Built-in fork hole sleeves make it easy to safely lift and move them using a fork cat, so it only takes the crew about an hour to set the walls.
2. Bomb Drop
Loon Mountain Resort, N.H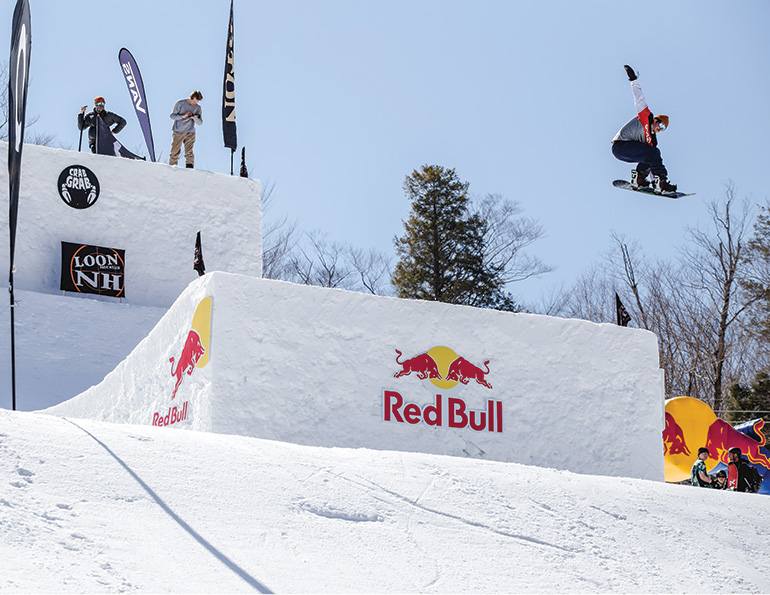 This unique behemoth was built for the 19th annual Last Call event. After an 18-hour build using multiple snow cats and chainsaws, the Bomb Drop appeared. From a complete stop on the lip of the top deck, riders dropped 10 feet into an elevated mini ramp. The most fluid riders absorbed the first transition, quickly adjusted, and popped hard off the second transition – easily touching down on the landing. It took even the most seasoned riders, including Scotty Lago, Chas Guldemond, and Jed Sky, a few tries to dial in their approach.
3. Buttered Noodle
Spirit Mountain, Minn.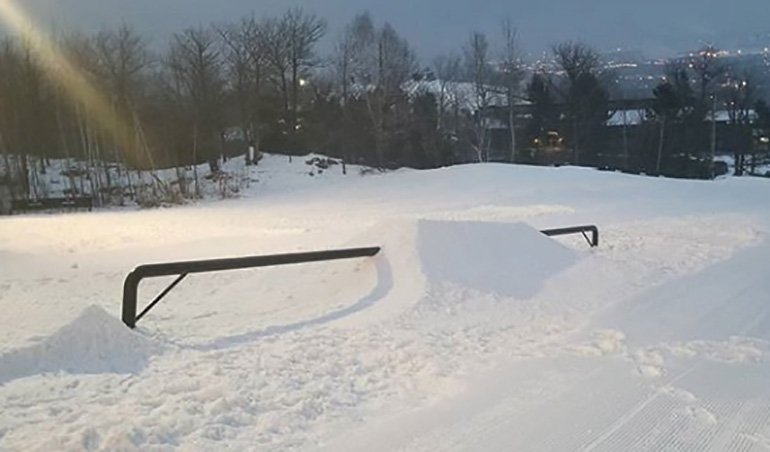 The Noodle is a 40-foot-long, four-inch tube that was purposefully built without mid-rail supports to allow the rail to flex and move while ridden. It's been a favorite of Spirit Mountain park riders. To change things up, last winter the crew added a 15-foot-long all-snow butter pad underneath the middle of the rail and, presto, created the Buttered Noodle. A snow cat pushed a pile of snow to the spot, and the park crew raked it into shape. The butter pad largely stabilized the rail, but the new twist was a hit with park goers, and a nice way to add a different dimension to a popular feature in Spirit's rope-tow park.
4. Murray's Dance Floor
Blue Mountain, Ont.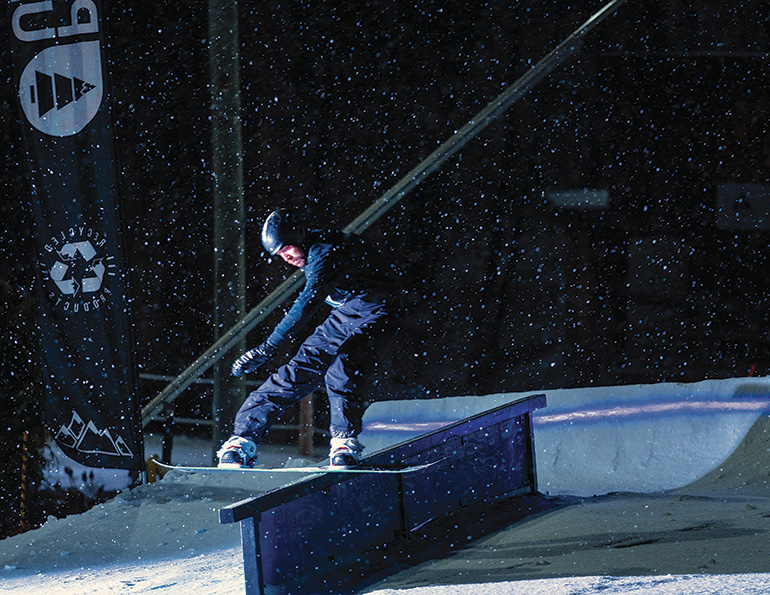 The crew at Blue Mountain does a custom build for the resort's Friday Night Rail Jams. For the event on Feb. 15, VP of mountain operations Murray Frankcom gave the park crew some LED lights to spark some creativity. So, they built Murray's Dance Floor. It started with a below the surface take off, dug using a mini-excavator. That launched riders over an eight-foot gap onto a 12-foot-long butter box—Murray's Dance Floor—that was lit up by the color-changing LEDs. Riders then cleared a two-foot gap onto a 20-foot down rail. The feature was built in one night, by head park builder Dave Wright using a PRINOTH cat, and shaped in one day by Blue Mountain park staff.
5. The Richter Scale
Mountain High, Calif.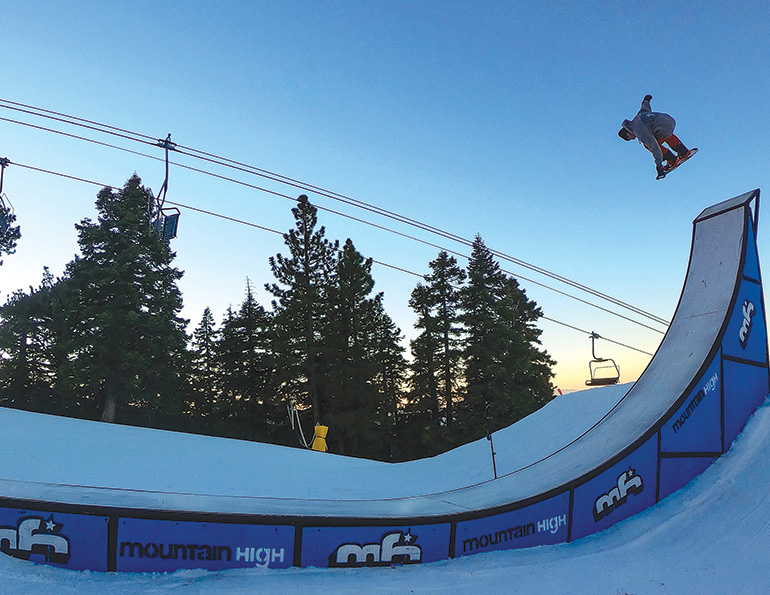 Mountain High is located on the San Andreas fault, and the Richter Scale feature "represents our relationship with California's sleeping giant," says VP of sales and marketing John McColly. "It measures how much riders are shaking up the park, and the readout can be seen on their faces." An outside shop bent the transition coping, and the rest was built in-house over nearly two months, using steel framing, plywood paneling for the sides, and a plastic sliding surface. The Richter Scale is 12 feet high with a 16-foot-long run-in, and the sliding surface is three feet wide. The lower-angle panel at the very top of the ramp allows skiers and riders to stall or spin at the pinnacle of the ride. To move this feature around the mountain, Mt. High uses a system of three skis—each four feet long and one foot wide—so it can be towed by a snow cat.
6. The Globe
Summit at Snoqualmie, Wash.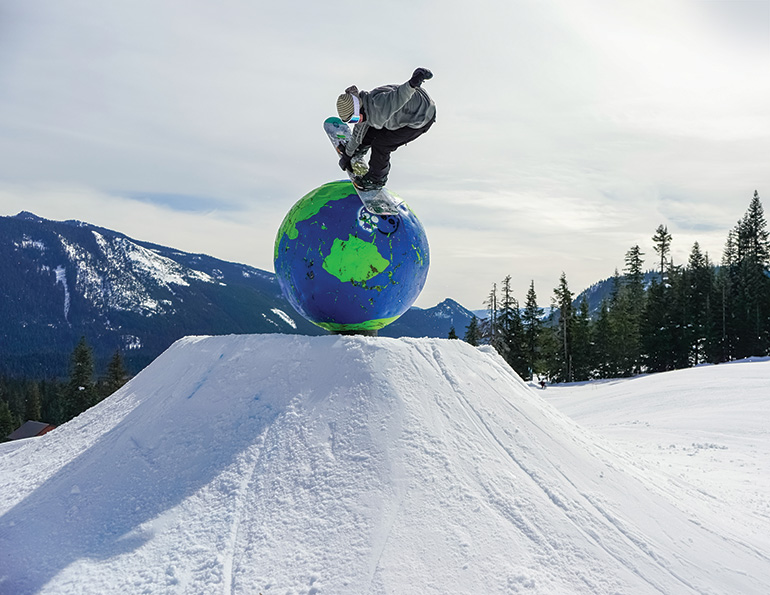 Recycled buoys have been fan-favorite jibs here for years. This metal buoy, which came from a shipyard in Seattle, is unique for its 60-inch diameter and globe shape. The buoy jib fleet's blue and green color scheme presented a perfect opportunity to transform this buoy into a jib-able Earth. In a nod to Washington's many active volcanoes, the crew set the globe atop a snowcano along a lift line. To get it there, the crew used a snowcat with forks. It took about an hour for three crew members—fork cat operator, blade cat operator, and a hand shaper—to set the feature, which is held in place by an eight-foot section of an old lift tower welded to the metal shell that's buried in the snowcano. The park crew shared the globe's story with folks getting off the lift, to inspire them to reuse and recycle what they can.
7. The High Trap Rail
Mount Snow, Vt.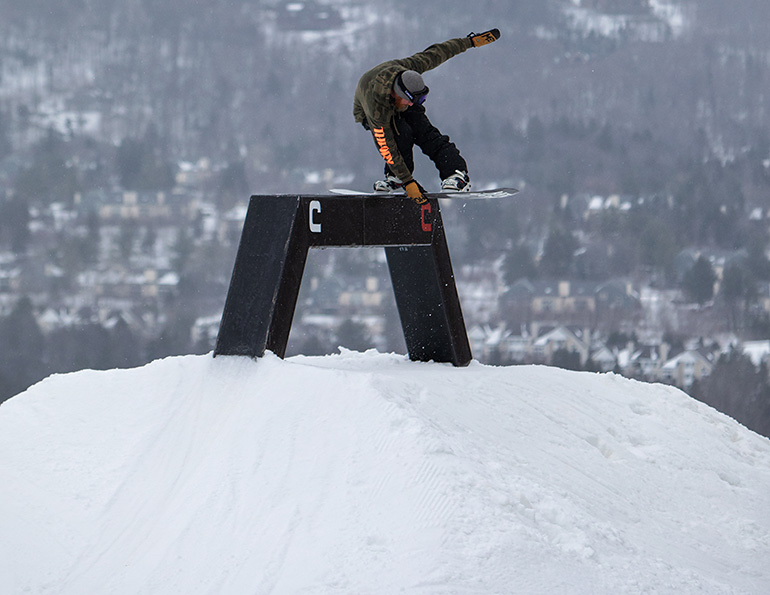 One man's trash is another man's treasure. "The High Trap" consists of 20 feet of square lift towers from a decommissioned double chairlift. The feature stands about five feet tall and is 13 feet long. It took Rory Bruder around eight hours to weld five sections of tower together and fabricate this five-foot-tall, 13-foot-long feature. It took the crew about two hours to set it up in Carinthia's large Gulch park by cat driver Rob Black. The feature allowed advanced park riders to pull a wide variety of creative tricks all winter.
8. Yuki Ball
Thredbo, Australia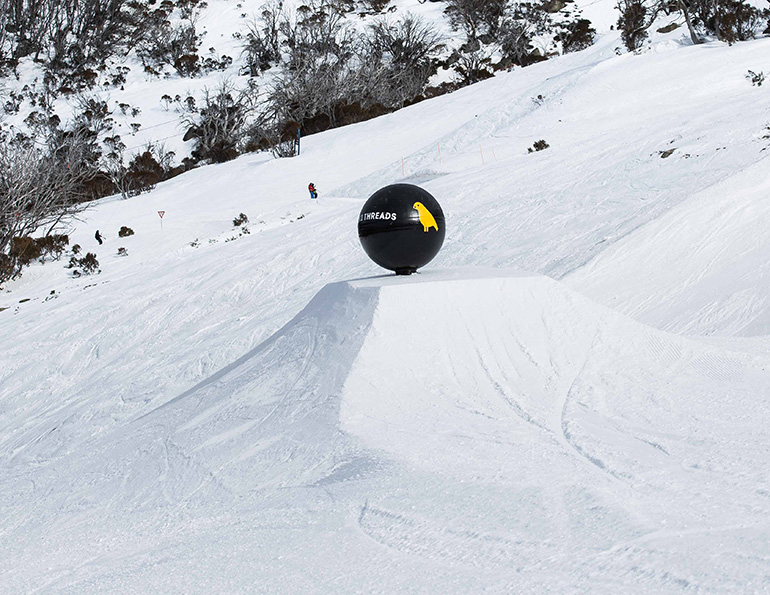 These features—there are two of them—were made in-house through a collaboration with Yuki Threads, a local snowboard company. It took one day to fabricate and weld two steel-frame hemispheres together, and also attach the posts that keep the balls stable in the snow. Each post is made from six feet of recycled steel snowmaking pipe welded to the shell. One Yuki Ball is about 6.5 feet in diameter, the other, five feet in diameter. A local artist hand-painted the branding on-site. The balls can be half buried, so riders of all abilities can bonk or stall them, or set up proud for advanced riders as a bonk.
9. MAIN LINE JUMPS
THE ROCK SNOWPARK, WIS.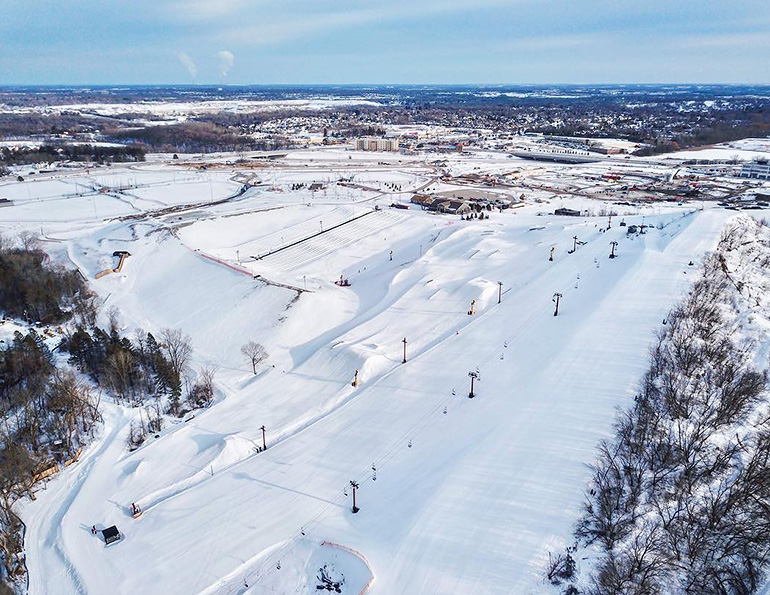 It can be a battle to provide consistent quality jumps in the Midwest due to frequent weather swings, limited space, and lack of snow resources. At The Rock Snowpark, though, powerful snowmaking and the hill's natural slope make an ideal location for a three-pack of jumps. Those on skier's left of the park progress in size: The first starts the season at 10-15 feet, the second at about 20 feet, and final jump at around 35 feet. Each has steep, 30-degree landings. After three full days of snowmaking, it took several days to push out the landings using a PistenBully Park 400. Then the takeoffs were built in one night, using the cat and a few park crew doing hand work. The jumps grew a bit as the season went on and the local skiers and riders progressed their skills, thanks to the consistency of the jumps' takeoffs and landings.