Table of Contents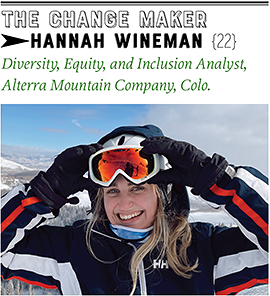 Hannah Wineman's role at Alterra Mountain Company formulated practically overnight. Fresh out of college with a degree in sociology, Hannah knew she wanted to do impact work. She'd always loved snowsports but wasn't sure if her passions and career goals overlapped. Alterra, like many companies at the time, was ready to commit to diversity, equity and inclusivity (DEI) action, so Hannah jumped on board as a DEI-focused intern. Her initial strategic planning work now underpins a whole department and netted her a full-time role at the company. "She's innovative, creative and changing the game in this space [DEI]," said a nominator.
You took the lead establishing an internal DEI advisory team. Tell me about that.
That has been the most rewarding part of this job, being able to collaborate with these industry leaders who have so much wisdom and so much diversity of knowledge. We interviewed more than 50 employees, and I had conversations with everyone, asking, "what changes would you like to see in the industry?" I really tried to take a front seat but listening approach to capture what I call this "inventory of lived experience" because I am young in my career and I'm just one person with one narrow lens of the world—we all are. What I'm trying to do is collect everybody's experiences and use those in my decision-making and strategic planning. 
What's the worst professional advice you've been given?
I don't know if it was something that someone told me, but it was an assumption that I had— the idea that you need to know everything. Because I am young in my career, I think it's something I struggle with, but it's so unproductive to a lifelong learning mentality. The willingness to ask for help, to say, "I don't know, let's do this together," is so important. 
Tell me about how you've been helping to develop some of Alterra's signature programs. 
As we look to the coming season, we are looking for collaborative partners to work with to prioritize expanding access, particularly to youth. Youth, to me, is really important because this sport has the opportunity to change lives. I've seen how it has had such an impact on my life and the people I work with. Also, youth are the next generation of our employees and our customers. As we commit further to diversity, equity and inclusion, we know this is a long haul. It often takes that planting of the seed when you are young to be really excited about the snowsports industry. It's tricky. There is a pressure on organizations and industries to see results very quickly. We recognize that it takes a while for the seed to grow and bloom.
What industry developments have you stoked for the future of snowsports?  
I work on our Environment, Social, Governance team. Something I'm really excited about is the industry's commitment to sustainability and environmental action. We are at this pivotal point in history where if we don't take intentional action now, we won't have an industry to celebrate and enjoy for the generations of youth we are trying to bring in. I feel motivated that we can be torchbearers for other industries getting onboard with environmental action.
You're trapped on a desert island. You can bring three objects. What are they, and why?
Aquaphor. I think it can heal any ailment. Can the objects be magical? A Hydroflask that never runs out of fresh water. And a book that never ends. I wouldn't mind being stuck on the island for a while.
LISTEN TO EXCERPTS FROM HANNAH'S 11 UNDER 30 INTERVIEW BY CLICKING HERE