Table of Contents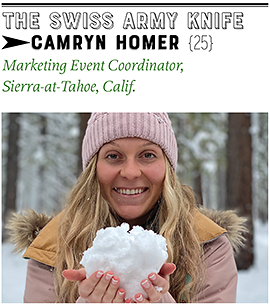 Camryn Homer joined Sierra-at-Tahoe as an events coordinator, but her role now encompasses much more than that: snow reporting, communications, PR, ad creation, grant writing, environmental stewardship, she's even an on-camera personality. (Camryn was the masked face of Sierra's Covid safety videos.) "She is a Swiss Army knife," said a nominator. Camryn, who grew up near Santa Cruz, doesn't come from a "ski family," per se. A mostly self-taught snowboarder, her love of the mountains led her to Tahoe post-college, and she hasn't looked back. 
Describe a challenge you encountered this season and how you overcame it. 
I delivered a lot of the Covid communication in video, and I had to try to make it engaging and connected with our brand while also delivering important and serious information. Social media blew up as far as responses. I'm in the marketing department, but that is also customer service. We had way more questions than we've had in previous seasons, so we had to adapt. We had a plan, but there was a lot of pivoting, more than normal.
What's the best professional advice you've been given?
"Be like a goldfish" is my favorite saying. As in, have short-term memory and keep on swimming. Not in all settings, of course. But when stuff gets hard—you get mean or aggressive social media messages—you have to try to solve the problem to the best of your ability and then let it go. 
What's a hot button topic in your department?  
Long term, my goal is to focus on environmental sustainability. I want to make sure that wheel is turning. We live in one of the most beautiful places in the world; we want to protect it. I think about, how can we educate our guests so we can be better? 
In my first season at Sierra, I put on the Sierra Earth and Wellness Festival. It's a fun way guests can learn about recycling in the basin and the ways that they can come help and participate in the community.
What industry developments have you stoked for the future of snowsports?  
Coming from my perspective as a person that didn't grow up in this, that is maybe an intermediate, it is very exciting for me to see different sculpted terrain and new ways of teaching people the sport. It's so important to bring people in and let their first, second, third, fourth experience be exciting and fun. That moment when you are on the mountain and you are like, "oh my god, I did it," is such an empowering and exciting feeling.
You're trapped on a desert island. You can bring three objects. What are they, and why?
A water filter, that's going to be number one. A multi-tool knife. A pillow. If I am going to survive, I'm going to need sleep. Entertainment I'm just going to have to figure out—I'll talk to the fish.