Table of Contents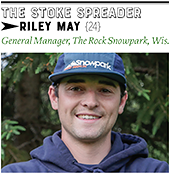 Riley May joined Schmitz Brothers, which owns and operates Little Switzerland, Nordic Mountain, and The Rock Snowpark in Wisconsin, as a media intern. With his camera in hand, Riley would cycle between the three ski areas capturing content. He quickly became enamored with the behind-the-scenes stuff. Riley's savvy and enthusiasm for all sides of the business led to his quick promotion from intern to marketing director. He transitioned to operations last year as the assistant GM at The Rock and was named general manager at the 2020-21 end-of-season party. "He has a truly inspirational and contagious positive attitude," said a nominator.
Describe a challenge you encountered this season and how you overcame it. 
Our tubing was just jam packed every day, even on weekdays. We moved all tubing tickets 100 percent online. We had capacity set, but we accidentally oversold a time slot, so we had more tubers than tubes. We had to approach people and really just talk them down. We comped tickets. We also offered skiing or snowboarding as an option to people waiting around to tube. They definitely weren't expecting it, but they'd made the trip already and we wanted them to get out on the hill. In the end, they had a good time.
What was your most memorable working moment on snow this season? 
One of the most fun things about this job is being able to create the atmosphere and this place for people to come and enjoy, whether that's snow tubing, or your first time on skis, or building a really sick park for the park kids to ride. Having a part in that and seeing all the Instagram clips the next day of how much fun they had in the park, or on a busy Saturday, seeing people enjoying drinks on the patio—the little things—is always fun. 
It sounds like you've created a real experience for visitors.
Right, exactly. And The Rock is relatively new. The hill has been around since the '80s. It's an old landfill. It went through a few owners, and about four years ago, Mike and Rick [Schmitz] bought it and really turned it around. We are still in a huge growing phase. It's fun each year to see the numbers increase and the awareness in Franklin and Milwaukee increase.
What do you think is the biggest opportunity for growth in the industry? 
There were more never evers introduced to the sport this season. If we can capture them again this year with retargeted marketing or whatever means, that will be huge for the sport. For our operation, snow tubing will always be massive, which is great because it allows us to fuel our ski passion. We are growing the sport with whatever gets new people here—skiing, snowboarding, tubing.
You're trapped on a desert island. You can bring three objects. What are they, and why?
Well, I'd bring a device to watch ski videos and snowboard edits. Second, I would bring a kayak. I think I'd like to paddle around. Third, some sunscreen. I'm going to get burned, so. 
LISTEN TO EXCERPTS FROM RILEY'S 11 UNDER 30 INTERVIEW BY CLICKING HERE