Table of Contents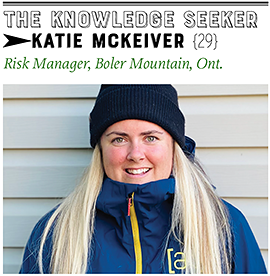 One of Katie Mckeiver's nominators praised her as a continuous learner. This is a valuable trait, considering the number of operational hats she wears at Boler. Not only does Katie serve as the risk manager, she also manages the rental shop, the terrain park, and the challenge course. She is a graduate of Selkirk University's risk management program, but has done most of her learning on the job. Katie didn't always gravitate toward snowsports, though—she was a competitive horseback rider pursuing a pilot's license at the time she started as a lift operator. Boler drew her in. "I love having the freedom to do a lot of different things," says Katie. 
What leadership traits do you admire?
The way Marty [Thody, director of operations] has always taught is by letting us do it and stepping back. He was always so willing to allow us to learn more. I try to do that with the staff I have, if I see that they are excelling in a certain area. The season can be long and it's nice to have staff return every year, so if people have an interest in something, I try not to hold them back.
What was your most memorable working moment on snow this season? 
Opening day for us was huge. It wasn't until Feb. 16 that we were actually allowed to open here with the lockdown. It was actually pretty emotional once we are able to get the chairs turning. We were all anxious to see how it was going work. But listening to the Huddles on SAM and seeing other operators open was super helpful for areas in Ontario. We had a 90-year-old who has been a member forever and an 85-year-old member, and they got to ride first chair. Just to see them go out was pretty awesome.
What do you think is the biggest opportunity for growth in the industry? 
The first thing that comes to mind is technology. Across the board, here at least, we have been slow to invest in stuff. This year was a big push to invest in good technology. It is going to make for a better experience for the guests and the staff, and also help things run a bit smoother.
What industry developments have you stoked for the future of snowsports?  
There are so many negatives we can take from this past year, but as an industry we stepped up. We put in some new things we maybe never would have. We never, here at Boler, had a booking system. I like how we now have a system for risk management, too. Everything is on one computer. In years past, you'd be going through banker's boxes. It can be frustrating to learn new technology, but it's also cool. Every hill is doing it differently where we are, and it's cool to be able to learn ideas from other people.
You're trapped on a desert island. You can bring three objects. What are they, and why?
I'm going to be obvious and bring a phone in the hopes that it will help me get off the island. I'm the pickiest eater, so I'm going to bring goldfish. A lighter—I feel like that's an obvious one—to have some warmth. 
LISTEN TO EXCERPTS FROM KATIE'S 11 UNDER 30 INTERVIEW BY CLICKING HERE