Table of Contents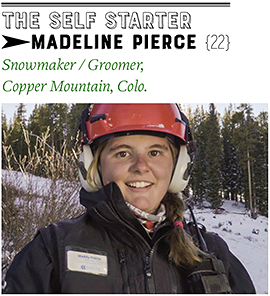 A graduate of Colorado Mountain College's ski area operations program, Maddy Pierce is poised to climb in the industry. "She's worked almost every job on the mountain and continues to excel in every position she takes on," said a nominator. As a snowmaker and groomer at Copper, Maddie is on snow a lot, and loves the work. She credits the owners of her home hill, Oak Mountain, N.Y., with sparking the passion and work ethic that's taken her from volunteer junior instructor at age 11 to Colorado Ski Country USA's 2021 Snowmaker of the Year at just 22 years old. 
Tell me something you learned this season that you'll apply in the future. 
There are different ways to make camaraderie happen. Every year we get 6 to 8 new people in snowmaking. Usually, we all have lunch together in the same room, everyone is joking around, and you get to know people really well that way. This year, it was tough to make that happen. It makes it all work when you have camaraderie because you have to trust the guy you are working with. So, we said, OK, let's play disc golf after work because that's outside, or go riding or fishing or hiking. We were learning to make that bond in a different way.
Describe a challenge you encountered this season and how you overcame it. 
I've been working on the same crew for three years grooming, and I was getting bored of doing the same trails. Guys that had less experience than me were getting to go do stuff. It was solely because they were the ones who were like, "I'm good at grooming." I had to learn how to put myself out there and say, "I can do that. I want to do that." Being a female in the industry and being a person who hangs at the back of the crowd, I'm not an asker. For me, the theme of this year was being an advocate for myself.
What's a hot button topic in your department?  
Snowmaking pay. A lift operator or a parking attendant gets paid more than a rookie snowmaker. That's crazy to me considering that you put a lot on the line as a snowmaker. During the four months I make snow, even though snowmaking is my specialty, I make less than I do in a snowcat. In every ski area and ski town, the housing cost doesn't go down, it goes up, and not proportionally to the amount that anyone is getting paid. But we do it for other reasons. We enjoy what we do.
What industry developments have you stoked for the future of snowsports?  
Everything is expanding. People are building lifts and expanding snowmaking. That's the stuff that gets me excited. I see it happening at our resort and my resort back home. Everyone is excited about being outdoors and outdoor sports. It's like, "holy cow," even tiny places are thriving right now.
You're trapped on a desert island. You can bring three objects. What are they, and why?
If there's snow, a touring set up or cross-country skis. A nice warm tent. And equipment for fire. Maybe I'll swap out one of those for beer. 
LISTEN TO EXCERPTS FROM MADELINE'S 11 UNDER 30 INTERVIEW BY CLICKING HERE