Table of Contents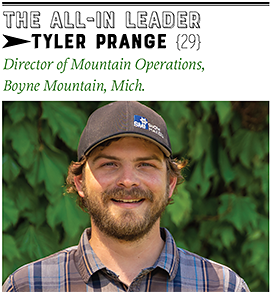 Tyler Prange has worked in just about every department at Boyne Mountain. The grandson of Boyne Resorts founder Everett Kircher, Tyler practically grew up at the resort. His intimate knowledge of Boyne is an asset, but Tyler is a very boots-on-the-ground kind of guy. "Tyler leads by example and embraces new challenges, from building lifts to fine-tuning a snowmaking system," said a nominator. A Floridian by birth, Tyler knew he wanted to build his life in the mountains. He studied ski business and management at Sierra Nevada College before he eventually followed his passion for the business back home to Boyne. 
What was the defining moment in your snowsports career?  
Getting in my first snowcat. I found my place to grow. I found something in the business where I could hone a skill and get out and enjoy it. I played around in the parks for a couple of years. I got in a winch cat. It let me travel. I had the bigger mountain fantasy. The last season I was at Diamond Peak, [Calif.,] one of the operators groomed in New Zealand. I spent the summer of 2016 grooming down there, which was a fantastic opportunity. It was a totally different perspective on the industry and how things work.
What do you think is the biggest opportunity for growth in the industry? 
Staying relevant, staying out there, continuous improvement—all those little things get people excited to come next year. I still think there is a huge amount of growth and opportunity in parks, too. Especially here in Michigan. We don't have the large cliffs, deep snow, or 3- or 4-mile-long groomers. Parks help keep us relevant. Continuing to grow, continuing to push it and refining what we do—we can get stuck in a rut of "this is how we do it," and challenging those thoughts isn't a bad thing.
What leadership traits do you admire?
I spend a lot of time just being out there with my team. I spent a few days making snow. I was out building trails early on in a snowcat. I really believe in being a hands-on leader. I don't try to be the guy with all the ideas. If I have a conundrum, I bring it to a group. We hash it out. I want to make sure everyone is heard. That's something I learned from my GM [Ed Grice]. He says, "if it was just me, who knows where we'd be."
What industry developments have you stoked for the future of snowsports?  
A lot of resorts are starting to heavily reinvest in themselves, whether its new lifts, more powerful snowmaking, lodging upgrades, or really getting a grasp on summertime. There is a lot of heavy investment and reimaging of things we've done forever. It should really enhance the experience here [at Boyne Mountain]. I'm excited to be a part of the team moving that needle and driving into the future. We've been doing the same thing for the last 30 years, and it's time to freshen it up.
You're trapped on a desert island. You can bring three objects. What are they, and why?
My inner Florida boy says an umbrella, a beach chair, and a cooler of beer. It's not going to get me very far, but that's the beach boy in me.
LISTEN TO EXCERPTS FROM TYLER'S 11 UNDER 30 INTERVIEW BY CLICKING HERE