Table of Contents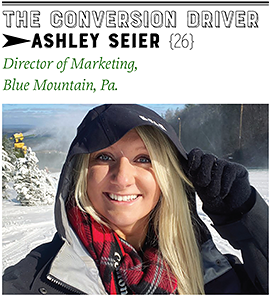 Ashley Seier's first job at 16 was in the Blue Mountain cafeteria. She climbed from there, taking any job she could—ambassador, marketing intern, sales associate, marketing specialist, and then marketing manager. When the previous marketing director left, Ashley put her hand up for the role. As director, Ashley has been key player in Blue's safety and conversion efforts, engaging guests in campaigns and using feedback and data to help shape resort programming. "She has shown true innovation in growing our sport," said a nominator.
What leadership traits do you admire?
It is really great to work for people that are passionate about the same things I am—the outdoors and creating an experience. I also really appreciate that it is a "work hard, play hard" industry. We still find time to enjoy the things we sell and market.
You helped Blue win the NSAA Conversion Cup in 2020. Tell me about it. 
Conversion—getting beginners into the sport—is something I am passionate about. I helped develop new programming by really listening to guests and analyzing guest feedback. We actually ended up building our family-and-friends lesson program based on that feedback. The core of that program is that it keeps friends and family together regardless of ability or age because what we saw is that people really wanted to come to the mountains and be together. It ended up being really successful.
What do you think is the biggest opportunity for growth in the industry? 
I think just getting people to try it once. I always see so many snow tubers in particular who are intimidated by putting on a pair of skis. If you can get people to try it once, you can get them hooked. I think taking that fear factor out of it and creating that family-and-friends product to make it more of a social experience makes it less intimidating. 
What's the best professional advice you've been given? 
I think to just work hard and take every opportunity that you can. I think you can't be intimidated to ask for an opportunity or more responsibility. Even if you feel young for a position or a task, don't count yourself out if you can show you are qualified. You have to try because you never know. Initiative says so much more about a person than age ever could. 
You're trapped on a desert island. You can bring three objects. What are they, and why?
You'd have to bring a lighter—fire is basic survival. I would have to bring a journal because this will one day make a bestseller. My third item, I'm not sure it would rescue me, but a kayak. You have to make the most of your time. I could paddle around the island even if I couldn't paddle back to the mainland. 
LISTEN TO EXCERPTS FROM ASHLEY'S 11 UNDER 30 INTERVIEW BY CLICKING HERE