SAM is providing frequent updates, guidance, and ways to connect about the effects of the coronavirus pandemic. Visit our Coronavirus Update page for more resources and special reports. For email updates, sign up to receive Headline News, and, if possible, help support the voice of the mountain industry, SAM Magazine, with a subscription or gift subscription for someone in need. Together, #WeGotThis.
SAM Magazine—Ludlow, Vt., March 17, 2020—The impacts of the COVID-19 (coronavirus) outbreak have rippled across the ski industry in the last few days. It started as a wave of reassurances by ski areas that necessary precautions were being taken to prevent the spread of COVID-19 among guests, then quickly swelled into a tsunami of resort closures. While the situation is rapidly evolving, conservatively, at least 145 North American resort have closed (some temporarily) due to the virus. While exact numbers of open and closed areas are nearly impossible to determine, it's likely that the majority of areas are closed.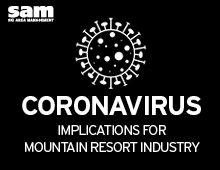 Late Saturday, March 14, Vail Resorts, Alterra Mountain Company and Powdr Corp. all suspended operations across their collective 61 resorts. That same night, the Colorado governor, Jared Polis, issued an executive order to close the state's 30 resorts for one week. On Sunday, Boyne Resorts suspended operations at its 10 properties, and dozens more independent resorts have either shut down for the season or closed temporarily in recent days.
Vail Resorts confirmed today that its North American properties will remain closed for the 2019-20 season. The company indicated that Breckenridge, Colo., Heavenly, Calif., and Whistler, B.C., could potentially reopen, depending on snowpack and containment of the virus.
At least 17 Vermont resorts have shut, as have many of the ski areas in New Hampshire. Some properties in New Hampshire, including Cannon and Waterville Valley, remained open as of Tuesday afternoon, but then announced they were closing on Wednesday afternoon.
Of New York's 50 resorts, dozens have ended operations, including state-owned Mt. Van Hoevenberg, Belleayre, Gore and Whiteface. Berkshire East, Mass., and Catamount, N.Y., were ahead of the curve, shutting down operations on March 12, citing both coronavirus and poor conditions.
Across the west, resorts with significant snowpack are also shutting down as well to limit the spread of Coronavirus. Jackson Hole, Wyo., closed its tram early last week, then took the more serious measure of suspending operations entirely on Sunday, March 15. Whitefish, Red Lodge, and Big Sky are all closed in Montana, but many resorts in neighboring Idaho are continuing to operate with precautions in place.
Apart from Brian Head, Utah, resorts across that state have largely stopped spinning lifts. Taos, N.M., initially planned to move its closing day forward to March 22 to better manage COVID but decided on the 15th to finish operations at the end of the day. Arizona Snowbowl made the voluntary decision to suspend operations today after a mandate by Flagstaff mayor Coral Evans to close all bars, breweries, and entertainment venues in the nearby city.
In the Pacific Northwest Mt. Spokane suspended operations following Washington Gov. Jay Inslee's closure of bars, restaurants, entertainment, and recreation facilities in the state. Neighboring resort 49 Degrees North will remain open. Mt. Hood Meadows and Timberline in Oregon both closed. And, further north, several resorts have shut down in B.C. and Alberta, including Mt. Norquay, Revelstoke, Sun Peaks, Red Mountain, and Harper Mountain.
In California, temporary closures abound. Much of the Tahoe area has shut down, and southern California resorts like Mt. Baldy, Snow Valley and Mountain High are all on hiatus.
We have confirmed that roughly 57 ski areas open across North America, and there are likely more that were under our radar. And some traditional late-closing resorts in areas like California and Colorado are still eyeing the possibility of reopening before closing for the season.