Transition Consulting Group (TCG) is a family-owned business led by father-son team Paul and David Karofsky. Both offer decades of first-hand experience in family business planning, consulting, mentoring and leadership.
Here, TCG sits down with Brian and Tyler Fairbank, who operate Jiminy Peak, Bromlet and Cranmore.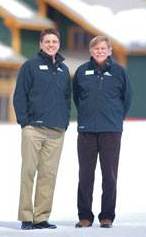 Brian Fairbank (on right) with son, Tyler.
Being a father-son team has its challenges. When it's tough, it can be brutal. But when it works well, it can be one of the greatest experiences ever.
The Karofskys met with the Fairbanks' to discuss their passion for the business, reinventing themselves and putting their relationship first.
» Listen to the webinar interview.