SAM Magazine—Lakewood, Colo., Nov. 7, 2019—The National Ski Areas Association (NSAA) has released its annual Sustainable Slopes report. Nine new resorts joined the NSAA Climate Challenge this past year, raising total participation to 45 resorts. The organization awarded more than $40,000 in grants to support sustainability initiatives. NSAA also recognized four resorts and one individual with Golden Eagle Awards for Environmental Excellence.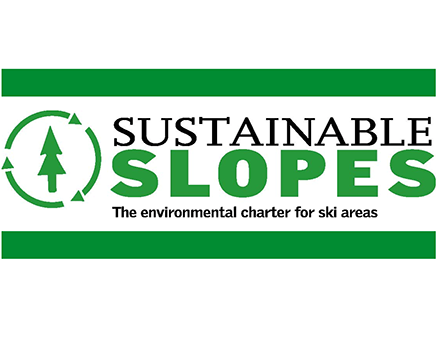 As part of the Sustainable Slopes Grant Program, Vermont ski area Sugarbush Resort received a $5,000 cash grant for the installation of six Level 2 EV (electric vehicle) chargers. Mt. Hood Meadows, Ore., will apply its $5,000 grant toward reducing shuttle bus emissions through the purchase of preheater equipment, allowing a diesel engine to heat without idling.
Crystal Mountain Resort, Wash., which recently joined NSAA's Climate Challenge, received a $5,000 grant in support of its project to install eight Level 2 EV charging stations, along with the electrical infrastructure to expand to 25 charging ports. Whaleback Mountain, N.H., through the HKD Snowmakers grant, will receive five high-efficiency Impulse R5 Viper snowmaking guns from HKD Snowmakers, a total value of $25,055.
The Golden Eagle Awards, established in 1993, honor resorts for strong environmental performance. Hilary Arens of Snowbird, Utah, was awarded Hero of Sustainability; Vail Resorts, Inc., won the Golden Eagle Award for Environmental Excellence; Jiminy Peak Mountain Resort, Mass., and Sugarbush Resort, Vt., received the Climate Impact Award; and Taos Ski Valley, N.M., was recognized with the Innovation in Sustainability Award.
As part of the organization's advocacy efforts, NSAA joined with Snowsports Industries America (SIA) and Outdoor Industry Alliance (OIA) this year to launch the Outdoor Business Climate Partnership (OBCP). OBCP's mission is to drive bipartisan action on climate and work with the partnership's respective memberships to bring about meaningful action to reduce emissions associated with outdoor industry operations.
NSAA also endorsed the bipartisan Energy Innovation and Carbon Dividend Act (HR 763) earlier this year. HR 763 is a bill that monetizes carbon and applies market forces to help solve climate change. To date, six ski associations (NSAA, PNSAA, Ski CA, Ski UT, Ski NM, MT Ski Areas Association) and roughly 30 ski areas have endorsed the legislation. Additionally, NSAA supported climate action by offering education sessions at the 2019 Eastern and Western Winter Shows and joining an amicus brief for a constitutional climate lawsuit.
For 2020, NSAA is revamping both the Sustainable Slopes program and the Climate Challenge initiative to make them simpler and more user-friendly. The sustainability program is in its nineteenth year and continues to grow. Ragged Mountain, N.H., Big Sky Resort, Mont., Crystal Mountain, Wash., Mount Washington Alpine Resort, B.C., Powderhorn Mountain Resort, Colo., Sugarloaf, Maine, The Summit at Snoqualmie, Wash., Wintergreen Resort, Va., and Wisp Resort, Md., all joined the Climate Challenge in 2019. Read the complete report at nsaa.org.