SAM Magazine—Kennebunk, Maine, Jan. 11, 2021—Cal Conniff, president/executive director of the National Ski Areas Association (NSAA) from 1973 to 1990 and a 1990 U.S. Ski and Snowboard Hall of Fame honoree, died Jan. 8, a month shy of his 91st birthday.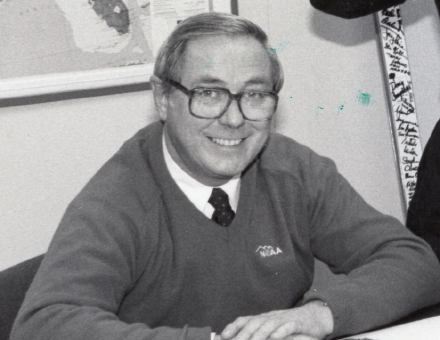 Conniff devoted his life to the betterment of the sport and business of skiing. He learned to ski at age 6 at America's first lift-served ski area, historic Gilbert's Hill in Woodstock, Vt. During World War II, Cal operated a local rope tow in Springfield, Vt., on nights and weekends, for no pay, so that local war-plant factory workers could ski on their time off.

Conniff skied competitively in high school, college, and the military. At American International College (AIC) in Springfield, Mass., he earned the "Ski Meister" title in the New England Intercollegiate Ski Conference.
Graduating from AIC in 1958, Conniff hosted one of the first prime-time weekly TV ski shows, "Skiers' Corner," at WWLP Channel 22, in Springfield, Mass. He then served as vice president/general manager of the nearby Mt. Tom ski area in Holyoke, Mass., from 1960 to 1973. He installed one of the earliest large snowmaking systems in the country and developed an innovative learn-to-ski school physical education program. He always considered his greatest achievement to be the tens of thousands of young people he helped introduce to the sport.
During his time at Mt. Tom, Conniff also served as president of the Massachusetts Ski Area Operators Association, was the first chairman of the Massachusetts Recreational Tramway Board, president of the Eastern Ski Area Operators Association, a director of NSAA, and NSAA's Ski Safety Committee chair.
As NSAA's president/executive director, Conniff oversaw the association's growth from a five-figure annual operating budget to more than $1.5 million.
In 2000, Cal received the annual BEWI Award for outstanding contributions to the sport of skiing. In retirement, Conniff served on the board and as president of the New England Ski Museum (NESM), in Franconia, N.H., and established its Cal Conniff Grant Program to honor and preserve skiing history. He co-authored a pictorial history, "Skiing in Massachusetts," published in 2006.
Based on reporting by Kathe Dillmann for Skiing History