SAM Magazine—Ludlow, Vt., March 11, 2021—It's March, which means next season's passes are going on sale. Many are offering financing options and carrying over Covid-related assurances. Prices seem to be holding steady and even rising, although a number of resorts are adding value, like spring access and reciprocal tickets, and offering discounts to renewing passholders.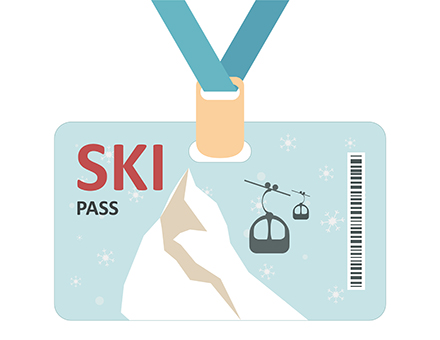 Here's a look at some of the deals we've seen so far.
Alterra's Ikon Pass products drop today, March 11. The price of the top tier Ikon Pass is the same as last year at $999, while the Ikon Base Pass went from $699 to $729. Renewing passholders will get a $100 discount on a full pass or a $70 discount on the base pass. All products are available with payment plans, and Ikon is still offering its Adventure Assurance, which allows purchasers to defer the full value of an unused pass to 2022-23 by Dec. 9.
Ikon is also carrying over its credits program, which will award credits to passholders for any Covid-related closures between Dec. 18, 2021 and March 6, 2022. (Given the ramp up of the vaccine rollout and the nominal number of closures experienced this year during the peak of the pandemic, this seems like an easy gesture of goodwill.)
There is only one significant change to Ikon's resort lineup. Alterra-owned Crystal Mountain, Wash., has been removed from the unlimited tier on the Ikon Base Pass. Base passholders will now only have five blackout-restricted days at the resort, which has experienced substantial crowding in recent seasons. Full passholders will still have unlimited access to the area.
Vail Resorts has not yet unveiled the particulars about its Epic Pass product suite, though details appear to be imminent. Epic Pass marketing, which promises "This Changes Everything," suggests some alterations to the offerings, rolling out March 23.
The Indy Pass also hasn't shared its 2021-22 lineup yet. Instead, at the end of February, the group dropped its 2020-21 Spring Pass, a $149 product, offering two days at each of Indy's 63 independent partner resorts, valid from March 1 to the end of the season. Spring Pass holders can get a third day at any of the resorts for 25 percent off the ticket rate. Additionally, an assurance program allows Spring Pass holders who use zero days to earn a 50 percent credit toward any 2021-22 pass product. Passholders that use one day will get a 25 percent credit.
Looking toward next season, it seems likely that Indy Pass will continue to offer an Indy Pass add on to unlimited season passholders at partner resorts. Last season, the add on retailed for $169, while the standalone Indy Pass went for $259.
The New England Pass, which offers season long access to Boyne Resorts' northeastern properties (Sunday River and Sugarloaf, Maine, and Loon, N.H.), went on sale March 3 for winter 2021-22. There are several tiers of the pass. At $1,499, the Platinum tier includes an Ikon Base pass and 50 percent off at Mountain Collective resorts, as well as a few additional perks. Subsequent tiers, which do not include Ikon passes or Mountain Collective access, range from $779 to $289 and have various restrictions. Spring sale rates will be available through April 30, 2021.
All New England Passes have options for interest free payment plans, but new passholders who purchase in full will be able to begin using their passes March 22 of this season. The resorts will also offer a Winter Rollover program. Passholders will have the option to defer their pass from winter 2021-22 to winter 2022-23 by Dec. 10, 2021 for any reason, so long as the pass has not been used.
The NY SKI3 Card is going on sale March 17. For $809, passholders will have access to Belleayre, Gore, and Whiteface in New York. Renewing and upgrading passholders will get a slightly deeper discount, with sale rates available until Aug. 18. Purchasers can opt into a payment plan. The SKI3 Assurance also allows passholders to receive a 100 percent credit, valid until 2023, for any reason, through Nov. 19.
Independent Resort Plans
As with the multi-resort pass products, the wave of spring campaigns for single resorts' passes is also swelling. The Storm Skiing Journal's Stuart Winchester has amassed 2021-22 offerings at 42 ski areas across the Northeast. Winchester has a solid breakdown of these: 32 cost more than their 2020-21 early bird price; 31 are offering spring access for this season; 19 have payment plans; 19 have deferral options; 13 include access to at least one other area; and 12 are incentivizing with a renewal discount.
A sampling of specific offerings from across the country includes the following:
Bromley, Vt., has bundled some old perks back into its new season pass, which will be on sale at its deepest discount until May 15. Unlimited passholders will once more have buddy passes—ten 25 percent discounted day tickets. Midweek 2021-22 passholders will get unlimited access this spring, from March 12. All passholders also get one free ticket to the other Fairbank Group resorts: Jiminy Peak, Mass., and Cranmore, N.H. As part of a reciprocal program, passholders also have access to discounted tickets at "Mountains of Distinction" resorts as well as Mountain Creek, N.J.
The unlimited adult pass is retailing for $925, a $150 discount. A three-installment payment plan is also available to Bromley passholders that purchase before May 15.
Pats Peak, N.H., is offering a shorter window on its spring sale. The lowest rates will be available to pass purchasers between March 8 and April 15. Pats' top tier pass, which includes unlimited skiing, riding, and a.m. tubing, as well as F&B, retail and seasonal locker discounts, is on sale for $519. Most of the pass products also include discounted tickets to Dartmouth Skiway, N.H., Ragged Mountain, N.H., Jay Peak, Vt., and Butternut, Mass.
New Pats Peak passholders will have access to the resort this year for the entire month of March. Pats Peak is also allowing pass purchasers to defer their pass to the 2022-23 season for any reason, before Dec. 10, 2021.
Greek Peak, N.Y., is selling a $595 season pass. That rate is guaranteed until April 30, and passholders who buy now will be able to hit the slopes this season, starting March 22. The resort is actively making snow with an eye toward staying open until May 1, adding value to that spring access perk. Other perks include the Indy Pass add on, two complimentary tickets to West Mountain, N.Y., and three free lift tickets to the eight other participating Freedom Pass resorts.
The Freedom Pass is a bit like the Powder Alliance, a reciprocal agreement automatically available to passholders at any of the group's respective partner resorts.
Powder Alliance partner Eaglecrest, Alaska, is selling its $499 pass at that tier one price until Oct. 11. The cost starts jumping at $100 increments come fall. In addition to the Powder Alliance reciprocal deal, which offers three free tickets to each of the Alliance's 18 resorts, Eaglecrest passholders get free or discounted tickets to 14 other resorts, and four Bring a Friend for Free days.
Eaglecrest is also selling a 2021-22 Flex Pass product. Passholders make an initial payment of $139, and then each visit to the resort costs a flat rate of $29. The ski area says passholders start recouping savings after four visits. The pass does not come with the perks of a season pass.
Fellow Powder Alliance resort Bogus Basin, Idaho, has started sales for its 2021-22 season passes. Prospective purchasers can get the year-round pass (summer 2021, winter 2021-22) for $569 until Sep. 6. That pass includes unrestricted downhill, mountain biking, and Nordic access, free Powder Alliance tickets, and complimentary tickets at a variety of summer and winter partners. Other pass products come with fewer perks but options for add-ons.
Bogus Basin, a 501(c)(3) non-profit, has been able to invest in a number of short- and long-term capital improvements thanks to strong season pass sales. According to an open letter from GM Brad Wilson, customers responded particularly enthusiastically last season to the lower prices for midweek and twilight season passes, which were both up 300 percent. The recreation area's 10-year plan is expected to be finalized later this spring, with some improvements (night skiing, trail clearing, expanded snowmaking, additional parking, and more) being felt as early as this winter.