SAM Magazine—Tannersville, Pa., March 22, 2021—A chair carrying three passengers detached from the haul rope and fell to the ground Sunday afternoon at Camelback Resort, Pa.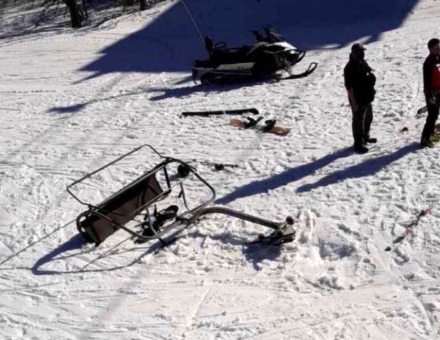 According to sources at the resort, the chair that fell was nearing the top terminal when passengers felt an unusual shaking, and the lift came to a jolting stop. The chair fell on an open trail that crosses underneath the lift line. According to a report about the incident by Liftblog.com, the Sullivan Express is a 1995 Doppelmayr detachable quad with DS series grips. It operates in both winter and summer.
The passengers were a father and two children. None suffered life-threatening injuries. According to reports, ski patrol and other Camelback staff were on the scene quickly to treat the passengers involved in the accident.

The resort is investigating what caused the chair to detach from the haul rope. We will update this report when more information becomes available.