Virtual and In-Person for Summer and Fall 2021
From the cancellation of events in early 2020 to the move to virtual over the past year, we've changed the way we conference. However, with vaccination rates rising, the return of in-person events is hopefully in the not-too-distant future.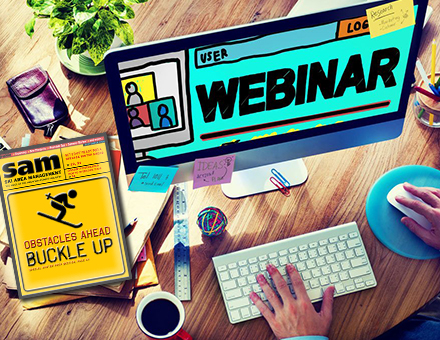 To help navigate this still uncertain landscape, SAM pulled together a chronological list of online conferences, educational events, and tradeshows, as well as in-person events planned for the fall.  
Please email sarahw@saminfo.com if any industry events are missing from this list. We'll keep it updated, along with our calendar, at saminfo.com/industry-calendar.
April 2021
April 20-22, 2021 
Pacific Northwest Ski Areas Association (PNSAA) Spring Operations Conference and Tradeshow
Virtual
https://pnsaa.org/conferences/exhibitor-registration/
April 26-29, 2021
2021 Canada West Ski Areas Association (CWSAA) Virtual Spring Conference
Virtual
cwsaa.org
May 2021
May 3-6, 2021
Rocky Mountain Lift Association Conference (RMLA)
Virtual
www.rmla.org
Thursdays, May 6 - June 3, 2021 (2 p.m. EDT)
ASSQ's « Rendez-vous virtuels »
Virtual
https://inscription-assq.maneige.ski/fr/programmation-1 (french only)
May 10-14, 2021 
International Association of Amusement Parks and Attractions (IAAPA) Institute for Attraction Managers
Virtual
www.iaapa.org/events-calendar 
Tuesdays, May 18­–Aug. 3, 2021
Lift Maintenance Seminar (LMS) Virtual Learning Series
Virtual
www.ma-lms.org/
May 19–July 7
Ski Area Vehicle Maintenance Institute (SAVMI)
Virtual
www.savmi.org 
May 25-27
Inntopia's Insights Online
Virtual
corp.inntopia.com/insight-2021/
June 2021
June 7-11, 2021
National Ski Areas Association (NSAA) National Convention
Virtual
www.nsaa.org 
June 14-17, 2021
Intermountain Ski Area Association Conference
Sun Valley, Idaho
www.isaa.org
August 2021
Aug. 15-18, 2021
Midwest Ski Areas Association (MSAA) Summer Meetings & Trade Show/
In person – Grand Geneva Resort & Spa
www.msaaevents.org 
Aug. 24-26, 2021
Ski California Lift Maintenance and Operations Education Conference
In person – The Village at Squaw Valley, Calif.
skicalifornia.org/LMOE2020
September 2021
Sept. 13-15, 2021
New England Summit
In person – Sunday River, Maine
www.nesummit.com 
Sept. 20-22, 2021
Ski Areas of New York – Pennsylvania Ski Areas Association (SANY – PSAA) Expo
In person – Location TBA
www.iskinyexpo.com 
November 2021
Nov. 5-7, 2021
Snowbound Rockies Festival
In person – Denver, Colo.
www.snowboundfest.com 
Nov. 18-21, 2021
Snowbound New England Festival
In person – Boston, Mass.
www.snowboundfest.com 
More:
Snowsports Industries America (SIA) continues to host educational forums on inclusivity and climate, among other topics. Stay up to date with its events here: www.snowsports.org/education/events/. 
PSIA-AASI continues to host educational online events and training. Stay up to date here: www.thesnowpros.org/events.