Table of Contents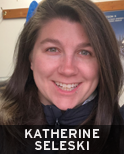 Katherine Seleski
Title: Manager, Pass Powderkeg Ski Area, Alberta
Age: 27
Katherine Seleski still remembers the moment she realized running a resort was a job. "I was 8 or so, and I was like, 'You get paid for this?'" she laughs. She grew up skiing at Castle Mountain, on the border between B.C. and Alberta, and studied ski area operations and management at Selkirk College. After graduating, Katherine taught skiing, earned her CSIA level III, worked in property management, and even started a catering business. When a Pass Powderkeg management role came up, she knew she'd found the right job. The area had just tripled skier visits and was looking for an operations manager. She got the gig and was later promoted to manager of the entire resort.
What leadership traits do you admire?
I really treasure openness with leaders I work with. I love asking questions, and when people are open to answering them, that's what I really appreciate. I'm trying to do that with my staff, because the things your staff and guests say are sometimes the best ideas—and sometimes the worst, but that doesn't mean they don't have merit.
Tell me something you learned during the pandemic and how you can apply it in the future.
We had staff that were scared and nervous. No one had enough information. We've had early shutdowns before, and we knew how to respond compassionately in those situations. But with every problem comes opportunity. I keep looking for opportunities for us to be a compassionate community resource. There is going to be a lot of trauma among youth, and we can help. Skiing was a big part of people's lives, and we want to give that back to them.
Community and youth outreach is important to you. Why?
I think it comes down to the fact that skiing and snowsports have given me just about everything I have in my life. It has given me my passion and a career. I want to make sure we give that back to youth. Our lift ends on a municipal street. We want to have that community up to the mountain in a way that promotes healthy living. One of my big projects was the Cubs (kids) program and the (Lion's Den) yurt.
Tell me about the yurt.
My first year here we didn't have any family programs for kids under 6. We weren't providing that service to our community. I wanted something natural and welcoming that supported early childhood development. We ended up sourcing a yurt that comes from Mongolia by way of Ontario. We run our Little Cubs program out of it, ages 3-6. We got the yurt up a month before we opened this season. We picked it up with my other half's F250 in 40-degree weather in the middle of a thunderstorm. We brought it back on this trailer on the most stressful drive. It's huge. They told us you could fit it in a Subaru.
What was the defining moment in your snowsports career?
It's been a really crazy journey. Every time I think I've hit the biggest thing I've done in my career, something new comes along.