---
Do what you love and you'll never work a day in your life, right? It's a credo brought to life every year with
SAM's
young guns, 10 (or, in this case, 11) individuals under 30 who are making a difference with their passion, smarts and dedication.
This year's class is no exception. From a director of food and beverage who manages a full plate with aplomb, to a passionate marketer who chased her love of skiing, analytics, and ice all the way to Alaska, this year's young guns all share a clear vision of what success looks like and how to get there. All while squeezing in a few runs every powder day they can.
The focus on creating top-notch experiences, for fellow employees as well as for guests, is paramount with every individual featured here. It's an important evolution in the industry, and one that will help ensure mountain resorts are places people continue to consider when planning their weekends and weeks off.
What would really be a game changer, though, would be granting the young guns the super powers they'd most wish to possess. With controlling the weather and teleportation the most popular choices, they could well be running half the mountain resorts in North America in no time.
We chose this group based on nominations from you, our readers. To all you nominators, we extend our sincere thanks. The number of talented, up-and-coming managers and leaders you highlighted is truly impressive. We received more than 40 nominations, and it was not an easy task to choose 11 stars to profile. We made our selections to reflect the diversity in experiences, resort types, sizes, and locations, as well as for their accomplishments.
Click on a Young Gun below to read their full profile, complete with full interviews and nominator statements. We think you'll agree that it's an impressive group. let us know which six-word bio inspires you the most...and get everyone in your organization to vote—there are bragging rights at stake!

—The Editors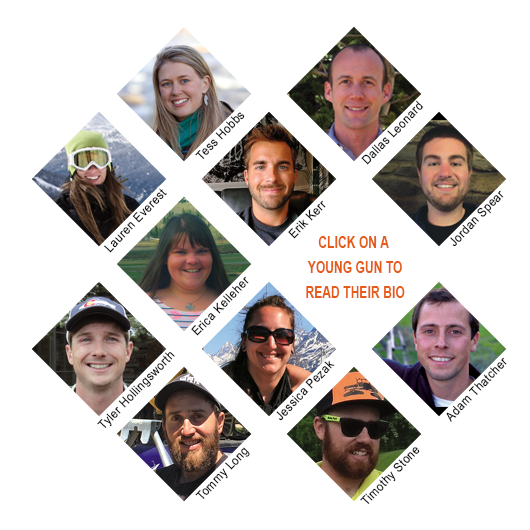 SPECIAL THANKS TO BURTON FOR THEIR SUPPORT OF THE TOP 10 UNDER 30 PROGRAM. BURTON WILL SUPPLY ALL OF OUR HONOREES WITH A GREAT WINTER PACKAGE.
Click Here To Order