Summer Ops Camp 2015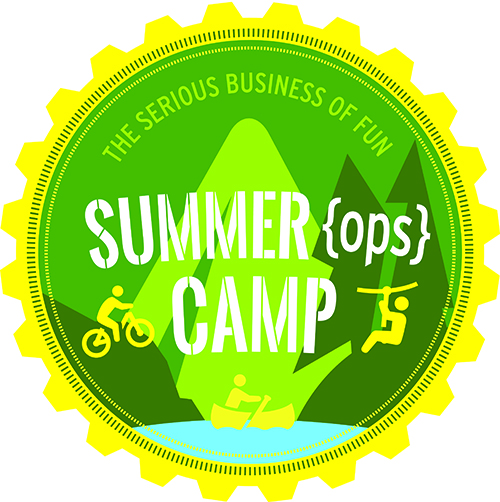 Summer Ops Camp 2015

September 9-11
Camelback RESORT, PA


Registration fills on a first-come,
first-served basis.
Questions: olivia@saminfo.com








A SNEAK PEEK AT WHAT'S IN STORE FOR THE 2015 SUMMER OPS CAMP:




Schedule at a glance:
> 2015 Agenda Highlights
Email olivia@saminfo.com to be on the email list for updates on sessions added and space available. A full agenda will be posted soon.

For those who need to extend their reservation Camelback is offering discounted room rates for Tuesday, September 8th and Friday, September 11th. As well, for attendees who would like to partticipate in the off-site mountain bike tour at Mountain Creek on Wednesday morning, Mountain Creek is offering discounted room rates on Tuesday the 8th. Please email liz@saminfo.com to extend your reservation.

Wednesday, September 9th
8:30am-11:30am A behind-the-scenes tour with the operators of Mountain Creek's Downhill Bike Park and the editors of MTBParks.com. Bikes provided. Mountain Creek, NJ. Email liz@saminfo.com to sign up for this tour.
10:00am-4:30pm: Summer Ops Camp Registration

1:00pm-2:15pm

:

PICK A TOUR!
Join the designers and builders on a behind-the-scenes tour of either Camelback's CamelBeach or the all-new Aquatopia Water Park Hotel. At 125,000 square feet it's the largest indoor water park in the Northeast, with seven pools, 13 slides and the longest indoor watercoaster in the U.S. Get an inside look at its inception, engineering, architecture and construction process.

2:30pm - 4:30pm: AERIAL ADVENTURE PARK OPERATOR WORKSHOP
Part 1: State-of-the-Industry overview of adventure parks and zip lines
Part 2: Standards and mitigating risk
Part 3: Customer education & staff training

4:30pm - 6:30pm: Free time in Aquatopia or the Camelback Mountain Adventure Park

6:30pm-8:15pm: Welcome Cocktail Reception and Dinner at the new Camelback Lodge

8:15pm-9:00pm: "After Dark in the Park." Nighttime programming continues to grow in both popularity and profitability for summertime operations. Camp will give attendees a chance to participate in an after-dark, glow-in-the-dark experience that will include a ride on the mountain coaster, a zip line through the woods and a cosmic tubing run.
Thursday, September 10
7:30am-9:00am: Vendor Showcase Breakfast

9:00am-12:00pm: Morning Sessions

SUMMER MARKET INTELLIGENCE 2.0
Following a benchmark report at the 2014 Summer Ops Camp, we will continue to explore the range of motivations, opportunities, and challenges that summer represents. Join us as we dig deeper into the data from DestiMetrics and Inntopia and explore the questions where the answers are not so obvious (as they may be for our winter businesses).

THE BIG PICTURE: FINANCIAL MODELING TO ACHIEVE SUMMER BUSINESS SUCCESS
Wise analysis of potential summer activities requires a close look at your financial model in its totality. See and hear how two resorts evaluated and then prioritized their investments to keep borrowing to a minimum. At the close of this session, attendees will have several valuable takeaways that could save thousands—or even millions.

MARKETING TO SUMMER GUESTS
Julia Barrero, from software booking and marketing company XOLA, knows what it takes to attract the online customer to your adventure parks. In the winter, it's obvious why folks come to your mountain--there's one magnet, skiing/snowboarding. In the summer there are many magnets to chose from, and they include new activities to the consumer: zip lines, canopy tours, downhill mountain biking, adventure courses, etc. Hear a different perspective on what it takes to reach this new guest.

12:00pm-1:00pm: Lunch

1:00pm-2:00pm: CATERING TO FAMILIES
Tapping the spending power of families with children requires addressing the presence of younger children who will be in tow. Almost three-quarters (73%) of families with children have a child younger than age 12, 44% have a child younger than 6, and one-quarter have at least one child 2 years or younger. That adds up to a lot of young kid power influencing spending, both directly and indirectly, both positively and negatively. What are you doing to capture this market?

2:00pm - 4:00pm: Outdoor product demos and hands-on workshops in the CBK Mountain Adventure Park
> Seasonal Transistions
> Safety Belay Systeyms
> Ground School / Customer Education

4:00pm-5:00pm: Afternoon Break

5:00pm-7:00pm: "Summer Ops Luau at CamelBeach"—Cocktails and dinner will be enjoyed while campers have private use of CamelBeach including free fall attractions, Flow Rider, climbing wall and much more. Experts on hand to answer questions.

7:00pm-9:00pm: Last call at Aquatopia, Camelback's new indoor water park.
Friday, September 11
7:30am-9:00am: Vendor Showcase Breakfast
9:00am-10:00am: Mitigating Summer Ops Risk
Risk management exposure is different in the summer but requires the same level of execution as our winter business. Join members of the insurance and ASDA community as they share where resorts get it right and when/where they miss the mark.
10:00am-12:00pm: Small group break-outs

Small breakout sessions include:
> Programming
> Alternative Activities
> Aerial Park Feasability
> Managing Risk
> Bike Parks
> Adding Water
> Digital Waviers

12:00pm-1:00pm Lunch and outdoor demos
Off-site tour to Blue Mountain, PA (optional)
1:30pm-4:00pm Behind-the-scenes tour of Blue Mountain's successful summer business including their "Climb, Zip & Dine" program. Blue Mountain Resort, PA. Email liz@saminfo.com to sign up for this tour. >> Full Details


2015 Agenda highlights:

Operator's Roundtable: Operators from the same region discuss market share, setting themselves apart and opportunities for collaborating.

Risk Management / Liability: Summer activity incident trends and best practices in your risk management approach to summer operations.

Summer Market Intelligence: The latest data on the demographics, behavior and spending habits of the summer customer.

Marketing: How to get your summer attractions and park noticed. An online marketing specialist for the adventure park industry will share what works and what doesn't to get the bookings.

Mountain Bike Parks: A behind-the-scenes tour with the operators of Mountain Creek's Downhill Bike Park and the editors of MTBParks.com. Bikes provided. Mountain Creek, NJ. E-mail liz@saminfo.com to sign up for this tour.

Financial Modeling: Whether you are on master plan 2.0 of your summer operations or just getting into the fun, learn how to evaluate and prioritize your summer planning before writing the check. Some valuable insights will be shared that could save you tens of thousands in expensive mistakes.

Aerial Adventure Parks, Part 1: The Importance of Being Grounded. Crucial elements of safety instructions and best ways to deliver them. Part 2: Hands-on belay workshop. Understand the brands, the technology, storage, maintenance and best practices.

Zip Lines: A closer look at look at one aspect of the burgeoning zip line business responsible in large part for keeping customers safe and coming back: braking systems.

Free Falling: Free fall is a hot category, along with other high thrill products that add excitement to your adventure park.

Behind-the-scenes tour at Blue Mountain: In less than four years, Blue Mountain has increased its summer cash flow to where it now accounts for 20% of its total revenue. Come learn the secret to Blue's success.

Summer Ops and Tots, Part 2: Last year we covered the risk management considerations with your young customers. This year we will learn about the opportunities to attract more business by catering to kids and hear some success stories.

And much more... including Summer Staffing: seasonal transitions, hands-on demos of summer activities; and more than 35 summer operations suppliers on site.

---
SUMMER OPS CAMP 2014
> 2014 SUMMER OPS WRAP UP
> 2014 SUMMER OPS AGENDA
Summer Ops Camp 2013
> 2013 SUMMER OPS WRAP UP
> 2013 SUMMER OPS AGENDA
SUMMER OPS CAMP 2012
> 2012 SUMMER OPS WRAP-UP
> 2012 SUMMER OPS AGENDA