Summer Ops Camp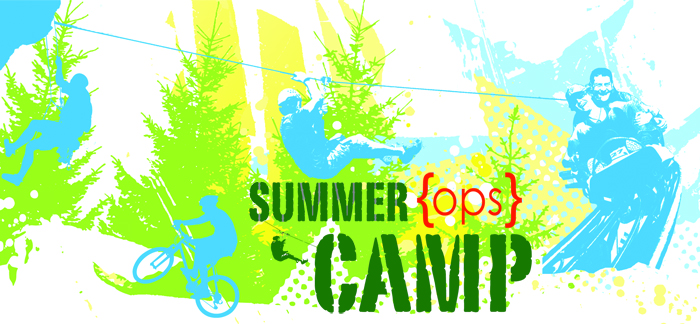 ONLINE REGISTRATION BEGINS JUNE 3, 2013.
SPACE IS LIMITED AND FILLED ON A FIRST COME BASIS.

According to an on-line survey conducted by SAM Magazine, 33% of respondents say that summer opportunities will be the most important factor in the future growth of mountain resorts. To address this growing trend, SAM Magazine will hold its fourth annual Summer Ops Camp at Attitash, N.H., September 15 to 17. This hands-on educational and networking event gathers resort managers, operators and suppliers from across North America to explore the exciting opportunities in four-season attractions.
Attendees will also explore the summer activities at Attitash and nearby Cranmore with fellow operators. These facilities showcase features for all ages and include excellent examples of:
mountain coasters and slides
summer tubing
Attitash's water activities, including on-slope water slides and a wading pool
ziplines
the ropes courses in Cranmore's aerial adventure park
Giant Swing
mountain biking
and more...
Summer ops experts and suppliers will be on hand to answer questions and showcase the latest activities and products.
HIGHLIGHTS...
SAM Magazine and Gravity Logic are teaming up again to host an executive based session that explores investing in a summer bike park business. You'll get to see, hear about and try the exciting new innovation in product and design that make bike parks an activity for any size resort.
This year's camp will also have a special focus on aerial adventure parks. International experts will share trends and changes currently taking place in Europe. We will also present sessions on "Maximizing ROI - Balancing Investments in Equipment and Staff", "Safety Systems and Insurance", "High Margin Additions to your AAP that Customers will come back for" just to name a few.
These workshops will take place along with an extensive demo area, summer operator round tables, sessions on adding water activities or features, summer F&B, catering to a multi-generational family and much more.
"Attitash is excited to serve as the official home for SAM Magazine's Fourth Annual Summer Ops Camp, and to showcase our summer activities," says John Lowell, Attitash GM. "We look forward to hosting resort operators and suppliers and sharing ideas, best practices and successes."
Adds Cranmore president Ben Wilcox, "Our expanded summer offerings have really solidified our profitable year-round business model and we are looking forward to sharing some of these ideas with the industry as a whole."
The camp will be held just prior to the New England Summit, which will also be held at Attitash, from September 17 to 19, to keep the fall trade show schedule as time-efficient as possible.
With the increasing importance of off-season revenue streams, the 2013 Camp promises to be energetic, educational, and hands-on. Stay tuned to the Summer Ops Camp page for more details in the coming weeks.
Questions: Email olivia@saminfo.com
---
2012 Summer Ops Camp Wrap-Up
The SAM Summer Ops Camp, based at Canyons Resort in Park City Sept. 4-6, paired site visits to Park City, Canyons, and the Utah Olympic Park with a varied schedule of indoor sessions at Canyons on the business aspects of summer operations. Topics ranged from complementary marketing and activity development among neighboring resorts to examinations of specific types of activities, from ziplines and aerial parks to water decks. The indoor sessions concluded with a two-hour review of risk management and liability issues, followed by the Utah Olympic Park tour—where the more daring participants took a leap of faith from the 65-foot tower jump. More than 100 campers attended from the U.S., Canada, Chile, Japan, and the U.S. Forest Service, representing 78 resorts. The group also included summer activity suppliers and experts from the amusement industry.
TO VIEW THE 2012 SUMMER OPS CAMP AGENDA, CLICK HERE.
2012 Summer Ops video