play. discover. profit.

SAM Magazine presents a hands-on business seminar for summer operations.

EARLY BIRD RATES IN EFFECT UNTIL JULY 30TH.

Attendee inquiries e-mail: olivia@saminfo.com
Sponsorship inquiries e-mail: sharon@saminfo.com
---

Join fellow operators from across North America to explore top opportunities for summer. See and learn from experts how to create the best possible experiences for your guests. Get hands-on with cutting-edge and well-established attractions, from aerial activities to flow trails. Discover how to establish signature summer events and appeal to the entire family. Become your guest and experience the mountain environment as they do!

2016 Schedule at a Glance

| | |
| --- | --- |
| Wed, Sept. 14 | |
| 10am-4pm | Registration at Grand Summit Hotel |
| 2pm-5pm | Afternoon workshops and outdoor demos |
| 3pm-5pm | Canyons Adventure Park open to attendees |
| 5:30pm - 6:30pm | Welcoming cocktail reception |
| 6:30pm | Dinner and keynote and activities to follow |
| | |
| Thurs, Sept. 15 | |
| 7am - 9am | Breakfast and Vendor Showcase with outdoor product demos |
| 9am - 12pm | Morning sessions |
| 12pm-2pm | Lunch at Park City, followed by a tour of their Adventure Park and new kid-focused activities |
| 2:30pm | Buses depart for Deer Valley |
| 3pm - 5pm | On-hill workshops at Deer Valley |
| 6pm - 7pm | Dinner at Deer Valley |
| 8pm | Buses depart for Grand Summit at Canyons |
| | |
| Fri, Sept. 16 | |
| 7am - 9am | Breakfast and Vendor Showcase with outdoor product demos |
| 9am - 12pm | Morning sessions |
| 12pm - 1pm | Lunch |
| 1pm | Off-site tours to Utah Olympic Park, Sundance, Snowbird and Petzl Technical Institute |

A SNEAK PEEK OF THE 2016 PROGRAM:

(check back often as more sessions are announced. Last updated: July 27th)
Summer Ops on the National Forest: How can you implement your vision? Key stakeholders from the Forest Service provide advice on the process, from planning and permitting to implementation. Gather intel that will save you time and money.

Risk Management: Petzl Technical Institute will lead you through an adventure park rescue and evacuation and show how to handle the latest standards, tools, and challenges in high angle rescue in adventure parks, in both winter and summer.

Catering to the Family in Summer: What is the right mix of attractions and services to delight everyone from toddlers to grandparents? We will discuss (and try!) low cost, high throughput activities and the bigger ticket items like coasters and zips. Playing with Park City's adventures and amusements and newly overhauled kid zone provides useful clues.

One location, several different venues: The Park City area is thick with first-rate summer operations beyond Park City. An important part of our Summer Ops Camps is the opportunity to get out and see a variety of summer operations. To that end, we have arranged optional, off-site tours with complimentary passes at several nearby properties on the final afternoon (Friday, September 16th).
The list of tours includes…
> Sundance: Come experience their spectacular Zip Tour and see this beauty of this resort from above. Stay the night and experience the full art, culture and food experience of Sundance. More about the zip tour here: http://www.sundanceresort.com/ziptour
> Utah Olympic Park: Experience the myriad of adrenaline activities including their extreme summer tubing, the Drop Tower, kid adventure zone, zip coaster and much more. Check out the full list of summer activities here: http://utaholympiclegacy.org/park-activities/
> Snowbird: Get a behind-the-scenes tour of their world famous Oktoberfest event (see current article in SAM's July issue) in addition to all of the summer attractions including mountain bike passes. Stay the night and see Octoberfest in full swing on Saturday the 17th. Full list is here: http://www.snowbird.com/summer/activities/

Mountain Bike Parks: Ride Deer Valley's top-rated bike park with cutting edge flow trails, including the 3 mile "Title Wave" with over 45 features and the new novice flow trail. Explore what it takes to attract a broad audience. See behind the scenes of the resort's rental operation, lesson program and sales.

Strategic Capital Deployment: You've developed your master plan and identified Phase One. Now what? How do you strategically deploy your capital to keep implementation moving forward while reducing risk? We will examine one resort's month-by-month approach to ensure each step of the implementation process is considered for a timely startup of Summer 2017 operations.

Seasonal Staffing: Experts and fellow operators will share ideas on how to find good talent, incentives to reward and retain good talent, tactics to avoid burnout, creating a shared vision for your summer staff and more.

Aerial Adventure Parks and Zip Tours: We will look at the latest technology, course designs, pricing strategies and industry initiatives on safety, risk management and standards.

Vendor Showcase: Check out the latest product offerings from over thirty five summer operation suppliers.

Glamping: Connecting guests to nature in style


AND MUCH MORE! CHECK BACK OFTEN FOR UPDATES
---


A look inside one of SAM's Summer Ops Camp...

2015 Summer Ops attendees visited Mountain Creek for an on-hill bike park tour...


Thanks to all those who have joined us over the past six years at Camp!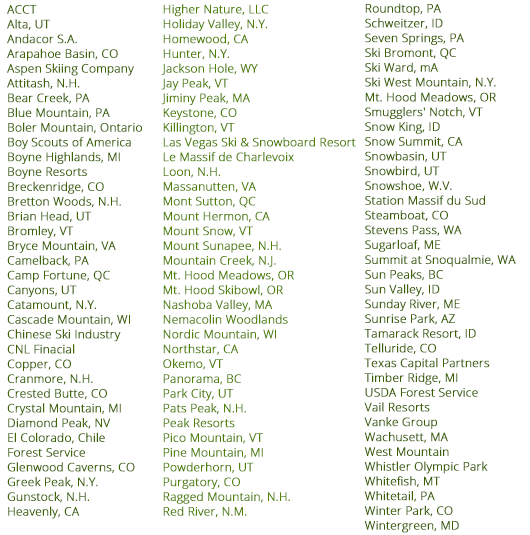 ---
SUMMER OPS CAMP 2015
SUMMER OPS CAMP 2014
SUMMER OPS CAMP 2013