Cutter's Camp 2017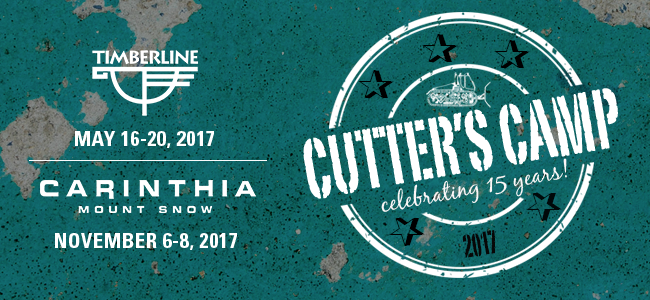 REGISTRATION IS OPEN FOR
CUTTER'S CAMP WEST AT TIMBERLINE, MT HOOD.
>> CLICK HERE TO REGISTER <<
REGISTRATION FOR THE EASTERN CAMP AT
CARINTHIA, MOUNT SNOW WILL OPEN IN THE COMING WEEKS.


Space is filled on a first-come, first-served basis. Packages are all inclusive of lodging, meals, indoor sessions and workshops, on-hill building, airport transfers to and from Portland airport, drink tickets, networking activities and welcome bag. Pretty much everything!
Questions: E-mail liz@saminfo.com

Cutter's Camp 2017
The weeklong Timberline program for terrain park professionals features on-hill and classroom workshops, including the return of one-on-one customized operator coaching and the Park Challenge workshop.
Cutter's Camp will once again partner with Colorado State University's Ski Area Management program to cover business topics relevant to park managers. The latest machines from PistenBully and Prinoth will be on hand for participants to demo, including demos of the newest snow management technology systems. Campers will also participate in an on-hill practicum for the NSAA Freestyle Terrain Resource Guide.
Carinthia, Mount Snow, Vt., will host the eastern Cutter's Camp, Nov. 6-8, 2017, featuring the new "Fall Refresher" program. The eastern camp will cover the same educational programming and classroom workshops as the western camp.
Sessions to be covered at both camps include:

• Lessons learned from terrain park court cases
• Creating a budget and financial planning for park programs
• Hosting successful events and contests in your park
• Design and construction of snow and man-made features
• Pre- and post-loss risk management strategies for your park program
• Social media and parks
• Snow science: how to get the most from your product
• Signage update
• Strategies for growing participation
• Machine operation and maintenance
• Staff and guest education
…and much, much more.



---
2016 Cutter's Camp Photo Gallery...


COMMENTS FROM 2016 CAMPERS...
"At the start of camp my biggest issue was difficulty communicating with my team and upper management. After camp I have a better understanding of terrain parks role in the "big picture" of the resort and a better idea of how to communicate my needs within that structure." - 2016 Camper
"This has been the best thing I have ever done to better my park. Really looking forward to applying everything I have learned." - 2016 Camper
"Year after year I am able to go back to my resort and apply a new things that I have picked up." - 2016 Camper
"This is a time I will never forget, the friends I have made this week, the knowledge, skills, and tools gained will change our mountain for the better." - 2016 Camper
"Extremely helpful and knowledgeable coaches." - 2016 Camper
"I fell in love with the environment and the people that are a part of this industry. I'm glad to see that everyone is moving in the same direction." - 2016 Camper
---