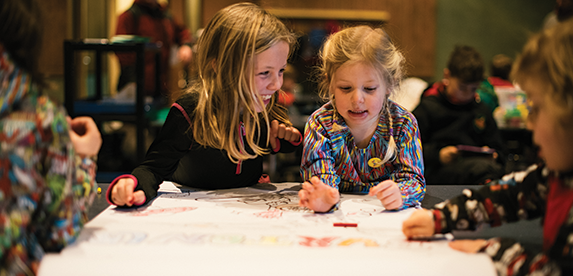 Smugglers' Notch, Vt., keeps smiles on kids' faces with a variety of programs and activities off the slopes.
Tubing hills, mountain coasters, zip lines—all are great amenities that provide families something fun to do off the slopes. But there are several other ways that operators can keep parents satisfied and kids entertained, both during the day and after the lifts shut down. Don't call it babysitting, and it's really not childcare, nor is it ski school programs. It's off-slope fun for kids, in many cases sans parents. Programs are often billed as a chance for parents to enjoy a couple hours of "adult time," but the kids have a blast, too. Win-win.

Like ski schools and daycare programs, many ski areas—destination resorts in particular—view off-slope kids programs and activities as a vital amenity for attracting and retaining families by keeping the fun of a ski vacation going when kids aren't making turns on the mountain. And there are several variations on the theme.
Bingo Spells Success
When it comes to programming for children and teens, Smugglers' Notch, Vt., is the king of the mountain in the U.S. For decades, Smuggs' has poured millions of dollars into infrastructure aimed directly at the family market, building its reputation as "America's Family Resort." And that investment continues.

The resort debuts a new, $4 million "Funzone 2.0" in March that features a custom built slot-car track, a 4,000-square-foot, two-floor laser tag arena, a pair of Ninja Warrior-inspired "Smuggs Warrior" courses, a 2,000-square-foot arcade and prize redemption center, and a 30-foot double-sided climbing wall.

Yet, Smuggs' didn't have to spend a fortune for one of its most enduring, simple, and popular family experiences: Bingo night. "Bingo has been a staple forever," says Stacey Comishock, director of activities at Smuggs'. "It always brings in 100 to 300 guests."

Guests can play for cash or candy. Play is free when playing for candy, and buy-in is just $5 when playing for cash. All net proceeds from the events go to a local non-profit (last year, the resort donated $1,000 to Lamoille Area Cancer Network on behalf of its guests). Comishock says they don't sell any food or drinks during the event; it's simply a fun thing for guests to do. Not every resort can invest in a "Funzone," but pretty much any ski area with an empty room, a microphone, and some ink stamps can put on a Bingo night.

Smuggs' also provides some good, low-cost fun for hard-to-please teenage guests: activities at the resort's Teen Alley center include ping-pong and dodgeball tournaments, a life-sized take on the classic Hungry Hungry Hippos game (Hungry Hungry Humans), and—my favorite—jam band performances three nights a week where young musicians can bring and play their own instruments. "It's all about creativity," says Comishock.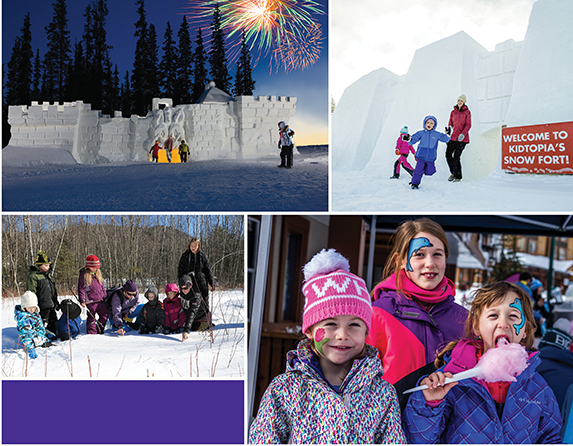 Top: Keystone's Kidtopia Snow Fort is 3,000 sq. ft. of fun that kids can explore in the evening or during the day. Right: The twice-weekly "Carnival Night" at Big White, B.C., attracts up to 350 kids and adults to enjoy free games and activities. Above: Kids out exploring the winter landscape at Waterville Valley, N.H.
The Big White Carnival
Big White Ski Resort in Kelowna, B.C., has become very adept at entertaining families. It boasts an indoor climbing wall, snow tubing, weekly bonfires, and fireworks on Saturday nights all winter. "It stems back to when we became a destination resort," recalls Big White senior vice president Michael Ballingall. "We [the senior staff] all started to have kids, and we realized that if we needed something for our kids to do at night, so did our guests."

One of the resort's longest-running off-slope programs, the twice-weekly Carnival Night, still draws the biggest crowds—kids and parents alike—says Ballingall. With 10 to 15 "attractions," including bouncy houses, an inflatable obstacle course, face painting, limbo contests, ring toss and other classic midway games, Carnival Night attracts 100 to 350 children and adults every Thursday and Saturday night.

Carnival Night is free to guests, and kids and parents often attend together; the event is set up near the resort's café. "What tends to happen is that parents sit at the tables and have a pastry and coffee while the kids play," says Ballingall.

Sponsorship from The Family Channel, a Canadian children's TV network, helps defray the cost of equipment, but Ballingall estimates that it costs Big White about C$2,500 a week to put on the carnival, which includes paying 22 staff members for four extra hours each festival night, which includes about an hour of set up time, but it's well worth the cost.

Staffers from Big White's ski school typically stay on to work the carnival, adding an extra level of familiarity between the young guests and those working the attractions and concessions.
Kids' Night Out
Ski areas have various takes on the "kids' night out" concept: some go with a minimalist approach, while others stuff their programs with activities and meals, and charge parents accordingly.

The Après 4 Kids program at Vermont's Mount Snow gives kids ages 4 to 12 a venue to have fun with their peers—so parents can do the same. Every midwinter Saturday, from 4 p.m. to 7 p.m., parents can drop their kids off at the Discovery Center—home of the ski and snowboard school—for just $10 per child. The supervised fun includes a light snack and organized games, foosball, and outdoor activities like snowman building. Meanwhile, parents can enjoy on-resort après or dinner, and know their kids are safe and having fun.

Schweitzer Mountain Resort, Idaho, takes a similar approach, but gives parents a little extra incentive to grab a drink or a bite to eat at the resort. Its Kids' Night Out, held Saturdays in the daycare center from 5:30 p.m. to 8 p.m., is aimed primarily at kids ages 5-10. The main ingredients: a pizza dinner and activities for just $5—plus a $25 credit-card deposit. Here's the kicker—when guests pick their kids up, they just need to show a receipt from a Schweitzer-owned restaurant or store to get the deposit back.

The program is a great way to drive business to the resort's Chimney Rock Grille and other restaurants and shops located in the base area village near the daycare center, says Dig Chrismer, Schweitzer's marketing manager. "Even if they just go out for pizza and a couple of beers they'll spend $25," says Chrismer, who estimates that at least 95 percent of parents get their deposits back.

At Okemo Mountain, Vt., Kids' Night Out costs $54 per child and runs from 6 p.m. to 9 p.m.—perfect timing for parents who want to splurge on the resort's $250 Snowcat Dining Adventure. Like many evening kids' programs, Okemo draws on its daycare staff to meet a mandated 4:1 staff/child ratio for infants and to maintain a 6:1 ratio for other kids, says Chris Saylor, director of the Okemo Ski and Ride School, where the program is held.

Activities include swimming in the resort hotel's indoor pool, ice skating, snow play, and pizza for dinner. "It doesn't lose money, but it's not a profit center for us," says Saylor of the program. "The payback is having that one extra service for families. The additional labor cost is fairly inexpensive, and we're using the infrastructure that's already there."

At Waterville Valley, N.H., the historic Curious George Cottage—once the home of author H.A. Rey—hosts free children's reading hours on Saturday afternoons, and the community Recreation Department hosts a Kids' Night Out program on Saturday nights from 7 p.m. to 9 p.m. ($15 for locals, $20 for guests).

On the other end of the price and activity spectrum, Crested Butte Mountain Resort's Kids' Night Out program features a visit to the resort's Adventure Park, which has a tubing hill, bungee trampolines, rock climbing, and miniature golf, followed by dinner and games. The program is available nightly for children ages 4-12, and is $90 per child.

Similarly, Stowe Mountain Resort's Climb Time, held Saturday evenings and nightly during holiday weeks, includes climbing on the new Stowe Rocks indoor climbing center, movies in the Adventure Center theater, arts and crafts, and dinner in the kids-only Canteen Restaurant. The program runs from 5 p.m. to 9:30 p.m. and costs $25 for guests staying at Stowe Mountain Lodge ($75 for non-guests).

Left: Face painting and hanging out with the resort mascot are just a couple of simple ingredients for success at Smugglers' Notch, Vt. Above: At Waterville Valley, N.H., free childrens' reading hours are held at the historic Curious George Cottage, and the local rec department hosts a Kids' Night Out.
Go with the Snow
One "amenity" that every ski area (hopefully) has in abundance is snow, and many resorts put the white stuff to good use in their children's programs, even when that doesn't mean skiing or snowboarding.

The Trapp Family Lodge in Stowe, Vt., for example, has 37 miles of groomed cross-country trails, but also offers extensive programming for children who might not be quite up to the rigors of Nordic skiing. Winter activities at the Mountain Kids Club include snow-fort building and snowshoeing as well as arts and crafts, storytelling, swimming, and rock-wall climbing. Two daily sessions run from 8:30 a.m. to noon, and 12:30 p.m. to 4 p.m.; parents can also enroll their children for a full day.

Other family-friendly activities on the snow that don't require any aptitude on skis or snowboards include dog-sledding and snowmobiling, available daily at resorts like Grand Targhee and Big White (the latter also has special kid-sized snowmobiles for pint-sized adventurers). Horse-drawn sleigh rides are offered at Big White, Waterville Valley, and Idaho's Sun Valley, which offers sleigh rides daily from 11:00 a.m. to 2:00 p.m. during peak season, and on weekends the rest of the season, with sleighs passing landmarks like Hemingway's Memorial and Trail Creek Cabin.

Perhaps the most extravagant use of snow is at Colorado's Keystone Resort, which has made an annual tradition of building what's billed as "the world's biggest snow fort" atop Dercum Mountain. The castle-like Kidtopia Snow Fort—3,000 square feet of battlements, slides and mazes, made entirely from snow—is the centerpiece of Keystone's Kidtopia program, which offers free nightly activities including parades and sledding led by resort mascot Riparoo, taking aim with a giant snowball launcher, and a "Bigfoot Adventure" night hike.

The snow fort is built with a different theme each year and smartly located at the top of the Keystone gondola, so kids don't need to be able to ski to play, day or night. "It was open one incredibly cold evening recently, and the number of kids out there playing was jaw-dropping," says Russell Carlton, senior communications specialist at Keystone. Construction of the fort takes 80 hours over two weeks, says Carlton, with a total investment of about 400 man-hours.

The importance of these various activities and programs that keep our most finicky guests—yup, kids—happy cannot be overstated. And it takes commitment to do it right.

Says Smuggs' Comishock, "Some families don't ski, or maybe one member doesn't, or they just don't want to ski for five days. When the slopes close, we still go to 10 or 11 p.m. with family and kids programming."
And most importantly, Comishock advises, "If you want to keep the parents happy, you have to keep the kids happy.