Snow management is the new hot topic in the ski industry. Making, moving, saving, and building with snow are all parts of the management equation. Overproducing and misplacing snow can hurt your cause as badly as a heat wave in December. Managing snow efficiently can allow you to open earlier, stay open later, and save money. And today, there are many tools to help maximize your snow potential.

GPS-based snow management systems are one of the newest. For groomers and ski area operators, this technology removes the guesswork about snow depth, and that can lead to savings on grooming, snowmaking, and labor.

Of course, this technology isn't cheap. The initial investment of the install and mapping is costly. Is it worth it? Some may realize immediate return by using these tools, while for others it may take some time. It depends to some degree on a resort's reliance on snowmaking, the size of the grooming fleet, experience of the operators, the management of the system, and even the winter's weather. If your grooming crew doesn't buy into the system and use it to its potential, the cost savings from increased efficiency can be lost.

But this technology is here to stay. Yes, there are areas for improvement still, and features to expand on. But many resorts will be using this technology, in one form or another, in the near future. Now is a good time to dip a toe in the water and see what it can do—and to tell suppliers what we would like it to do.

Let's take a look at three GPS-based snow management systems available today: Leica/SnowHow (PRINOTH), SNOWsat (PistenBully), and SnowRight. The principle behind all three systems is very similar. First, map bare earth during the summer, using either over the ground surveying equipment or high resolution aerial Lidar (laser-based) ranging. Second, create your ski area map in digital form, with the capability to include anything you want to see, from snowmaking hydrants and guns to terrain park features or a hot dog stand.

Then, sensors installed on the cats allow the GPS system to calculate the depth of snow from the bottom of the cat to the earth, in real time. All three companies claim snow depth accuracy of plus or minus a few centimeters. This pinpoint accuracy allows operators to see exactly how much snow they have to work with.

For ski areas heavily reliant on snowmaking, the potential for savings is great. Knowing exactly how much snow is on the ground can eliminate overproduction.

Each company also offers fleet management capabilities, with data relayed directly to the manager's desk. The fleet reporting element creates additional opportunities for waste reduction, fuel efficiency monitoring, engine diagnostics, and post incident follow-up.
PRINOTH/SnowHow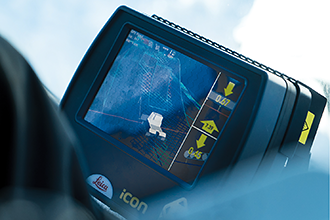 SnowHow, PRINOTH's joint venture with Leica Geosystems, enables complete 3D rendering of terrain park features and also provides six different views on the onboard monitor, including side-view profile in real timePRINOTH, in a joint venture with Leica Geosystems, offers snow depth management as part of its SnowHow system. SnowHow consists of three parts, says PRINOTH product manager Dave Simoneau: fleet management, snow depth measurement, and operator training. Fleet management tracks data that can improve operations, such as idle time, grooming speeds, and routes. And since the technology in the machines is changing fast, training helps keep operators and supervisors current. That's the idea behind PRINOTH's X Team, a group of seven or eight driver/instructors.

Snow depth measurement is a key piece of the system. Although there are only a few Leica systems operating in snowcats in North America today—Winter Park, Stratton, and Loon all installed the system this winter—there are currently more than 150 installations working in Europe.

Leica has long been active in the construction arena, and has now formatted its system for snowcats and mountain use. The system uses two reference points on the cat body, as well as three on the blade. That enables complete 3D rendering of terrain park features. Similarly, the three sensors can be used on a Zaugg for halfpipe work. PRINOTH also provides six different views on the onboard monitor, including side-view profile in real time.

Head of product management at PRINOTH, Andreas Muigg, says the three-point blade readings allow park builders to create angles and measurements to exact course design specs—a valuable asset, especially for FIS regulated events with specific build requirements. With 3D imagery, a builder can recreate an identical feature year-over-year, in the exact same spot.

Of course, that's all in addition to the other snow-conservation benefits of the system—more efficient snow farming and snow production.

European resorts are also looking at the amount of snow a trail loses each day due to normal ski traffic and sun exposure. Using the Leica System, they are able to measure the centimeters of snow lost from day to day and locate those spots that lose snow quicker than others. That leads to a work plan that is updated nightly for the groomers. Collectively, these snow management efforts are saving an estimated 15 to 20 percent in overall snowmaking costs, says Muigg.

Each area can customize its map to achieve a variety of gains. Stratton chose to pinpoint its snowgun locations, says Leica's North American sales manager, special vehicles Doug Brown, to help make decisions on whether to farm or make snow to bolster thin spots. Loon included all piping and valves on its map, he says, as that helps locate these items year-round, and eliminates the need for a surveyor during summer work.

PRINOTH's Husky offers a new, removable 9-passenger guest cabin featuring its own sound and heating system, and a PA from the driver to the back. Without the cabin, its size is ideal for grooming narrow trails, tight spots around lifts, and building Terrain-Based Learning features.
Leica has nine staff available to help resorts adopt the new technology. "There's someone looking at the data all the time, working with the areas to ensure they do it efficiently. We can work with new operators to make sure they don't hit things—there are lots of benefits that Leica brings to the partnership," adds Brown.

Fleet management software can also track individual users in real time. A manager can see an operator's panel as if he's sitting in the cab.

For maximum efficiency, Leica's Alpine Pro software can integrate a range of information on snow management—cat grooming passes, pass speed, fuel use, snowgun energy and water use—to squeeze the most production possible from snowmaking as well as the grooming fleet.
PistenBully/SnowSAT
SNOWsat has two optional functions: fleet management, which deals with everyday tracking metrics, and slope management, based on snow depth measurement. It uses Real Time Kinematics (RTK), the same as some agricultural management systems, to measure snow depth and cat location on the hill. An RTK system is accurate to 1.5 inches. It uses a digital map of the resort and a base station located on-site, with as many repeaters as needed, to maintain contact at all times. That, along with GPS and other satellites, helps pinpoint cat location and snow depth.

The fleet program tracks what each vehicle does, and also records slope data. At a glance, you can see what's been groomed or not, including what percentage of a run has been groomed. "This is unique to SNOWsat: you can track cost per run, not just per cat," says Jeb Ellermeyer, PistenBully sales and operations manager. (This function works best with the pricier version 3 of the software; version 1, which we run at Timberline, Ore., is a bit less precise.) Resorts see that some runs are more costly to maintain than others; that can lead to business decisions about where and when to groom.
Inside the cat, the system tracks path/overlap, snow depth, the activity of other machines, and shows the location of lift towers/snowguns/winch points, length of winch cable spooled out, and other information.

Left: The PistenBully 400 4F with SNOWsat slope and fleet management and snow depth measurement, which can track what each vehicle does and also record the slope data. Right: The PistenBully SNOWsat display screen shows path/overlap, snow depth, the activity of other machines, and shows the location of lift towers/snowguns/winch points and length of winch cable spooled out. The system can also show what percentage of a run has been groomed, so operators can track cost per run, not just per cat.
In California, Diamond Peak mountain operations manager Jay Rydd is using SNOWsat fleet management in all five grooming machines, with two cats adding the snow depth function. "The operators love the snow depth feature. It is a dream come true to know what the depths are beneath you as well as out in front of you," he says.

Here at Timberline, the scenario is much different than most resorts. Massive winter snowfalls keep the upper snowfields open through August, so the cut and fill function is not as useful. Where the system really pays the bills is in mapping and planning our summer snowpack, and building terrain parks. We are using the slope management function daily in two of our seven frontline cats, with fleet management units in all cats.

Even with our abundant snow, it's still possible to hit a rock while park building. To prevent that, our two SNOWsat units go out ahead of the crew and relay their findings to the rest of the fleet.

"It has simplified the game and taken out much of the guesswork. It enables operators to properly plan push-projects without compromising base snow pack," says Timberline grooming manager Jesse MacDonald.

PistenBully's new PB 100 is a Tier 4 machine that features a bigger engine and a slightly longer frame. The engine runs at a lower rpm, but is more powerful, delivering better fuel economy and performance. It also comes equipped with a new set of easily adustable cockpit controls.
Snow-depth data can also be used for marketing. Last spring, we sent out screenshots of our SNOWsat reading on the Palmer snowfield to boost interest is summer skiing. We took a shot of a naturally filled-in section of our summer terrain park with 64 feet of base! That helped sell the idea of endless winter at our resort.

In mid-January, we used SNOWsat to help prep an area that will host a 22-foot halfpipe this summer. We roughly set in the flat bottom of the pipe on 34 feet of snow; we just need to stack 22-foot walls on top of that, and we should have a pipe that lasts well into August. This mid-winter prep allows me—and other summer camp operators—to see exactly what I'm working with for the upcoming summer. A group of camp owners arrived the following week to inspect the hill and design the rest of the park. With a complete depth map, we can create a park plan that will work in June, July, and August.
I know we all need good news to drive sales, and this sort of stuff is media gold.
SnowRight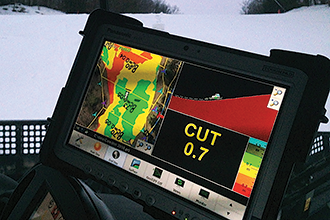 The SnowRight system allows operators to move the cat at top speed and simultaneously see the snow changes under the cat on the display screen inside. A relative unknown to much of the ski industry, S. Young Design Inc., in Ontario, Canada, has created its own snow depth GPS system called SnowRight. The system is being used at a handful of resorts and ski clubs in eastern Canada, but has not made the jump outside that region. Yet.

Steve Young, the creator of SnowRight, has been working with GPS and CAD, which his snow depth system platform is based on, since 1995. His company offers varying layers of products and services, including mapping, installation, and data processing. Young claims the "real" color mapping that his product offers makes it very accurate.

Young says it's also a simple system to adopt. "There is really no learning curve. Operators are able to see the screen in the cat, move with the image, and move snow at speed," he says.

Resort files are reviewed every day by the SnowRight staff, and can be changed based on the customer's need. "If a ski resort wants us to change something with their files, it can be done that day," says Young. "I can send you a 3D file of all your park jumps every day, if desired." That can save time and money by rebuilding jumps only when necessary, or moving and relocating features.

Bill Law, head groomer and mechanic at Caledon Ski Club in Ontario, has been running his two frontline cats using the SnowRight system for the past two seasons. He says cat hours have reduced roughly 13 percent for the task of pushing, grading and building trails immediately after snowmaking.

"Before the SnowRight install, I was leaving snow as deep as seven feet in spots where I really only needed three feet. Now I'm able to move the cat at top speed and simultaneously see the snow changes under the cat," says Law.

But the real savings is in snowmaking. Young claims that his system can save his customers $1,000 per acre in snowmaking costs, mostly by eliminating overproduction of snow. The product is tailored to manage snowmaking, and Young says it can fully integrate with a mountain's system. Every snow gun on the mountain can be located, mapped, and tracked.

Jeff Courtemanche, GM at Craigleith Ski Club, Ontario, covers 165 acres of terrain with snowmaking at the resort—nearly 100 percent of the skiable area. Three cats are equipped with SnowRight, and the results have been good. "We are converting 25 percent less water to snow and yet have better coverage, no bare spots, no brown spots in the spring time, less cat time required, less snowmaking hours required. [It's a] savings of approximately $100,000 per year," he says.

Denver Holden, grooming and snowmaking manager at Osler Bluff Ski Club, Ontario, feels the benefits will be most helpful for younger, less experienced operators, as it will expedite their learning curve.

Managing snow has always been a science, but this new technology takes experimentation out of the equation. Each system helps ski areas realize savings through operational efficiency. In the end, better snow management also leads to a better product, and that's what makes our guests happy.