Cutter's Camp 2013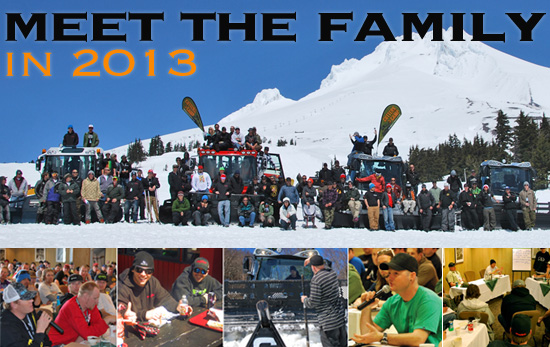 CARINTHIA, MOUNT SNOW: APRIL 1-3, 2013
Thanks everyone who joined us for Cutter's Camp east at Carinthia, Mount Snow!

TIMBERLINE, MT. HOOD: MAY 13-17, 2013
Timberline, Mt. Hood registration packages start as low as $1,160 and include: four nights of lodging, five days of camp including classroom and on-hill building sessions, all meals, airport transfer, trip to Windells, nightime networking activities, grooming demos, drink tickets and welcome bag. (NOTE: Only the Timberline, Mt. Hood Camp will feature an on-hill building component.)
Timberline Camp registration will take place from 10a.m. - 4p.m. on Monday, May 13. Grooming demos will take place Monday afternoon starting at 12:00p.m. Machines include two Prinoth Bison X and the PistenBully Pro Series 400 & PB600 Polar. As well, Monday is a free ski/ride day for campers to check out Timberline's parks. Camp ends after breakfast on Friday, May 17. Friday is also a free ski/ride day for campers.

Both camps will feature the same classroom lineup.
Limited space at both camps. Filled on a first-come basis.
Email olivia@saminfo.com with any questions about Cutter's Camp.
| | |
| --- | --- |
| | Connect with Cutter's Camp on Facebook |
---
UPDATED Sessions FOR Cutter's Camp 2013 Program...
» GREAT MINDS CAN DO GREAT THINGS
If one were to believe recent mainstream articles, snowboarding's future is dire, indeed. But the facts tell a different story. To cut through the clutter, SAM Magazine and our Cutter's Camp partners, Mount Snow and Timberline, are gathering some of the industry's most knowledgeable and respected figures to lead campers in a fireside discussion about the exciting new ideas currently in the pipeline. Together we will generate ideas, engage in productive debate, and plan actions to ensure the future of freestyle terrain. Come be a part of the solution.
THE PANEL:
• Mike Lewis,
editor in chief at TransWorld Business, with over 20 years in the action sports industry.
• Joe Hession,
Hession Design, former GM at Mountain Creek and designer and promoter of a widely recognized "terrain-based" teaching program with a 65% conversion rate.
» ON-HILL & CLASSROOM PRACTICUM FOR THE TERRAIN PARK NOTEBOOK
Working in small groups, campers will apply the subject matter from the latest version of the Terrain Park Notebook. The session will start on-hill with campers in small groups at a series of stations collecting, testing and analyzing the data. The group will then move inside to discuss the findings with experts gathered from the ASDA and insurance communities who will also cover trends and best practices on claims, lawsuits, and accident investigation.
» SMALL POD BREAK-OUT SESSIONS
A full range of topics will be arranged in small break-out pods led by industry experts. In each pod, campers will exchange ideas will fellow operators/managers and pose questions to the pod experts. A lighting-round format will ensure that campers get to several of the pod discussions. Pod highlights include daily maintenance procedures, interdepartmental communication, park flow and design, feature construction, events and competitions, risk management and more.
» FOCUSING ON FUN IS THE KEY TO PROGRESSION
Whether you have a small park, a start park or a Riglet park, join Joe Hession and Boyne Resorts' Jay Scambio along with a panel of experts to discuss the latest trends in building for terrain-based learning.
» TERRAIN PARK MANAGERS ROUNDTABLE
Back by popular demand, the Terrain Park Manager's roundtable will be an open forum discussion for park managers to address managing park staff, logs and paperwork, creating and managing budgets, user education, and more.
» FREESTYLE AIRBAGS
Airbag roundtable: the successes, the problems and the opportunities.
» SOCIAL MEDIA 2.0
Burton's Global Social Media Manager, Luis Calderin, leads a discussion on how to handle negative feedback, get more rider interaction, and educate guests through the park's social media channels.
PLUS… Cat maintenance, rails, nighttime networking activities, and so much more.
---
Pictures from Cutter's Camp east and west, 2012

2012 Camper Comments...
"The networking & idea sharing was amazing. The format of classroom to on-hill was effective and all your staff was extremely knowledgeable and inspiring."

"The chance to connect with like-minded people in the industry and share ideas and discuss the problems. This opportunity is priceless."

"Trip of a lifetime."

"I had no idea there were other idiots like me, much less fanatics. It was great to meet and understand the family."

'The cat 101 instruction was an experience of a lifetime. The guys had so much valuable knowledge."

"It was nothing short of epic for me. The information I learned here is priceless as well as the friendships and connections I made here. Thank you."

"ASTM session stood out for me because it's good to know how technology can help our industry and also to find out who the good guys are in the equation."

"I loved the open format discussions, willingness of clinic leaders to share the knowledge."

"The ability to have about dozens of other people from different areas in the same situation dealing with the same problems being able to relate and show how they dealt with it."

"Cutter's Camp is an invaluable tool for anybody involved in parks. I thought, I learned, and I met some great people with great ideas and attitudes."

"A friendly, welcoming environment that was ideal for learning and sharing ideas."

"It was fantastic. I have new ideas and more energy about what I can do to keep this sport alive and growing."

"Coming from a small resort, it was tremendously helpful with some of the most experienced terrain park builders and managers around. I will be entering the 2012-13 season with a new perspective, using my new-found skills and knowledge to help make our resort terrain park the best and safest it can be."

"Best week of my life!"