Cutter's Camp 2014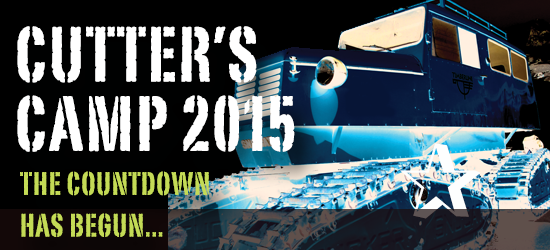 Cutter's Camp 2015
Timberline, Mt. Hood: May 11-15, 2015
Loon Mountain, N.H.: April 12-14, 2015

Email olivia@saminfo.com with any questions about Cutter's Camp.
Cutter's Camp Teaser from SAM Magazine on Vimeo.

2014 SESSION HIGHLIGHTS:
Small Breakout Sessions on the Following:
> Feature Construction
> Interdepartmental Communication
> Planning Your Park - Budget to design
> Daily Maintenance & Safety Procedures
> Social Media for Parks
> Events & Competitions
> Rails, boxes and other man-made fun
> Snow Science in the Park
And much more...

PLUS...
> Fireside Chat with Pat Bridges of Snowboarder Magazine
> Terrain Based Learning™ on-hill feature construction
> Terrain Park Manager's Roundtable
> Risk Management & Liability
> Accident Investigation & Logs
> Terrain Park Notebook Update
> Cat Maintenance Workshop
> On-Hill Building (Timberline only)
> Grooming Demo (Timberline only)
> Networking Activities and More!




What campers are saying...
"Cutter's Camp was amazing. In fact, it was invaluable. I am able to walk away with several items that can be implemented immediately. As a general manager it provided great insight into many areas that our resort would have had major struggles with."
- '14 Camper

"I believe this is a valuable assest for growth in our industry. It is crucial for us to all sit down and help us to grow industry-wide. I am humbled by this experience and feel as though without something like Cutter's Camp we will never allow ourselves to learn and experience new things." - '14 Camper

"This was the best learning experience I have ever had!" - '14 Camper

"The connection and opportunity to discuss issues with other managers and freestyle terrain staff makes this conference a tremendous resource for our particular part of the industry." - '13 Camper
"Cutter's Camp was excellent! My experience here was very affirming and educational. I learned some new things like progression and terrain based learning, but mostly, I gained confidence knowing I am taking the right approaches at my resort." - '13 Camper

"This was my first time at camp, wasn't sure what to expect, and ended up being blown away by the time and effort everyone put into it. The panelists were open and helpful as well as very knowledgeable. I had a great time. Thank you." - '13 Camper


WHAT'S HOT IN YOUR TERRAIN PARK? LET SAM KNOW.