New York to Invest $20 million at Whiteface and Gore
SAM Magazine—Plattsburgh, N.Y., Jan. 23, 2017—Gov. Andrew Cuomo is committing $20 million for capital enhancements at two of New York's state-owned facilities—Whiteface and Gore Mountain. Both ski areas are located in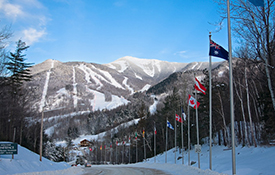 the Adirondacks, and Cuomo said the goal is to attract more tourists to the areas so they can rival ski resorts in nearby Vermont and Canada.
"Winter tourism is a key driver of the North Country economy and we have made it a top priority to leverage natural assets in the region to increase visitors, create jobs and spur economic growth," Cuomo said. "New York State has Olympic-caliber assets and world-class skiing, but the facilities at Gore and Whiteface are outdated and sub-par. This investment will transform these resorts into year-round, world-class skiing destinations, and attract new skiers and snowboarders from around the globe."
Whiteface was built in 1958 and last updated in 1978, and Gore was built in 1963 and last updated in 1987, Cuomo said.
Projects at Whiteface include:
• expand and update Bear Den Lodge
• renovate the Adirondack Base Lodge
• a new lift connecting the Bear Den Learning Center to the Mid Station
• build one of the longest zip lines in North America
• build "the longest mountain coaster in the United States"
Gore Mountain upgrades include:
• add a third story to the Base Lodge, which will include meeting space, additional seating and visitor amenities, and an expanded rental shop
• expand and modernize the Saddle Lodge facilities
• restore the original 1967 gondola unloading station into a warming facility and overlook
The state has already awarded the Olympic Regional Development Authority, which operates Gore and Whiteface, $10 million for other upgrades.