Magazine Archives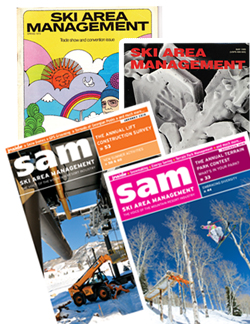 For the past 50 years
,
SAM
Magazine has been reporting on, creating a platform for, and participating in the mountain resort industry. Over the years we have gathered a wealth of information which is now available through our online search. Whether it's an article from 1985 on snowmaking or a piece on terrain park signage from 2004, you will find it here.
To order a back issue, or have the article(s) emailed to you, email
donna@saminfo.com
or call 203-263-0888. The charge is $8.00 per back issue (includes postage in U.S.), $3.00 for the first emailed article, and $2.00 for additional articles. Students, please call for special rates. We accept MasterCard, VISA and American Express. Allow 3-5 business days.