May 2012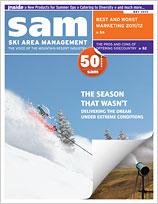 The Wake-Up Call

The 2011/12 season may go down in history as one of the worst for ski resorts. But there were some lessons to be learned that can help in the future.



The Big Squeeze

Part II of our series reporting on the latest in snowmaking technology.



A Sidecountry State of Mind

Getting off the beaten slope is all the rage at mountain resorts. But allowing guests to get back to nature has its risks.


Check out some of the great new products for summer, as well as year-round, operations.
READ MORE


In the fast-paced world of marketing in the digital age, are resorts keeping up? Here is SAM's annual look at the best and the worst efforts in our industry.
READ MORE



Construction Site

The last round of this past season's construction before looking ahead.



Idea Files

Ticket window covers, QR code T-shirts and bar space are the latest and greatest ideas from resorts.



On The Road

Alpitec China, February 2012... Scenes From The Industry... Cutter's Camp East, April 2012...


A discussion on using market research.
READ MORE



Industry Reports

Vail Acquires Kirkwood... and other industry news.


Summer ops can add to your revenue stream, but they are not care-free.
READ MORE



A Tough Sell

As the 2011-12 season wound down in March, many areas had to figure out how to promote next season's passes.



An Attractive Solution

Magnetic technology has the potential to give detachable lifts greater flexibility, easier maintenance, and longer life.



It's A Small World, After All

From Orthodox Jews to second-generation Koreans, resorts have found ways to make all groups feel welcome.


In this Mountain Spy segment, Liz Eren tackles our less-than-stellar season with a well-placed call during spring season pass promotions. And even when Liz (as a customer) didn't get the answer she wanted, good customer service can save the day.
READ MORE



Blue Pages

Perspective and views.