2012-13 Was A Surprisingly Good Year
Publish Date
01/14/2014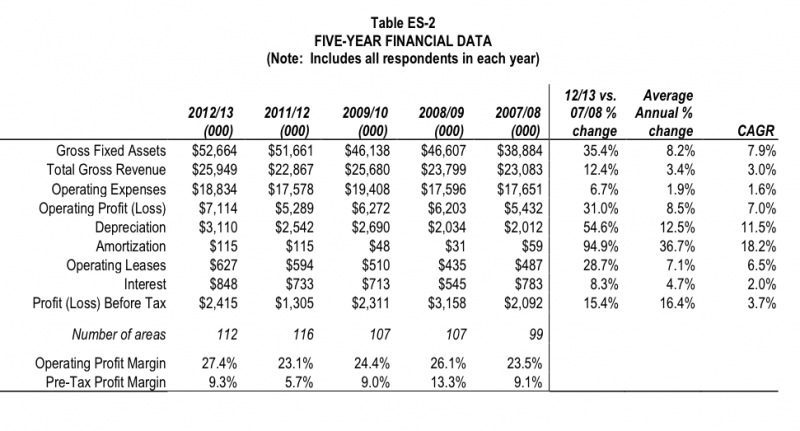 SAM Magazine—Denver, Jan. 14, 2014—Despite late and so-so snowfall and average visitation, U.S. winter resorts posted a record level of operating profit in 2012-13, and their second-highest gross revenue, according to the recently published 2012-13
Economic Analysis of United States Ski Areas.
The report, prepared by RRC Assocs. and the National Ski Areas Assn., is based on financial data from 112 resorts and contains a wealth of positive news.
At a final estimate of 56.9 million visits, up 11.7 percent from 2011-12, U.S. resorts had an average year, but one that represented a strong rebound from the worst season in 20. Visits rose in each of the six geographic regions of the U.S. and in all size categories.
The industry's long-term growth in revenue and operating profit, which had been interrupted in 2011-12, resumed last season. Gross revenue rose 3 percent on a five-year compound annual growth rate (CAGR) basis, and operating profit 7 percent on a CAGR basis.
Total revenue per visit was up, and expenses per visit were down. Resorts saw an increase in average gross revenue to $25.9 million per resort, up 13.1 percent. Operating profit margin was very strong at 27.4 percent nationwide, up from 23.0 percent in 2011-12, and the highest operating profit margin of the past 10 years. Pre-tax profit margin also increased, up to a more normal 9.3 percent, from 3.1 percent in 2011-12—which was the lowest of the past ten years.
While the data is encouraging, it's important to note that the report is weighted toward the larger resorts in the Rocky Mountains. Of the 112 resorts in the report, 32 are in the Rockies, and 24 of the reporting areas—many in the Rockies—are in the large size category. The study's average area recorded 298,966 visits, well above that of the average U.S. resort (about 190,000) and even further above the median (about 115,000). Nonetheless, the report contains a great wealth of data on resorts by size and region. It's available at nsaa.org or by calling (303) 987-1111.