Bernie Weichsel and Phil Gravink Honored
Publish Date
11/17/2006
SAM Magazine--Boston, Mass., November 17, 2006--This year's BEWI Award luncheon had one of its largest crowds ever to honor Bernie Weischel and Philip Gravink. The location was Gillett stadium where they were busy trying to get the field repaired after last Sunday's muddy game.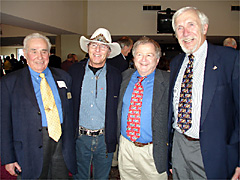 Left to right: Herbert Schneider, Billy Kidd, Bernie Weichsel, Phil Gravink.
First up was Bernie Weichsel who received a surprise award in recognition for his 25 years of running the Boston ski show. Paul Bousquet of Bousquet Ski Area spoke about Weichsel's vast contributions to the sport of skiing. He recounted Bernie start with selling posters and songbooks at the original Harry Leonard shows in the mid-1960s through the start-up and growth of SKI USA to the expansion of ski/snowboard shows across the country. Bernie's latest endeavor next March will be the New England Youth Sports Festival.
Phil Gravink was given the BEWI Award for his outstanding contributions to the sport of skiing. Gravink served as CEO at leading ski areas in the northeast, including Attitash, Loon, Cannon, Sunapee, Gore and Peek n' Peak. At the same time, Gravink has devoted countless volunteer hours to his industry's trade associations, such as NSAA, the American Ski Federation, Ski NH, Ski the white Mountains, SANY and the Eastern Ski Area Operatos Association.