CAMELBEACH SETS SUMMER VISIT RECORD
Publish Date
08/29/2012
SAM Magazine—Tannersville, Pa., Aug. 29, 2012—With five days left in the summer business high season, Camelbeach Mountain Waterpark has exceeded 366,000 visits, surpassing last summer's previous record of 365,000 visits. A member of the Gober family from Easton, Pa., was visitor number 366,000, and received season passes for all in the family for the 2013 summer season.
"I really feel a great sense of resurgence in the Pocono Mountains over the last few years," said Arthur Berry, owner of Camelback Mountain Resort. Berry continued, "We as a company and community continue to improve our offerings and people are starting to recognize the Pocono Mountains as a destination."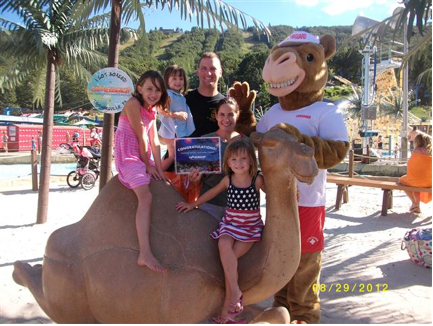 The Gober family, which put Camelbeach over the 366,000-visitor level, with Chuck the Camel at the entrance to Camelbeach Mountain Waterpark. That's Alena, age 8, Jordan, age 2, Lou, Liz, and Reagan, age 5, with Chuck the Camel.
Camelbeach Mountain Waterpark has 37 rides, slides and attractions, making it the biggest waterpark in Pennsylvania. Since 2008, the owners of Camelbeach and CBK Mountain Adventures have invested more than $9 million in slide and activity improvements, including 2012's big additions: a dual 4,000-foot ziplines and a mountain coaster. Both new attractions will operate year-round.