Hurricane Irene Devastates Northern New England Resorts
Publish Date
08/29/2011
SAM Magazine-Rutland, Vt., Aug. 29, 2011-The remnants of Hurricane Irene drenched northern New England and caused extensive flood damage to resorts, from Okemo and Killington in Vermont to Attitash, N.H., and Sugarloaf, Me. Flooding in many locations was the worst on records dating to the 1930s.
The Superstar Pub attached to the K-1 Lodge partially collapsed due to the rushing waters, and the village at Okemo sustained significant erosion damage as well. Mud piled up against many structures in the base area of both resorts, and much the same was true at Attitash. The New Hampshire area's Mountain Coaster was closed for inspection of the support structures.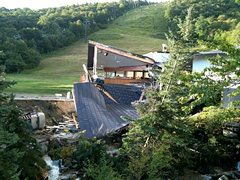 Killington's Lodge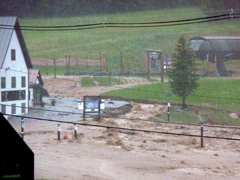 Killington Base Area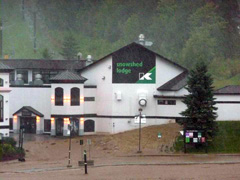 Snowshed Lodge at Killington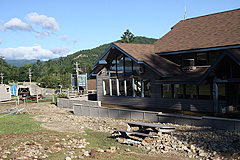 Attitash Base Lodge
Attitash Base Lodge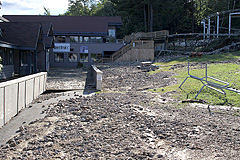 Attitash Base Lodge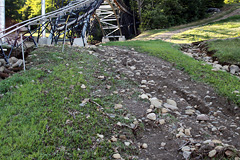 Attitash Mountain Coaster
Reports of more damage are sure to follow as resorts examine the storm's aftermath and communications return to normal.
What's known already is that many resort towns and major skier roadways were heavily damaged. Businesses flooded and roads washed away as streams quickly overflowed their banks.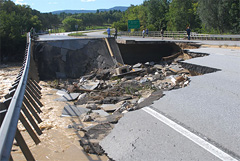 Route 7, Rutland, Vt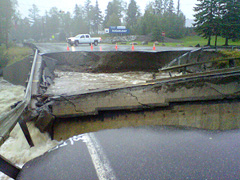 Sugarloaf access road.
Southern Vermont was one of the hardest-hit areas. Major roads and bridges washed out in the towns of Bennington, Wilmington, Jamaica, Ludlow, and Rutland. Reports indicate heavy damage in the Stratton-area towns of Bondville and Londonderry as well.
Mount Snow escaped major damage, according to early and unofficial reports, and the installation of the area's new six-pack bubble chair was not affected in a major way.
SAM will update news on the impact of Irene as details are available.
For more pictures, visit
Vermont Flooding 2011 on Facebook
.