Las Vegas Ski and Snowboard Resort Gets Expansion Nod
Publish Date
07/19/2011
SAM Magazine--July 19, 2011-- The Las Vegas Ski and Snowboard Resort (LVSSR), owned by Powdr Corp., announced that the Humboldt-Toiyabe National Forest Service has accepted its Master Development Plan (MDP). The news comes after many years of examining the extensive multiphase project, which will take several years to complete. Included in the MDP are additions to the area including 50 trails and 10 lifts, increased snowmaking capability and parking, upgrades to equipment, and additional guest facilities that will be designed to meet Leadership in Energy and Environmental Design (LEED) certification standards. The area currently operates on eleven trails with three fixed-grip chairlifts and one conveyor.
Terms of the MDP's acceptance include the ongoing evaluation of individual projects for feasibility and impact in accordance with the National Environmental Policy Act (NEPA). According to Stephanie Phillips, Humoldt-Toiyabe National Forest Service's deputy forest supervisor, the two parties sharing a goal of protecting the environment was a critical factor in the MDP's acceptance.
While the MDP will take place in phases over a 10- to 12-year period, GM Kevin Stickelman explains that some of the changes will be visible as early as the 2011-2012 season.
"By opening day, we will have added two yurts that will be home to an expanded youth ski school and beginner programs," says Stickelman, noting that the area will also launch a more comprehensive youth racing program. "Outdoor seating at our base lodge will increase to 5,000 square feet., and we'll offer a ski corral that provides secure ski and snowboard storage."
Other visible changes will be the quantity of snow. Last summer, LVSSR increased the capacity of its snowmaking pond to 7.5 million gallons of water-more than four times the supply of the previous pond, which held only 1.6 million gallons.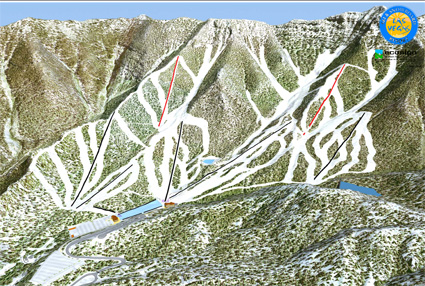 \