Schweitzer Completes Best Summer Ever
Publish Date
09/14/2006
SAM Magazine-Sandpoint, Ida., Sept. 14, 2006-Add Schweitzer Mountain to the growing list of areas whose summer operations are growing. Labor Day Weekend marked the grand finale of the area's summer season. Measured by chairlift rides and hotel occupancy, Schweitzer had record-setting summer traffic. Fall Fest, held on Labor Day Weekend, was the biggest summer weekend ever-excluding the area's Opening Day Celebrations, when chairlift rides are free.
Director of resort services Jade Smith attributed the big turnout to a popular summer concert series, a key part of the resorts growing emphasis on summer business, and sunny weather. An additional spur: the growing popularity of nearby Sandpoint, which also saw in an increase in visits, primarily from the Northwestern drive market (Washington, Oregon, Idaho, and Montana), according to Judy Baird, executive director of the Greater Sandpoint Chamber of Commerce.
"The opportunity to grow our summer visits cannot be overlooked," said CEO Tom Chasse, formerly of Attitash, N.H. "The Sandpoint community is a summer destination, and we would like to offer additional amenities for all summer visitors and showcase this unique mountaintop community at Schweitzer. Our results from this past summer have confirmed our belief that we can become a year round destination."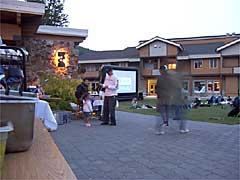 People streaming in for the first in a series of movies on the mountain, shown every Thursday in August.