Snowsport Retail Sales Off to a Healthy Start
Publish Date
12/06/2011
SAM Magazine-McLean, Va., Dec. 6, 2011-Snowsports retail sales jumped 14 percent in dollars during the pre-season sales period, August through October, compared to very strong sales in the same period in 2010, according to SnowSports Industries America (SIA) and The Leisure Trends Group. Total snow sports pre-season sales increased from $565 million to $644 million, as unit volume rose 7 percent. Equipment sales led the charge.
Pre-season sales traditionally allow consumers to get discounts on items left in inventories from the previous winter, but there was very little inventory left after last year's record retail sales. So consumers were often buying current-season snowsports gear at full price at Labor Day and Columbus Day sales. This led to sales growth of more than 25 percent in dollars for Alpine equipment, the hottest category so far this season. Alpine apparel was up 15 percent in dollars, and cross-country, 14 percent. But unit growth was strong, too: nearly 18 percent in Alpine gear, and 13 percent in apparel.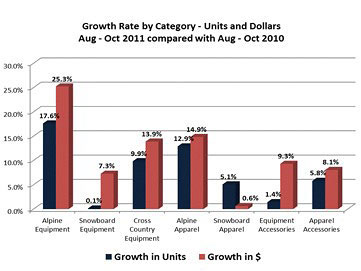 The fall sales period shows some clear trends. Consider:
• Rocker/Reverse camber snowboard sales continue to rise; now 70% of all boards sold are rocker.
• Reverse and mixed camber ski sales doubled compared to pre-season sales a year ago to 32,000 pairs.
• Flat skis with waist widths 95mm to 110mm are up 60 percent in units, to more than 20,000 in the early sales period.
• Snowboard apparel average prices are down 4 percent.
• Helmets sales continue to grow; unit sales are up 12.5 percent.
• Sales of beacons, probes and shovels, necessities for the backcountry experience, are up 19 percent in units.
All three retail channels experienced growth. Specialty shop sales reached $319 million, a new record for the August to October timeframe, a 12 percent increase in dollars. Online sales rose 12 percent in units and 19 percent in dollars; chain store sales climbed 10 percent in both units and dollars. Specialty retail continues to dominate overall purchasing, garnering 70 percent of all retail equipment sales and almost 50 percent of all snowsport retail sales.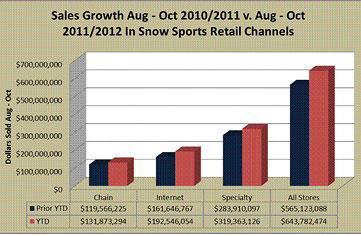 \