Vail Announces $1 Billion Green Project
Publish Date
03/05/2007
SAM Magazine-Broomfield, Colo., Mar. 5, 2007-Vail Resorts is planning one of the most ambitious "green" development projects in the North American resort industry, to be called "Ever Vail." The $1 billion project will transform the 9.5-acre West LionsHead site into a green multi-use resort village consisting of residences, a hotel, offices, retail shops and restaurants, mountain operations facilities, a public parking garage, a new gondola and related skier portal and public park.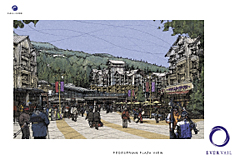 The name Ever Vail was chosen to suggest the project's intended long-term sustainability. It is one of the first proposed projects for consideration in LEED's new Neighborhood Development certification program, which launched Feb. 1. The rating system integrates the principles of smart growth, urbanism and green building into the first national standard for neighborhood design.
"At Vail Resorts, our core mission is providing guests an exceptional experience at our five extraordinary mountain resorts. When the opportunity presented itself to create a new neighborhood at the base of Vail Mountain that would be truly sustainable, we knew that this was the right thing to do for the environment, our guests, our company and the community. . . . We know it will become a symbol of our intrinsic relationship with the spectacular mountain environment we operate in," said Rob Katz, chief executive officer of Vail Resorts.
Ever Vail, as currently envisioned, will be a mountain example of New Urbanism, with somewhat taller buildings and higher density, but with lots of places for people to linger and mingle. Katz showed drawings that suggest the village will have ample view corridors to the mountain, and declared it will have a strong sense of place, tied tightly with the mountain.
By the numbers, it will encompass one million square feet, including 600,000 to 700,000 square feet of saleable residential and commercial space. Current occupants include Vail's vehicle maintenance shop yard and warehouse, a retail and office complex and a gas station, making this a "brownfield" redevelopment.
The plans call for 150 to 250 whole ownership condominium units, 75 to 125 fractional ownership condominium units, a 100,000-square-foot hotel, 100,000-150,000 square feet of commercial retail, office, and restaurant space, and a 100,000-square-foot mountain operations facility. Construction will make use of recycled and reclaimed materials, and will incorporate numerous energy-efficiency measures. The project will also include a gondola to serve as the fifth base portal to Vail Mountain, a public park and a new public parking structure with 600 to 800 spaces.
VR's plans for Ever Vail are still in the early stages, and have not been approved by the Town of Vail. The company intends to submit its plans f for approval within the next 60 days. "We very much look forward to working with the Town of Vail and the entire Vail Valley community in making Ever Vail an outstanding example of the ideals we collectively hold dear. A number of our efforts on Ever Vail came out of meetings and discussions we have had with the Town of Vail staff and Vail Town Council with regard to making this project something that would become an icon for the future for our community," said Katz. If approved, sales on the project could begin in 2009.