What's Better than a Superpipe? Two Superpipes
Publish Date
03/07/2014
SAM Magazine—Aspen, Colo., Mar. 7, 2014—Some of the world's best snowboarders will descend on Aspen March 19-23 to try their hand on a halfpipe—or two—that is unlike anything done before. For this Red Bull Signature Series event, two competition-spec halfpipes will be constructed side-by-side, complete with rails, wallrides, channels and other unique features.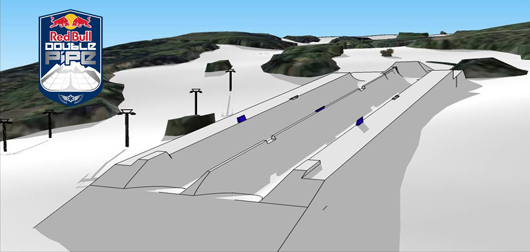 Located at the base of Buttermilk Mountain, the "double pipe" will allow riders to transfer back and forth between the two pipes in a single run, opening up a greater number of potential lines and combination of tricks. Riders will be judged not only on their technical abilities, but also on their style, creativity and use of the course. The Red Bull Double Pipe contest will air on NBC, Saturday Apr. 12 as part of the Red Bull Signature Series. The event will be free and open to the public.
"A double pipe?" said Chris Gunnarson, president and founder of Snow Park Technologies, which is building the pipes. "The build plan for something this immense already has our heads spinning."
Each halfpipe will be more than 550 feet long, approximately 68 feet wide, and 22 feet tall, with a spine about four feet wide between them. Including the outside walls, the double pipe will be 180 feet wide.
"Progression is a beautiful thing," said John Rigney, VP of sales and events, Aspen Skiing Company. "We are proud to partner with Red Bull on another groundbreaking event."